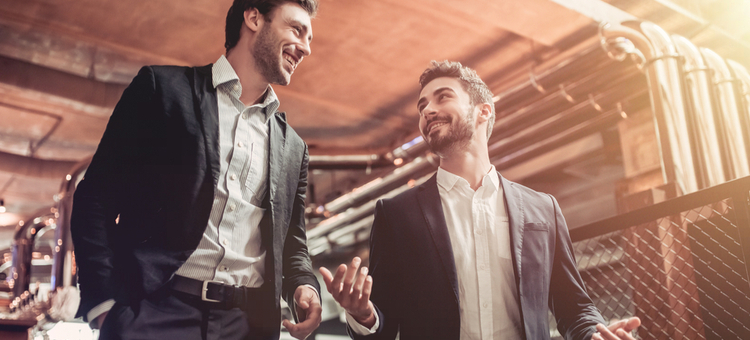 Wedding rehearsal dinners and charity galas are always great events to host in your restaurant, but landing a corporate event has the potential to continue to pay off in the long-term. A fun, memorable, and professional experience at your bar or restaurant means that the company can host future events in your location and have a guaranteed good time.
Of course you'll pull out all the stops to make the event run as smoothly as possible. But for many bars and restaurants, getting over the initial hump of becoming a corporate event destination is more difficult than throwing a great event.
So how do you market your location as a top choice for small businesses and giant corporations alike to host dinners, galas, and holiday parties? With the power of Buzztime. Check out the quantifiable reasons why Buzztime can make the difference for corporate events.
Create a Conversation
To be blunt, most corporate events are trying experiences for attendees simply because they're not fun. With tensions from the office spilling over into what should be a more relaxed setting, corporate events without an exciting hook can lead to awkward silences and small tabs.
Hosting a trivia event at a Buzztime-participating location is a terrific way to overcome these initial corporate jitters and facilitate fun, casual conversation among all those in attendance. When you employ this as your main marketing pitch for corporations you'll find a lot more willingness to host the event at your location.
It's a win-win – for the corporation it adds good-spirited competition and provides structure to the event while keeping the proceedings light. For your bar or restaurant, it's the perfect way to keep customers longer and rack up higher profits as they buy more drinks and appetizers. Never underestimate the selling point of pure fun!
[fl_builder_insert_layout slug="whitepaper-signup-module-37-trending-happy-hour-menu-ideas"]
Don't Pull Focus
Food is also a major factor in a corporation's choice of venue, but once the event is underway the food should appear with as little interruption from the staff as possible. Typical corporate events demand a tricky balance of serving when needed and staying on the sidelines when speeches are being made and events are happening.
With Buzztime's digital dining system, the attendees can easily order drinks, adjust options for their food, and check out without asking for a waiter. The digital interface doesn't pull focus from the trivia event or dinner, and the entire experience for everyone involved is more streamlined and rewarding.
Embrace Integration
The digital signage of the Buzztime system allows for targeted ads and specific promotions to run on the Buzztime tablet itself and on the many displays in your bar or restaurant. Typically these spots help highlight your menu items with high profit margins and draw focus to special promotions throughout the week.
However, these ads can be planned in advance to incorporate messages and promotions through the corporation running the event. Access to premium digital signage during dinner and the rest of their event is a huge plus for corporations. Advertise this feature to land more corporate events down the line.
Buzztime is a wonderful asset that your bar or restaurant can use to secure corporate events year-round. Become the go-to venue for holiday parties, galas, and more with Buzztime.