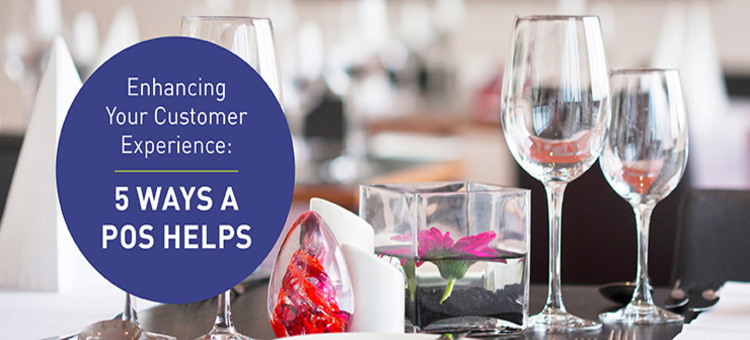 You've decided that the way you want customers to experience your restaurant isn't happening in your business right now.
Your restaurant's atmosphere and your in-store service are big factors in how you are perceived by your customers. But there are other elements involved in customer experience that just can't be solved by changing around your restaurant's vibe.
Picking the right strategies to run your restaurant can be a tough move to make. But a POS system can help you make those decisions with relative ease, while improving customer satisfaction simultaneously.
Need a way to enhance your customer experience but don't way know how? A POS system is an easy solution, because it can:
Optimize your tech usage.

Simplify online ordering.

Collect management metrics.

Streamline payment processing.

Improve your in-store service.
So let's get started on turning your customer experience around with a state of the art point-of-sale system.

1. Optimize your tech usage
Any kind of point-of-sale system, including bar pos systems, can help you better integrate technology into your restaurant's workflow.
A modern POS system can work with all kinds of tech and can even incorporate new devices into your restaurant's day-to-day operations.
In case you're wondering how a point-of-sale system can change the way you use your restaurant's rech, think about how, with a POS system, you can:
Sync with your touchscreen.

POS systems can integrate with your touch screen for optimal usage of both technologies. No matter what kind of restaurant you're managing, this kind of functionality is difficult to pass up. Customers will

enjoy the experience

and might even order more food.

Use a mobile kiosk.

Up-to-date POS systems often offer mobile kiosks that allow for a more efficient and satisfying ordering process. These mobile kiosks are able to make life easier for everyone involved and can often function as a draw for customers in-and-of themselves. They also eliminate any kind of ambiguity in the ordering process. If you're a smaller vendor or a food truck, these mobile kiosks can also come in handy by being more manageable than a more comprehensive payment system.

Utilize customer messaging.

Messaging and booking apps can integrate with POS systems to make your booking and management process quicker and easier to organize. Most customers appreciate received text notifications to update them on wait times and booking issues, so your restaurant will make a great impression. All the while improving its efficiency.
Remember these points if you need to think about how to use your POS system. They can come in handy if you're finding your customer experience to be lacking.

2. Simplify online ordering
Lavu's POS system can render the entire online ordering experience into an extremely well organized process.
With the right point-of-sale system, online ordering doesn't have to give you or the customer a giant headache.
If you're looking for a solution to ease some of the difficulties involved with online ordering, keep in mind that a POS system can:
Minimize delivery errors.

Having a POS system handle your orders means that you don't make as many delivery mistakes over the phone or through improper preparation. This leads to an improved customer experience for delivery orders with little effort wasted.

Make to-go orders a breeze.

No need to hassle your customers with repeated phone calls or sloppy service. A point-of-sale system can handle to-go orders much better than a manual order management system that you've crafted from scratch. There's also an increased likelihood that customers will tip, as POS systems can throw in suggested tip amounts for customers to follow.

Improve driver and kitchen communication.

One of the biggest sources of restaurant service errors is the line between the service staff and the kitchen staff. Both are dealing with hectic situations and don't always have time to confirm orders or to correct them. With a point-of-sale system handling your orders, these errors are much less likely to happen.
Think about this info the next time you're considering a POS system for your restaurant. It can come in handy in ways you'd never expect.

3. Collect management metrics
A coffee shop pos can collect valuable information on your cafe's overhead.
You can use a contemporary POS system to collect in-depth data on your customer base and your restaurant operations.
When you need to collect metrics on your restaurant, you can always try to:
Understand your customers.

A modern point-of-sale system will help track of a wide variety of information about your customers that you can use to improve your restaurant operations. For example, finding how when the peak hours are for your target customers can have a hand in helping you decide when and how to staff your restaurant to accommodate the rush.

Measure your marketing effectiveness.

With

the information you've gathered

from your POS system you can measure how successful any changes you've made to your marketing strategy have been. This can be useful when you're implementing new marketing techniques in your restaurant or if you're trying to make an assessment of how well your current marketing strategy is doing.

Refine your budgeting.

By tracking elements such as cost-of-goods sold and food cost percentage, a good point-of-sale system can give you an accurate picture of your restaurant's spending habits. It can also give you lasting insight into how you might be able to spend more money to improve your customer's experience.
A great POS system can do all of these tasks for your restaurant management and more. So don't wait to start using one.

4. Streamline payment processing
While a service like Swoop's password alternatives is also a fantastic way to streamline your restaurant's payment processing, sometimes this just won't do the trick.
Using a point-of-sale system means payment processing difficulties are a thing of the past.
If you're looking to improve your payment processing, take some time to:
Quickly update your software.

A good POS system updates quickly and painlessly. Don't waste your time on an old point-of-sale system that can't make room for software updates. Combining updatable software with ease-of-use is a feature that old point-of-sale systems just can't beat.

Know your system inside and out.

How well does your current payment system

split checks or account for gratuity?

Customers care about how easy it is to take care of the check, so if you're not making this part of the experience easy and simple, it will reflect negatively on your business practices. A modern point-of-sale system can take care of these situations without breaking a sweat.

Accept multiple kinds of payment with ease.

No matter if your customer is paying with cash or card, a good POS system can handle it. Even contactless payments like Apple Pay or Venmo can be accommodated by a good point-of-sale system.
Keep this info in mind the next time you're having trouble with your current payment processing system, and don't forget how much a POS could help!

5. Improve your in-store service
Even using the best wordpress plugins and the most optimized website design doesn't make up for quality in-store service.
A point-of-sale system can work wonders for making your restaurant's in-store operations more efficient, not to mention the increase in customer satisfaction.
So the next time you need a fix for your customer service problem, use a point-of-sale system if you want to:
Up your customer relationships.

POS systems can be a big factor in improving your restaurant's efficiency and therefore can aid your restaurant in making a lasting, positive  impression on customers. The difference between a restaurant without a point-of-sale system and restaurant with one might not be visible to the customer themselves, but the difference in service and quality will be noticed.

Reduce wasted time.

Using a point-of-sale system means your staff doesn't waste time on pointless mistakes or tasks. For example, a POS system integrated with a booking app saves your host or hostess time and keeps them from making simple clerical errors that could back up your entire restaurant's workflow.
Give these ideas a try if you're looking to upgrade your in-store service, and watch your customer satisfaction improve in no time!
All of these points are great ideas for how a POS system can be both a lifesaver and an assistant to all your restaurant's marketing and management needs.
Don't sit on this information. Integrate a restaurant point-of-sale system into your workflow today to start seeing improvements for both you and your customers.
[fl_builder_insert_layout slug="whitepaper-signup-module-top-ten-pos"]