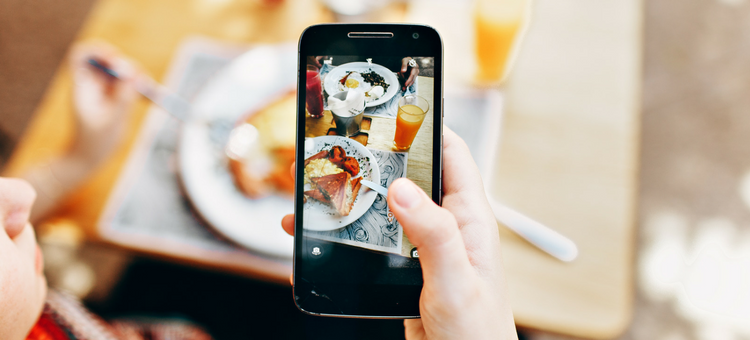 Once upon a time, there was no such thing as social media for bars. Social media was just for people, not businesses. 
Facebook was an invite-only platform for college students. Twitter started so friends could post status updates via SMS text (Twitter's previous 140-character limit was based on standard text message length set by mobile carriers at the time).
Today, the most successful social media for bars retains that original person-to-person tone. That means your business needs a decidedly human voice…and that's exactly what we'll help you create in 5 straightforward steps.
Step 1. Build Your Persona
We've established that social media for bars should be human and personable. But what kind of person would exemplify your bar, and why does that matter?
The first step in mastering social media for bars is to outline your business's persona. For clues to this persona, look to your brand concept – and the primary type of customer you serve.
Are you a neighborhood pub with a casual vibe that attracts blue collar workers and seniors? Are you a craft beer hot spot catering to hipsters and young professionals?
When it comes to social media for bars, you'll want to embody the traits of the customers you serve in the look, tone, and voice of every single post. This makes you relatable and likeable to the people you're trying to reach on social media.
You can also use this persona if you decide to deploy influencer social media for bars. Influencers are people who have a sizable, loyal, and active base of followers. Brands and businesses pay these influencers to post about their products or services. If you have a strong grasp of your bar's persona, you can seek out influencers that compliment that persona.
Step 2. Write a Style Guide
Now that you have your persona outlined, the next step in social media for bars is to reflect your unique character through your voice. It doesn't matter which social media platform you're using or who exactly is writing the posts: your voice should stay consistent.
Here are a few examples to illustrate how 2 different types of bars might promote a 2-for-1 midweek special on cocktails. The sports bar has a folksy, friendly persona and the trendy speakeasy is witty and sarcastic.
Sports bar: Got the midweek blues? We've got your cure: a 2-for-1 cocktail special. Stop on by tonight, we'd love to see you!
Trendy speakeasy: "Pouring out liquor is like burning books." Wise words from author William Faulkner. We'll be carefully pouring 2-for-1 cocktails tonight if you care to join us.
An insider tip related to social media for bars is to create a style guide for your voice. It should include examples of how your bar "speaks" when posting, and responding to posts. Also include things your bar would never say. This style guide can be part of an overall social media brand guide – learn how to create a brand guide, here.
Step 3. Create a Content Calendar and Cadence
Speaking of 2-for-1 specials, don't post about them all the time. If your bar should act like a person on social media, do you want to be the kind of person who talks about themselves non-stop?
Instead, most experts on social media for bars agree that the rule of thirds should guide how you divide your time:
Promote: Post content that markets an event or offer. Keep a conversational tone. Do not use "hard selling" tactics.
Engage: Respond to comments on your page, and join in conversations on other pages.
Share: Strategically share content from other business pages, social media users, and links to articles, photos, or other topics that relate to your bar.
To ensure you stick to the rule of thirds, gurus on social media for bars also agree you need a 52-week content calendar and plan. Outline your social media activities down to the day. You can even use a tool like HootSuite.com to pre-post your content for the upcoming year.
Strategic social media for bars also means being intentional about cadence. Cadence simply means how often you post.  Remember, your bar should act like a person on social media – and people are generally consistent.
If you post once on Instagram once a week and it's working, don't all of a sudden start posting daily. People will think you're desperate for business.
Step 4. Be a Good Listener, and Then Respond
As noted above, a third of your time should be spent responding to comments about your bar. To do that, you first must be aware that people are talking about you.
That's where these 10 social media listening tools come in. These tools work 24/7, tracking mentions on social media for bars (so you don't have to).
Once you're aware that a customer has said something, good or bad, you need to respond – using the voice you defined. In fact, this is a pivotal point in social media for bars. How you engage with customers is the ultimate proof that you've mastered your voice on social media.
Take a cue from the professionals in social media for bars. They recommend having a "cheat sheet" of responses you can quickly customize. For example, when a customer "tags" your bar in a photo on Facebook, you should get an alert through your social media listening tool. Have some complimentary responses ready to go, such as: "(heart eyes emoji) love that picture! So glad you and your friends celebrated with us!"
By the way, when it comes to personable social media for bars, using emojis is a great way to emphasize your bar's "human" side. After all, emojis – those little symbols you insert alongside text – are all about expressing emotions. Some businesses even have signature emojis they use as a way of strengthening their voice.
And yes, you definitely want prewritten responses to complaints as well. It's an unspoken rule of social media for bars: do not delete or hide a customer complaint. This won't go unnoticed by the complainer, who will feel ignored and likely come back at your bar even harder.
Instead, review the basics of responding to negative reviews. Always apologize for the customer's disappointing experience (even if your bar was at fault), be sincere and kind, and invite the customer to give you a second try.
Step 5. Decide on Roles
The last step just might be the most important. When planning social media for bars, "who" is posting is just as important as "what" is posted.
Many bar owners try to take on social media themselves. However, it takes a significant amount of time to build and manage a following, post unique graphics, respond to comments and likes, and decide what's worth sharing.
Here are some additional options as you explore managing social media for bars:
Some managers or owners task 2-3 employees to cooperatively manage social media for bars. If you go this route, ensure everyone has read through your style guide and understands the "voice" of your bar! Customers should think ONE person is posting everything because it's so consistent.
Social media for bars can be outsourced to a local social media management company, advertising agency, or even a freelancer. Again, help them get familiar with your voice.
In most cases, it's better to have at least 2 people managing social media for bars, mainly because customers who ask a question, or make a comment, should get a personal response ASAP. In fact, research shows that 85% of Facebook customers want a response within 6 hours – and complaints should be addressed even faster. After all, you don't want an irate customer going on a "Tweet storm" without a response.
Now you have a simple, 5-step plan based on successful social media for bars. The next step is to put what you've learned into action. Good luck finding your voice, and using it to grow your business!