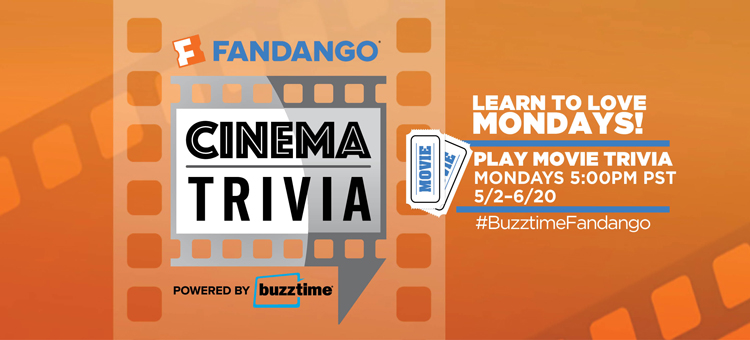 Source: Full-service Restaurants
Buzztime, a leader in omni-channel advertising, interactive entertainment, and innovative dining technology for bars and restaurants in North America, is working with Fandango, the nation's leading digital destination for all things movies, on a unique interactive promotion designed to reward trivia-playing movie fans. The promo aims to drive repeat visits to the over 2,500 hospitality venue partners, such as bars and restaurants, equipped with Buzztime's digital entertainment platform.
The Fandango Cinema Trivia promotion will reward players with a pair of free Fandango movie tickets* when they play a special Fandango-branded movie trivia game in a Buzztime-equipped venue at least two times in any 30-day period between May 2 and June 20. The game will be held from 5 to 5:30 p.m. (pacific) on Mondays during the promotional period in every Buzztime location. Fandango game promos will be featured on dedicated Buzztime digital out-of-home (DooH) screens positioned throughout the venues and on Buzztime tablets. Players only need to participate in the movie trivia game and do not need to win or reach any particular score to earn the Fandango movie tickets*.
"Buzztime is leveraging our interactive digital entertainment network to provide a turnkey promotion that is a real win-win for all parties involved," says Erik Evans, vice president of enterprise enablement of Buzztime. "While players are rewarded with free movie tickets* and a fun, interactive trivia experience, Fandango will enjoy great brand exposure and Buzztime locations will score a boost in repeat traffic."
Buzztime is handling all of the technical and back-end components of the promotion for its venue partners. The company will reach out to its extensive database of Buzztime players to generate awareness and interest in visiting these Buzztime-equipped venues to participate in the promo. Teaser ads ran in these locations from mid-April through the start of the promotion on May 2. Participants who meet the requirements will receive instructions on how to receive and redeem their Fandango movie tickets* after competing in the trivia contest for a second time within the 30-day promotional period.
"Buzztime is providing a terrific opportunity for Fandango to engage with families and friends at U.S. restaurants across the country with a fun, interactive game promotion that celebrates movies and promotes moviegoing at the start of an exciting summer movie season," says Jason Davis, vice president and general manager, Fandango Rewards.
Other recent interactive marketing integrations by Buzztime include working with brands such as Miller/Coors, Sony Pictures, Lyft, and Dr Pepper.
* ($7.50 each, up to $15 total value). Full offer terms: https://www.buzztime.com/fandango