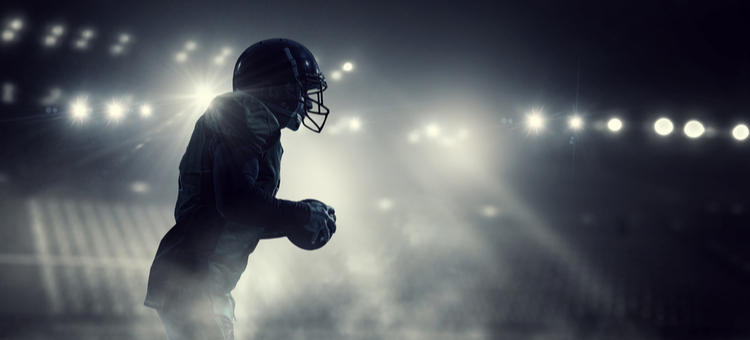 The average American will spend $81 – yes $81– on this year's big game, according to the National Retail Federation. Millennials plan to go even bigger, shelling out $118. You deserve a piece of this $15.3 billion pie. These 32 football promotions and event ideas will help you get your slice.
Straight Outta Sofas: Make It an Event
Your fiercest competition for football's biggest game on February 2nd? A cozy sofa.
Nearly 50% of Americans plan to watch the game at home or a friend's house. Don't waste time with football promotions that simply state "we've got the game on." What do you have that living rooms don't? A big crowd. Atmosphere. Excitement. A real event.
Inspire customers to ditch the couch with event-focused football promotions and these marketing tips.
1) Name Your Event
Come up with a clever name for your event. Use the terms "big game" or "championship game" instead of that other name, to prevent any trademark violations.
2) Email is Your Friend
Email a personalized invitation to your guests as one of your big game football promotions.
3) Create a Facebook Event – Then Boost It
The Facebook event feature is packed with benefits. When someone RSVPs to your event, Facebook alerts their friends. Plus, Facebook sends automatic reminders that "you've got an event coming up." To maximize Facebook football promotions, "boost" your event so more people see it.
4) Incentivize Early RSVPs
People follow the crowds. Target your big game football promotions to build a big Facebook RSVP list…fast. Offer a giveaway (ask your liquor distributor for "swag" from booze brands) or a $5 coupon to the first 25 RSVPs. Or, the first 50 RSVPs get on the "VIP" list which could mean a free app or reserved seating.
5) Give 3 Reasons Why
Come up with at least 3 football promotions, specials, or activities to promote. Read on for ideas…
Tastes Like Team Spirit: Creative Menus
As one of your football promotions, create a special big game menu inspired by the teams playing on February 2nd: The San Francisco 49ers and Kansas City Chiefs. Consider offering an all-you-can-eat option for one set price.
6) Burnt is Good…Kansas City Burnt Ends
A highly in demand delicacy in Kansas City, burnt ends are crusty, fatty meat from the point of a smoked beef brisket. Learning to Smoke has a great beginners guide to burnt ends to have you big game guests pleased to the last bite.
7) A Little Sweet and a Little Sour
Every big game party needs to have a little sweet to go with all that savor, so check out one of Kansas City's favorite desserts with lemon meringue pie.
8) Southern Staples
Don't want to break out the smoker? Keep it southern as Kansas City is also best known for southern favorites such as fried chicken and Kansas City baked beans.
9) California Rolls (Fried of Course)
It's sort of an unofficial big game tradition: fry anything and everything! And yes, that means the classic California sushi roll.
10) California Cobb Salad Dip
Want more indulgent snack foods for your football promotions? We got you. Skip the actual salad and turn the classic Cali Cobb into an irresistible dip.
11) Bread, It Better Be Sour
San Francisco is know for it's fantastic sourdough bread so make sure that if you are doing dips to bring the sourdough. You can even try one of these sourdough bread bowl dips! Great for a crowd of hungry miners.
12) Regional Brews
Feature regional brews in your football promotions. There are tons of awesome craft brews coming out of the San Francisco area like Anchor Steam.
Ask your distributor to source trending microbrews from either area. Craft beer fans rush in for football promotions featuring rare brews.
Little Games During the Big Game
During the average football game, the ball is in play for 18-20 minutes. Offer lowkey entertainment to keep guests engaged:
13) Big Game Bingo
Create bingo sheets with things like: M&M commercial, ad with talking animal or baby, flag on the play, etc. The first five "bingos" get free appetizers.
14) Handheld Games
Beyond football promotions, offering guests gaming tablets is a smart play. Patrons can compete with others across the bar – or across the nation – in a trivia game. Or, they can tap into a digital arcade loaded with single player games.
Real-Time Football Promotions
Turn the big game action into real-time football promotions.
15) Pick a Team
When guests arrive, ask them to pick a team. Give out red wristbands one team, gold for the other. Each time a team scores, those with corresponding wristbands get a special discount for the next 10 minutes. Think 2-for-1 well drinks or $2 off an appetizer.
[fl_builder_insert_layout slug="whitepaper-signup-module-ultimate-checklist-bar-sales"]
Big Group Packages
Endless cooking. Dirty dishes. Stained carpets. That's what hosts of at-home big game parties can expect. Wouldn't it be easier if they came to your place? Use football promotions to sweeten the deal for hosts – and their guests.
16) $50 Gift Card
As one of your big game football promotions, offer a $50 gift card to any host who brings a 10+ group to your place.
17) Give 'Em a Lyft
Give $5 Lyft or Uber gift cards to members of a big group so they can get home safely. Football promotions that prevent drunk driving are sure winners.
18) Charity of Choice
For reservations of 10+, let the group select a charity. Donate 5-10% of their check to that charity. Not only are you helping the community, 88% of consumers are more loyal to businesses that support charitable efforts.
Make It Game Day…All Day
Don't wait until kickoff to start the big game festivities. Make it an all-day event with these football promotions. Market your bar or restaurant as the "big game headquarters."
19) Big Game Brunch
Serve up a Hail Mary (aka a Bloody Mary) along with hearty – and trendy – avocado toast and house-made hashes.
20) Tailgate
Cure cabin fever for those in colder climates with a cookout. Crank up the grill and tailgate all afternoon.
21) Trivia Tournament
Football promotions that tap into the competitive spirit of the big game win over guests. Get everyone fired up with a pre-game trivia tournament. You can even host the live trivia event yourself.
It's easier than you think.
Football Promotions…To Go
Even the best football promotions can't bring in every guest. So, go to them. Score big sales with to-go packages.
22) Deliver It!
Even if your bar or restaurant doesn't normally offer delivery, make an exception for the big game. Better yet, make it free. Want to stick with takeout? Set up a "quick pickup" system so guests don't need to leave their cars. To-go football promotions are all about convenience.
23) Party in a Box
Pizza, wings, and subs are big game classics. But they're often "sold separately." Instead, make it easy for hosts by creating packages that include all of the above – and feed 10, 15, 20, and so on. Bundle in drinks and desserts for an easy upsell.
24) Focus on Fried
Now is not the time for football promotions focused on healthy bites. Focus on fried foods. Most at-home chefs don't have a commercial deep fryer. Only you can make perfectly fried wings, fries, deep-fried Oreos, and funnel cake bites…
Crazy Contests and Giveaways
Many bars and restaurants build their football promotions around contests. Run the contest and announce the winners AFTER the game. Your football promotions shouldn't distract from on-field action and commercials! Plus, delaying the giveaway rewards fans that stay for the entire game.
25) Biggest Fan
Invite the crowd to vote on the 3 fans with the biggest team spirit. Hype up your contest on social media now, so fans can plan their outfits. Expect to see plenty of California miner getups…
26) One Big Joke
Fans will love getting creative with football jokes performed at the game's end. Whichever joke gets the loudest laughs, wins. Like the biggest fan contest, alert guests of your joke competition ahead of time (or any football promotions for that matter!).
27) Best – and Worst – Explanation of a Football Play
After the game, ask contestants to give a play-by-play of one of the biggest plays of the game. This gives both avid football fans and non-gridiron-gurus a shot at winning.
28) "Get Off the Couch" Giveaway
Partner with a local furniture retailer to give away a sectional or sofa. They may even discount the item for you since their business will be mentioned in your football promotions.
Flag on the Play! Avoid a Lottery
Most states prohibit contests that are actually lotteries. A lottery involves "chance, prize, and consideration." Consult with your attorney regarding the legality of contests before using them in football promotions.
Use the Big Game to Bring 'Em Back
The big game is just one night. But the right football promotions can turn new guests into repeat customers. Reminder: take tons of pics and videos at your event to use in next year's football promotions!
29) Kick Return Bucks
Reward guests for choosing your establishment for the big game. Hand out "return bucks" ($1 to $5) that can be redeemed the following week during your slowest day/daypart.
30) Capture Emails
Build your email list by asking every server to collect emails. Incentivize sign ups by handing out the "kick return bucks."
31) Countdown to St. Patty's Day
The next big bar holiday is fast approaching. Have invites and posters ready to promote your St. Patty's Day party.
32) Go Live!
Show those people stuck on a sofa what they're missing. Go live on Facebook or Instagram during your big game events and football promotions. Next year they won't miss it.
Another advantage of going live or posting on social media during the big game? You have one of the year's highest chances of being seen. During the 2017 big game, there were 190 million social media interactions.
The time is now! Huddle up with your team. Make a game plan for your big game football promotions and events. Your hard work will pay off on game night – and beyond.