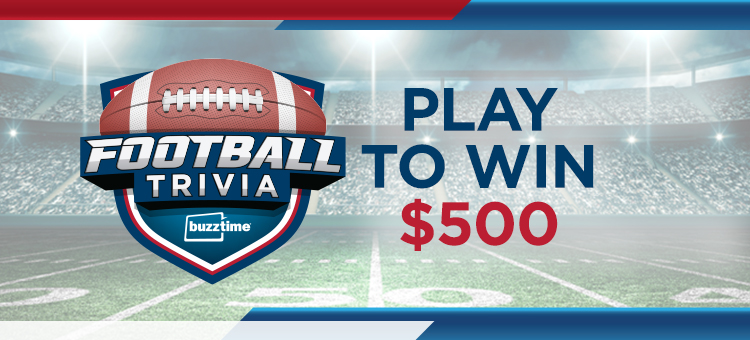 We're helping you start off 2018 strong. Buzztime's Football Trivia Sweepstakes gives guests another reason to rush into your venue in January…for their chance to win $500.
Here's how it works:
Starting on Saturday, January 6th every registered Buzztime player who plays Football Trivia can enter to win $500
There's a new winner each week: that's 4 chances to win $500
We'll be emailing weekly sweepstakes reminders to Buzztime players. But don't wait! Team up with us now using these 7 social media plays…
Play #1 – Tag Buzztime
When sharing graphics or posts about Football Trivia Sweepstakes, use #Buzztime and #Sweepstakes so guests know the promotion is administered by Buzztime.
Always "tag" Buzztime on social media, for 2 reasons: You're aligning your business with an exciting national sweepstakes…plus, our social team is alerted when you tag us. We may share your photo with our 68,000+ social network!
If you haven't already, follow us on all 3. You're welcome to share our posts with your social networks, too.
Invite guests to tag Buzztime. Invite them to post their own photos and videos using #Buzztime #Sweepstakes #YourBusinessName.
Play #2 – Tap Into the Postseason and "Big Game" Buzz
Pro football's postseason playoffs run throughout January. When choosing where to watch the games, Football Trivia Sweepstakes gives fans a reason to choose your place over the competition.
To keep guests coming back, always remind them there's a new $500 winner each week.
Play #3 – Line Up Your Plays Now
Take a few minutes to preschedule your social media graphics and posts on Facebook using the "pre-schedule" feature.
Football Trivia runs every Saturday, Sunday, and Monday. Set your posts to run both the day before, and the day-of, for maximum response.

Play #4 – What Would You Do with $500?
Questions posed on social media are a great way to engage your fanbase. Post a sweepstakes graphic and message like this:
If you won this week's $500 in @Buzztime Football Trivia Sweepstakes…how would you spend it?
Play #5 – Highlight Star Players
Use the sweepstakes to shine the spotlight on loyal guests. Take photos or videos of players tackling questions in Football Trivia, and share it on social media. (Always ask for their permission first.)
Play #6 – Go Live! On Facebook
Use Facebook Live to record footage of guests playing Football Trivia…in real time! Facebook even sends a free alert to your followers that you're live. Before recording, just ask players if they're ok with live video.
It's a great way to show off the friendly competition and fun atmosphere at your venue.
Play #7 – Last Call
Keep the momentum up during the last few weeks of January. Remind players to hurry in for their weekly chance to win $500…before the sweepstakes end on January 29th!