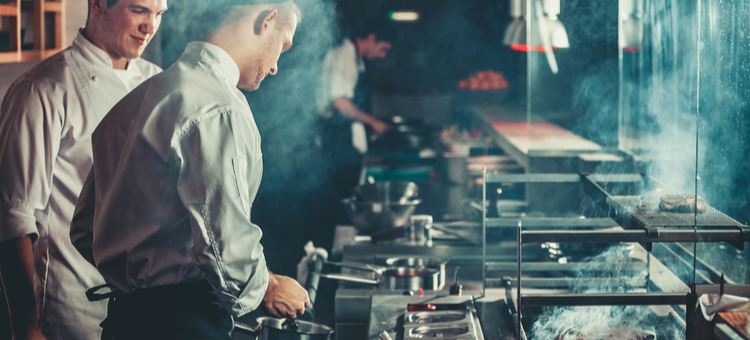 The health inspector may visit 2-3 times a year. But every day is an opportunity for your team to ensure the best possible guest experience. And that includes keeping customers safe from foodborne illness and other health hazards. This checklist includes basic food safety guidelines and best practices to run a healthy business.
However, each state, county, and municipal health inspection guidelines vary. Ask your local health department for a list of their requirements. Then customize the checklist based on their protocol. When the health inspector comes knocking, you'll be ready.
Download the Health Inspection Checklist below!
[fl_builder_insert_layout slug="health-inspection-checklist-signup-module"]
Inspection FAQs
Q) How often do health inspectors visit?
A) There's typically no set schedule and visits are almost always unannounced. However, these are rough guidelines:
The average restaurant or bar will be inspected 2-3 times per year.
If you receive a poor grade, expect another inspection within a few months.
If a customer files a complaint with your county or state health department, the department is required to inspect your venue.
Q) How can I prepare?
A) The saying goes if you fail to prepare you can prepare to fail. Prepare for a stellar inspection with these 6 tips:
The Notebook: Inspectors may ask to see internal documentation that your staff follows food safety procedures. Have this information ready in a notebook or binder.
Surprise Inspections: 2-3 times a month, run a mock inspection and don't give your staff any warning.
Imaginary Inspector: Train your team to act as if an inspector is always on premises…like an invisible inspector. It's not being paranoid. It's being smart. After all, health inspection guidelines are designed to keep your crew safe, serve up a great product, and ensure patrons aren't sickened.
Inspection Captain: Designate an "Inspection Captain" who will be the point of content when a health inspector arrives. Typically, this is the shift manager, GM, or owner. There should always be an Inspection Captain on premises for every hour, and every day you're open. Schedule accordingly.
Hire a Consultant or Trainer: While an "unregulated" industry, former health inspectors often offer to provide consulting. Better yet, use a trainer from an accredited program like www.ServSafe.com
Self Inspections: Each staff member should perform a daily self inspection using a checklist.
Q) Who decides food safety and health standards for the inspection?
A) Food safety standards are set by the FDA and then modified at the state, county, and even local level.
While there are basic food safety guidelines to follow (like the ones in this checklist), rules vary and can get quirky. Visit your county's website: most health inspections are posted.
Q) I heard smartphone use is a red flag for inspectors?
A) Yes, because smartphones are full of germs and rarely sanitized.
Train your team to keep their smartphones in their pocket – not left out on the kitchen counter or cutting station. In the front of the house, smartphones should never be set on the bar or host stand. This also looks unprofessional to customers and distracts employees.
Q) Help! The health inspector just arrived. What do I do?
A) You can't refuse a health inspection. But you can ensure it runs smoothly with these 4 tips.
1. 2 Key Questions to Ask First
Very politely, ask the inspector to show their i.d. If you feel suspicious, call the health department to verify.
Ask why the inspection is occurring: is it routine? Or, did a customer complain?
2. Be Their Shadow
You are often allowed to accompany the inspector as they examine your facility. Take notes. Listen carefully, and make changes immediately if possible. Most inspectors are required to note in your report that you rectified the problem.
3. No Handouts
Don't try to butter up the inspector with offerings of free food or drinks. It can be interpreted as trying to influence the report.
4. Wrap Up
Request that the inspector give a brief overview of her findings to your entire team. It's good for them to hear it straight from the inspector – not from you.
Source: Based on Guidelines by the National Restaurant Association
http://www.foodsafetynews.com/restaurant-inspections-in-your-area/#.W0einvZFyF5
Disclaimer: Checklist based on many different criteria including County of Sacramento and Minneapolis Health Department. Use the criteria for your state, county, and/or city. Using this checklist will not guarantee you pass the inspection, receive a higher grade, or any other outcome.