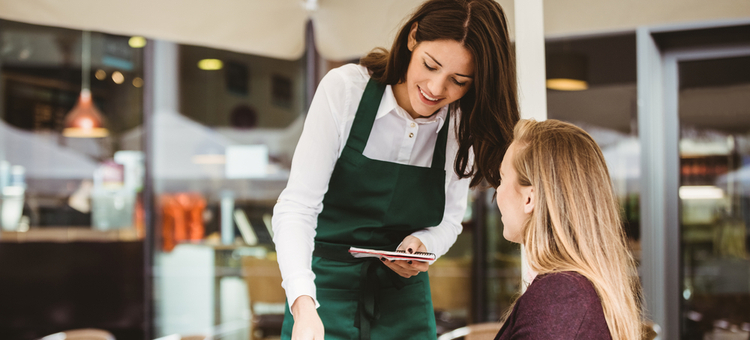 Server tips are a dime a dozen. To find out what really works, you gotta go to the pros. So, allow us to introduce you to Goren Avery — a career server at the Highlands Bar and Grill in Birmingham, Alabama, and the 2014 Ruth Fertel Keeper of the Flame Award Winner.
Eater sat down with Avery to discuss his decades-long career as a server and the highs and lows he's seen in the restaurant industry.
From his observations and pearls of wisdom, we pulled six ageless server tips that every restaurant pro should know — and added our own modern twists to help level up your game.
1. Pro Server Tips: Read the Table.
It may be every server's instinct to enthusiastically greet a table when guests sit down – and dive right into these 26 best upselling phrases. But Avery warns against "the rush" with these server tips:
"It's all about reading the table when you get to the table," he advises. "You don't want to just jump in and interrupt them while they're talking."
He's got a point. Imagine interrupting a key business deal or possible proposal. One of his best server tips is to remember that it's about the experience.
So, look for social cues or wait for a break in the conversation before checking on your guests. As Avery says, "You have to know when to step in and when not to step in."
Modern Twist: Use your reservation system as a cheat sheet.
Sometimes, even the best server tips could use some backup. If your restaurant has a reservation system, encourage your hostess or managers to leave notes for the servers so they are prepared to meet your guests.
Include details like the diner's name or the occasion for their visit. This way, your server can more easily anticipate how they should approach the table after guests are seated.
2. Pro Server Tips: Know what to recommend.
When it comes to the dinner rush, Avery notes the importance of being prepared and knowing the menu:
"When it's time for dinner, they're gonna ask you some questions. They're going to want to know, 'What do you recommend?' Have answers ready that highlight any specials, popular menu items, and possible wine pairings for your guests."
Part of his server tips for making recommendations is knowing when to steer your guests in the right direction. As Avery points out, sometimes guests may order something without realizing what it is — like beef carpaccio.
Avery noted that he can tell when a guest isn't sure about the dish, so he'll often mention that it's served raw to check if that's really what the guest wants.
"You can kind of tell when they really don't know what they're ordering. And a lot of people are afraid to ask you about something because they feel like they know raw."
Modern Twist: Go digital to give guests all the details they need.
It's important that your team knows your dishes and can provide server tips and recommendations — but why not help them out by spotlighting your (highest margin!) menu items on your own TVs?
It's easy and affordable with digital signage software. You can bring your dishes to life with photos and mouthwatering descriptions.
3. Pro Server Tips: Tell a story about the meal.
One of the best old-school server tips that still holds true: The details make the dish. Avery knows the importance of providing a detailed description of a meal for guests, and laments how things have changed:
"The younger generation of waiters, they wanna get fast money and get out, okay? They don't want to know about a wine, what's the grape, where it's coming from, and they don't wanna know anything about how you prepare something from beginning to end."
So, when it comes to server tips for describing menu items, take a page out of Avery's book. "Myself? I go through the whole nine yards."
Modern Twist: Pepper your descriptions with trendy culinary terms.
Beyond being just good server tips, describing dishes in detail could result in more sales. Research shows that longer menu descriptions can sell up to 30% more food. And guests react more positively to mouth-watering terms like "tender", "golden", and "natural".
To bring your menu descriptions to modern day, add key terms from some of the year's hottest culinary trends.
Words like "locally-sourced" and "house-made" are sure to gather more attention. And here's one of the best bonus server tips: Be sure to mention any global flavors or unusual spices used in your dishes to stay on-trend.
[fl_builder_insert_layout slug="whitepaper-signup-module-get-more-customers"]
4. Pro Server Tips: Don't rush.
Avery mentions that one of the biggest server pet peeves is a lingering table. But he also notes the golden rule of server tips: You can't rush your guests (no matter how frustrated you are).
"You're really trying to turn that table so you can get another table there," says Avery. "Waiters really hate that, when a guest sits down an hour and half after they paid the check and will not get up…and you cannot say a word."
Modern Twist: Speed up the check out process with tableside payment.
Proper protocol and server tips everywhere warn against rushing a table or passing it off to another server. It just doesn't look good. But it is frustrating when you're trying to get more people seated.
So, try using self-order tablets that allow guests to check out at the table. They may still linger long after they've paid. But with the convenience of tableside digital menus, they may wind up ordering another round while they extend their stay — which could result in higher server tips for your staff.
5. Pro Server Tips: Give all your tables some love (even the not-so-fun ones).
Not every table is going to be a walk in the park. And it's not uncommon for servers to prefer some tables over others.
In his video of server tips, Avery acknowledges the temptation to give more attention to the fun tables. But he also advises that it's important to spread your focus to all the guests — even the "stiff" ones.
"A lot of times, I have people complain about me because I may spend more time with this table than I do with your table because they're having more fun. You're being too stiff over here, so I cannot relate to that. But you have to give all the tables some love, okay?"
Modern Twist: Engage all your tables with digital games.
Despite the best server tips, you probably want to do what Avery does and chat up the fun ones. So, bring the party to everyone with handheld tablet games, like trivia. Servers can challenge guests to a round of trivia or even encourage tables to battle each other in a game of wits.
Sure, there still may be some debbie downers — but it will be a lot easier to entertain everyone when you gave a set of games at your fingertips. And your guests will enjoy it too.
According to an AT&T and Technomic study, 70% of consumers view dining out as a form of entertainment — and trivia takes fun to the next level. 
6. Pro Server Tips: Put on a show.
One of the key server tips that Avery shares is how every service is a show and every server is a performer. And remember: guests are there to have fun. So, play your part and let the guests' energy fuel yours.
"Having fun, you're talking about the meal, you're talking about the wine, and the spirits…And so, it motivates you when people come in and they have a good time. And it gives you that boost of extra energy — you're on a stage, in other words. This is a performance that we do. When the curtains pull open, you just do your thing."
Modern Twist: Tap into technology to boost your performance.
Even with all the best server tips in play, your staff can't be everywhere at once. But with the right server technology, you can streamline operations and allow your team to keep their focus where it's most important: on your guests.
At the end of the day, being a server means you're 100% focused on customer satisfaction. As Avery puts it… "you do what you gotta do to make people happy."