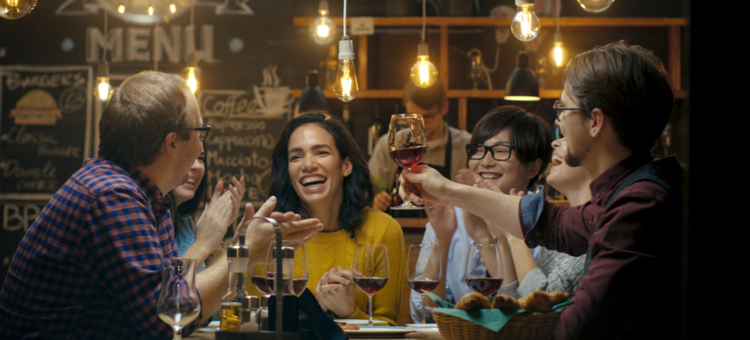 If you run a bar or restaurant, your biggest competition isn't the "it" spot down the street. It's the sofa. Customers are staying home to binge on Netflix – and takeout. Proof: Over 50% of restaurant meals are now consumed at home. These 9 in-venue entertainment ideas can lure them out of their sweatpants and into your business with the promise of a good time.
Elevate the Guest Experience with Ongoing In-Venue Entertainment
1) Be "Instagramable" with a DIY Photobooth
It's a selfie nation, like it or not. Embrace it with in-venue entertainment like a permanent "photo booth" area in your place. It could be a step-and-repeat banner with your logo (you see these behind celebs on the red carpet). Or, let your concept guide your photo booth like Prison City Brewery in Auburn, New York. The award-winning brewery set up a mug shot backdrop, with branded signs patrons can hold up that say "mug club."
2) Bring the Arcade Tableside
Today, thousands of restaurants are bringing in-venue entertainment to the table with handheld tablets. Loaded with dozens of arcade and trivia games, tablets ensure fun is always within reach. Players can compete across the bar – or across the nation by joining scheduled trivia games that run 7 days a week, 15 hours a day. Best of all, this type of trivia is only available as in-venue entertainment. It gives people a reason to come into your business for real-time competition and a social experience.
3) Got Flair? Lessons from the Salt Bae
Who knew a dramatic sprinkling of salt onto steak could become the stuff of legends? The Salt Bae, an otherwise average waiter, took in-venue entertainment to new heights – delighting patrons with his signature move.
That's known as "flair" in the world of serving and bartending. (Not to be confused with pieces of flair on a vest…a la Office Space.) You can turn ordering a martini into something magical – and made for social media – by sending your bartenders to online flair school.
Another option to up your flair factor? Add a few menu items that require tableside prep: from a classic Caesar salad to lighting stuff on fire like a retro-cool Baked Alaska. Maybe rename it to the state your restaurant is in for extra witty in-venue entertainment…Baked Nebraska has a nice ring to it.
4) In-Venue Entertainment That Caters to the Kids
Millennials are growing up. At 3am, many are up with a baby instead of in da club. By 2026, over 80% of millennials will be parents.
What does this have to do with your in-venue entertainment? Now may be a good time to up your game when it comes to being family-friendly fun. Look to Brooklyn, New York. Even bars are creating kid zones so parents can enjoy a relaxing afternoon, while little Jonny and Susi indulge in creative play. Check out these 13 family-friendly in-venue entertainment concepts for bars and restaurants.
[fl_builder_insert_layout slug="whitepaper-signup-module-supreme-guide-live-events"]
Special Events as In-Venue Entertainment
Don't take a "one and done" approach to hosting events. Instead, rock these in-venue entertainment events on a regular basis so you can drive in repeat business.
Notice we didn't include live music? You're better off running interactive events that invite socializing – and create a sense of community. From bar game tournaments to beer-and-burger guided tastings, start planning your events calendar now. These 5 in-venue entertainment ideas will get you started…
5) Open Mic Night (5 Ways)
Your town has talent, unleash it with an open mic night. But add some creative twists to keep your in-venue entertainment fresh.
Swap Meet: Require performers to swap in a specific word when singing. Instead of "love" they've got to say "beer" (I'd do anything for beer…but I won't do that.).
Competitive Open Mic: This progressive event begins with a local musician judging the performers, the winner is then invited to judge the next week's event – and so on…
Lots of Laughs: Run a comedy open mic night as one of your in-venue entertainment offerings. Dad Joke faceoff anyone?
TGIF Battle Stories: With an event name so full of profanity, you'll have to click this link to read about this comedy event. The safe-for-work-explanation is this: invite audience members to take the mic and vent about anything that annoyed them during the previous week.
Talent Show: Run a talent show so those who can't carry a tune can still take the stage.
6) Networking is Fun. Seriously.
Everyone is on LinkedIn. But in-person networking is still important to professionals. The latest organizations are turning networking into the ultimate form of…in-venue entertainment? Yes. Bar Louie in Livonia, Michigan hosts POSH Networking, a casual event that promises serious results in the form of new business leads. Reach out to local tip clubs and networking groups to see if they'd like to host their next event at your venue.
7) Run a Live Trivia Tournament
It's time to pop the question by hosting live trivia. Unlike many in-venue entertainment options, trivia night is traditionally held midweek. What a coincidence…that's when most bars and restaurants could use extra foot traffic.
To run live trivia like a boss, upgrade to a trivia platform that lets players submit answers using tablets. Scoring is then fully automated and frees up the host to ham it up with the crowd. In fact, Buzztime's tablet-based live trivia system is so easy to use, your own staff can host trivia night.
8) Get Arty…
One of the trendiest types of in-venue entertainment is hosting workshops so everyone can get their hands dirty. Literally. A Plant Nite host guides participants in potting a terrarium, or a Paint Nite instructor helps everyone play Picasso and paint a masterpiece.
Or, launch a series of gallery nights. This is a win-win. Your walls look cool again. And you host sophisticated in-venue entertainment. Every season, invite a different local artist or photographer to display their work in your venue. Kick off the new artist's work with a gallery night and ticketed dinner or tasting.
9) …and Get Weird
Do we really need another disco theme night? Current in-venue entertainment trends suggest not. In early 2019, one of the hottest events was the Onesie Bar Crawl. From New York City to Seattle, Norfolk to New Orleans, revelers were sporting PJs and onesies and getting their drink on.
To inspire your next in-venue entertainment event, turn to these 31 obscure holiday promotions – like Ugly Christmas Sweater Day (third Friday in December) or Star Wars Day (May the Fourth).
For best results, take a two-pronged approach to launching in-venue entertainment. Start by looking for ways to incorporate fun into every guest visit. Then, plan special events throughout the year. Let's do this…