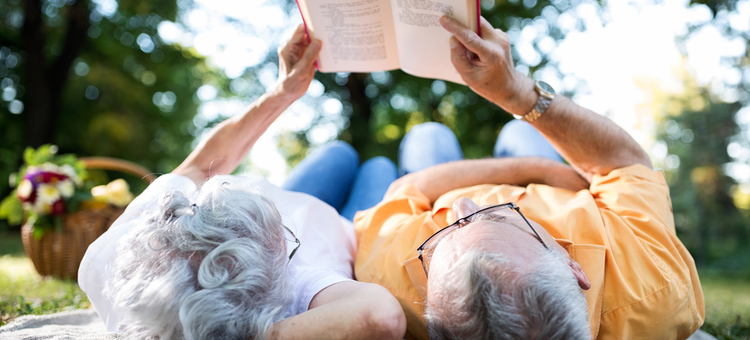 It's summertime and the living is easy – and fun – when you plan exciting summer activities at your senior living community. These 12 ideas are social, simple to launch, and provide healthy benefits to residents.
So, grab the sunscreen, because the fun starts outside…
Healthy Fun in the Sun: Outdoor Summer Activities for Seniors
After a long winter, senior residents are eager to get outdoors. It's the perfect opportunity to help seniors develop healthy exercise habits. In fact, the CDC recommends that adults 65+ should get 2.5 hours of moderate activity each week.
Studies also show that exercise mixed with Vitamin D (absorbed through sunlight exposure) reduces senior depression and anxiety. So take it outside with these summer activities for seniors.
1) How Does Your Garden Grow?
Consider creating a community garden for your residents, if you don't have one already. Between digging, weeding, and cutting plants, gardening provides light exercise. Gardening is one of the best summer activities for seniors because exercise is disguised as leisure. Plus, seniors can socialize as they plant or tend to flowers.
Another concept sprouting up a senior living communities? Vegetable and herb gardens. Residents can use the produce in their own kitchens, or partner with your foodservice team to incorporate the fruits (and vegetables) of their labor on your cafeteria's menu.
See the 5 benefits of gardening for seniors and get important safety tips before launching a garden as one of your summer activities for seniors.
2) Take a Hike
Brisk walking is another one of the best summer activities for seniors. Change up the scenery. Take your residents to a local walking trail or nature preserve. Seniors in wheelchairs can still benefit if you scout out a trail that's paved and relatively flat.
3) Go for a Swim!
Summer activities for seniors that take place in water reduce the risk of injury by lessening joint impact. Seniors can float, swim, or take part in a light water aerobics class in a community pool. Water-based summer activities for seniors are also a great exercise option for those with arthritis or stiff joints.
Don't Let Rainy Days Get You Down! Indoor Summer Activities for Seniors
Rainy days are anything but dreary with these indoor summer activities for seniors. In fact, a 21-year study revealed that games and leisure activities can reduce a senior's risk of dementia. From live trivia on senior tablets to a board game bonanza, let the games begin…indoors.
4) Host a Weekly Trivia Tournament
A trivia event can spark friendly competition and social bonding between seniors. It's easy to host your own trivia events – any time you want – using senior tablets as scoring devices. Seniors can play on teams or as individuals. You could even use trivia summer activities for seniors to bring in prospective residents. Some communities even launch tournaments between locations!
To really make it an event, award small prizes to the winners or create a "Hall of Rainy Day Trivia Fame" for your champions.
5) Board Game Marathon
Invite residents to pick a few of their favorite board games and set up a game day in one of your common areas. Put out snacks and drinks for your residents to enjoy with these indoor summer activities for seniors.
Make sure to have extra game pieces and dice on hand to keep gameday running smoothly.
6) Book Club for the Win
Rainy days and books go together like Elizabeth Bennet and Fitzwilliam Darcy (the main characters in Pride and Prejudice). So, start a book club as one of your indoor summer activities for seniors. Let seniors select which books will be read, then set up a weekly club meetup.
Celebrate the Summer Holidays
7) Fourth of July
Start the festivities by inviting your residents to sport red, white, and blue apparel for the day. Award prizes to seniors with the most patriotic outfits.
As an afternoon activity, seniors can make their own fireworks! No, not real fireworks – it's a simple art project that yields beautiful results. Then, end your day of 4th of July summer activities for seniors with a trip to watch fireworks at a nearby location. If mobility is an issue, there are often televised fireworks that can be watched indoors.
8) Grandparents Day (the First Sunday After Labor Day)
For residents with grandchildren, they'll love these kid-friendly summer activities for seniors. Invite family members to come into your facility to celebrate. Set up a scrapbook station for your residents and their grandchildren to create collages of their favorite pictures together.
You could also ask residents to give you photos of their grandchildren, which can you can showcase on your TVs and even on senior tablets with digital signage software. The software even lets you spotlight events – like your summer activities for seniors – on TVs and senior tablets!
Summertime Means Family Time
Plan special summer activities for seniors that bring the entire family together at your community. With a little food and some games, you have a recipe for a great time.
9) Family Barbecue or Picnic in the Park
Host a large cookout for residents and their families. You can use outdoor space at your facility, or set up a picnic in a nearby park pavilion. You could provide the food, or create a potluck style event. Ask family members to bring a large dish to share. Your residents get a taste of home while enjoying these social summer activities for seniors.
10) Honoring the Graduates
At the end of the school year, host a special lunch or dinner for senior residents – and let them invite their special graduates! Whether it's a college or kindergarten grad, your residents would love an excuse to spend quality time with their grandchildren. Organize a few outdoor games like bocce ball or croquet. These games are low-impact summer activities for seniors that their grandchildren will enjoy playing, too.
12) Ice Cream Social
Summer isn't complete without a good, old-fashioned ice cream social. Like trivia events using senior tablets, ice cream socials are summer activities for seniors that can double as prospecting events. Offer a few different flavors of ice cream and set up a "build your own sundae" bar. Put out toppings so seniors can indulge their sweet tooth.
Keeping your residents happy and healthy this season is a breeze with these 12 summer activities for seniors. Just remember to keep cool, stay hydrated, and have plenty of fun…in the sun!