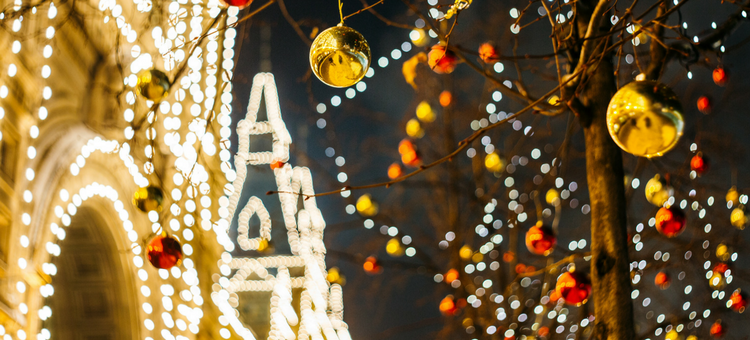 There's no place like home for the holidays, but these 15 marketing ideas, events, and promotions will make your restaurant the next best thing. Discover how to boost holiday season traffic into your restaurant from Thanksgiving through New Year's Eve – and beyond…
1. Promote Private Parties to Jump Start Holiday Season Traffic
Don't wait. Start spreading the word that your restaurant welcomes holiday party reservations! Be proactive in your efforts to increase holiday season traffic, and contact local businesses nearby. Wouldn't they like to host their holiday part at your place? Yes, yes they would.
Send a staff member or two out to local business, sporting Santa hats of course. They can drop off coupons to receptionists that include an offer – like a $50 gift card – for whomever books the holiday party. (P.S. That's likely going to be the receptionist.)
The latest trend is for offices to host holiday parties in January, so consider offering a slight discount for those that opt for a post-December celebration. It's an easy way to keep the holiday season traffic going into the new year.
2. Consider Staying Open on Holidays
It's the ultimate conundrum. Do you open on Thanksgiving and Christmas in a quest to increase holiday season traffic, or give your employees (and yourself) the day off?
Many restaurants are now staying open due to the fact that nearly 1 in 10 Americans go out to eat on Turkey Day, according to the National Restaurant Association.
3. Tap Into the Takeout Trend
Yes, the focus here is on increasing holiday season traffic into your restaurant – but could you bring your food to customers at home? There's no need to go big with full-service catering.
Why not create a menu of group-size portions of your top dishes that customers can serve at home. The same survey from the National Restaurant Association noted that 9% of those who eat holiday meals at home would like to buy parts of the meal from a restaurant, and 6% would prefer to have your restaurant handle the whole shebang!
4. Get Your Gift Card Packages Ready
Sure, everything has gone digital. But actual gift cards you can hold in your hand aren't going anywhere this holiday season. In fact, 38% of consumers plan to give gift cards this holiday season.
To boost holiday season traffic, offer a kickback to those who purchase gift cards. For example, those who purchase over $100 in gift cards get an instant $10 off their meal that night.
Or, get creative. How about a date night gift card package that includes a complimentary bottle of wine? Packaging makes perfect. Wrap the bottle of wine in clear cellophane, tie it with a beautiful ribbon, and attach the gift card. Set this out at your host stand to drive impulse buys while you're enjoying the uptick in holiday season traffic.
5. Take a Cue from Starbucks and the PSL Effect
Starbucks understands the power of a limited time offer, in the form of a limited time flavor! Each year, they enjoy a rush of holiday season traffic when they release their pumpkin spice latte (aka PSL). Do the same at your restaurant. Add a seasonal twist to one of your most popular desserts or drinks. Try a pumpkin and cinnamon spice cheesecake, or any of these 17 fall cocktails.
6. Show Your Heart to Increase Holiday Season Traffic
It's a win-win. Charitable promotions drive holiday season traffic through your door, and help those in need. Here are some ideas…Team up with a local charity and create a signature cocktail or designate one of your beer tap handles to be a "charity pour." For every sale of that cocktail or beer, donate a $1 to the charity.
Another way to lift holiday season traffic? Designate one night a week as "charity night" when 5-10% of your sales go to that charity. Provide charities with customizable flyers promoting the night, and watch as they invite dozens of their friends and family members into your restaurant.
Worried this will cut into your margin? Just offer a prix fixe menu or designate specific menu items good for the promotion.
7. Make Happy Hours, Happier (and More Social)
To boost holiday season traffic at your bar or restaurant, focus on making happy hour more festive – and social. After all, Technomic research found that 49% of patrons partake in happy hour so they can meet up with friends and coworkers.
Tweak your menu to attract holiday season traffic by appealing to big groups. Add shareable, seasonal appetizers like a flatbread pizza trio and a pitcher of chilled mulled wine (it's winter's answer to summer sangria).
8. Spark Team Spirit Among Your Staff
It's your time to shine. With an uptick in holiday season traffic, your staff has to bring their "A" game! To ensure that happens, get their spirits up with some fun teambuilding activities. Try a secret santa gift exchange, or let a different staff member each day be in charge of setting up the Elf on the Shelf. Check out these pics for inspiration (and be sure to post your Elf on the Shelf photos to Instagram).
9. Pop Up Shops and DIY Workshops
Don't stop at gift cards! Be the hero to your customers by helping them tackle their gift giving list.
Prepare for a rush in holiday season traffic if you host a DIY night. Hire a host who can lead customers in painting a masterpiece or potting a terrarium (both would make excellent, homemade gifts).
Or, invite in a local retailer – like a clothing store or jeweler – who can set up a small "shop" within your restaurant.
10. Maximize Holiday Season Traffic for Next Year
Take advantage of the bustling holiday season traffic in your restaurant. Drive reservations and promote events that will happen during the slowest time of the year in this biz: January and February. Use these 15 hidden in-venue marketing opportunities to spotlight upcoming events. For example, offer VIP seating packages for pro football's Big Game in early February.
11. Thanksgiving: Giving Tree
Now we're going to shift gears to focus on specific opportunities for attracting more holiday season traffic, based on a few big holidays. Let's start with Thanksgiving! Set up a Christmas tree in the front of your restaurant, but call it a "giving tree." Invite patrons to decorate the tree by donating new hats and mittens that you'll bring to a homeless shelter later in the winter.
12. Black Friday: Meal Deals
Go big for Black Friday and bring in holiday season traffic with delicious deals. One year, Red Lobster included free lobster tails with the purchase of a steak. Since it's Black Friday…how about free "fry" day? Offer bottomless fries to anyone who comes in during the day. Be sure you're ready to sell those holiday gift cards, too!
13. Small Business Saturday: Team Up with a Farmer or Brewery
The day after Black Friday is Small Business Saturday, and another chance to lure holiday season traffic your way. Show your support for other small businesses by partnering with a nearby farm or brewery and featuring their products on your holiday menu.
14. Christmas: 12 Days of Deals
Christmas may be one day, but why not turn it into 12 with a "12 Days of Deals" promotion? It's a surefire way to build holiday season traffic at a steady pace. Each day leading up to December 25th, email out a different special offer to your patrons. You could also run the 12 Days of Deals on your social media pages.
15. New Year's Eve: Go for a Gala
Consider hosting an upscale dinner and dancing event with a creative theme to increase holiday season traffic. How about a masked ball? Or, what about a Great Gatsby theme with a live jazz band and a 1920s dress code? People love a chance to dress up – and live it up – on New Year's Eve. Plus, you can justify higher ticket sales.
And that's a wrap on 15 ways to boost holiday season traffic. Best wishes for bustling holidays, brisk business, and a most prosperous new year!