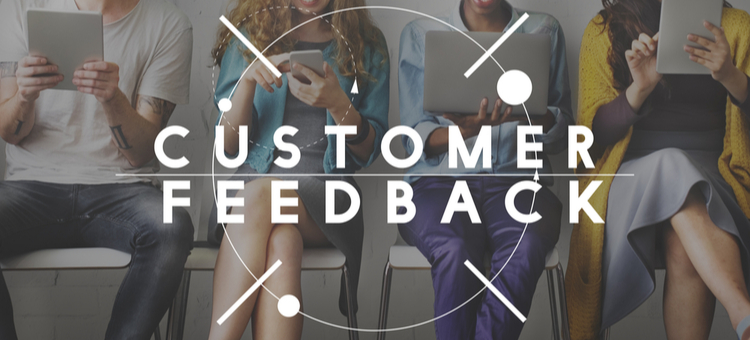 It's called feedback for a reason, right? You feed your customers, they give opinions back to you. Well, in a perfect world they would. It's hard out there for a bar or restaurant owner trying to uncover what makes customers tick. That's why we put together 8 tips for getting customer feedback. Let's dig in…
1) DON'T Stop at Customer Feedback Via Yelp Reviews…
Chances are, you have a Yelp obsession. You check in daily for new reviews. But customer feedback on Yelp tends to be polarizing. "The food was ah-maz-ing…5 stars!" or "Never again…1 star" (that's what they said about your competitor).
Of course, Yelp is a powerful tool for taking the pulse on what customers think, but it's not enough. You want to capture opinions from all diners: those with middle-of-the-road customer feedback and those who don't use Yelp at all.
2) DO Reward Responses (The Golden Rule of Asking for Customer Feedback)
Surveys. Ain't nobody got time for that. Unless, there's an incentive.
When was the last time you filled out a lengthy survey out of the kindness of your heart? If you want thoughtful customer feedback beyond one or two quick questions, you need to sweeten the deal.
It could be a chance to win one of five $20 gift cards. Better yet, give an incentive on the spot like a complimentary dessert. If you administer your survey online using software like SurveyMonkey.com, you can automatically generate an offer for every completed survey.
3) DON'T Go Overboard with Questions
Even with the promise of a free dessert or gift card, customers won't take the bait if your survey is 20 questions – or even 10. The general rule of thumb for getting customer feedback is this: no more than 5 questions, and no more than 2 minutes required.
Remember, your goal is to gather useful information. Don't bother asking for customer feedback if you won't utilize the information. Do you need to know a customer's age or where they live? Maybe, but don't waste time asking just because it looks official. Use these restaurant survey questions for thought starters.
Another trick to speed up surveys for customers is to ask true or false or "check the box" questions. You can always leave a section for additional comments. Plus, by asking formulaic questions, you can easily compile and analyze customer feedback data.
If you're really on a mission to get in-depth customer feedback, you could hold a focus group. Randomly invite 6-7 guests to dinner on your dime, with the caveat that you'll be asking them about their opinions. Ideally, ask a business advisor or someone you trust to lead the focus group. Customers will be more honest. Give them an outline of what customer feedback you want them to gather.
[fl_builder_insert_layout slug="whitepaper-signup-module-rewards-program"]
4) DO Gather Customer Feedback When It's Most Accurate
The best time to round up customer feedback is while guests are on premises – when their experience is fresh in their mind. So how can you do that?
Tablet Surveys: If you're one of the many bars and restaurants that offer guests handheld menu tablets, you can get customer feedback digitally. A short and sweet survey will appear as the guest pays for their meal on the tablet.
Ye Ole Comment Card: Go old school and stick a simple comment card in the check holder. Don't forget to ask the customer for their email address if they'd like to receive offers from you. If you go this route, get creative and keep it simple like this:
How did we do? Circle one: awesome, good, meh, fail
Any comments to share? _______________
If you'd like us to follow up, tell us how to reach you: _______________
Loyalty Tie-In: Many of these 10 best loyalty programs can trigger short customer feedback surveys that appear on the customer's phone immediately after dining with you.
Wi-Fi with Benefits: Tired of giving away wi-fi and getting nothing in return? Instead of a password, customers would just provide quick customer feedback like answer a question or rate your business. Ask your wi-fi provider or wi-fi gateway software service if this is available.
Just Ask: Instruct your server to ask one question at the end of the meal, and require them to track responses.
Customer Feedback in a Box: Great for bar tops, set out a small suggestion box and blank cards. Go a step further and ask a "question of the month." Keep it light: What music do you want to hear? What beer should we carry? What did our bartender do that you liked?
5) DO Use Social Media
Social media is an excellent (and free) resource for scooping up customer feedback. You can always post a link to your online survey – don't forget to include a picture of that sweet incentive you're offering.
However, the best use of social media for customer feedback is to gather quick bites of information. To the customer, these mini surveys and polls are entertaining. But you can still acquire valuable insights.
Facebook Polls: Facebook polls only let you ask one question at a time, but you could set up a "poll of the week" and change it up. Check out these 8 tips for creating Facebook polls that people want to take.
Comment on the Photo: Many bars and restaurants will post a photo of a dish on Facebook or Instagram and ask a fun question like… "Our double decker burger is a favorite…but if you had to choose ONE meal to eat with us tonight…what would it be?" Guests will likely leave plenty of customer feedback.
Instagram Live Poll: A new feature, these simple 2-option polls are built into Instagram stories. You could ask: "Which wine should be our house wine?" or something casual.
6) DON'T Be Shy About Positive Customer Feedback 
Social media isn't just useful for acquiring customer feedback, it's a great place to show off glowing reviews. When writing your survey, include an opt-in box that says: "You give us permission to use your review and first name only." Then, use one of these 17 handy social media image apps that turn text into cool graphics.
7) DON'T Forget the Power of a "Stop and Chat"
Many managers will make the rounds at tables and ask: "how is everything?" This is a missed opportunity, as guests will likely say "fine."
Instead, managers should ask for specific customer feedback that relates to their most critical business needs. Examples include:
Are you happy with your waiter tonight? Anything they did you liked? Didn't?
Any suggestions on the food tonight?
We're updating our menu…anything you'd like us to bring back or add?
8) DO Be Transparent and Follow Up
Let guests in on the reasons why you're seeking customer feedback – and what you'll do with it. Everyone wants to feel like their opinions matter. If you're thinking of hosting events, ask customers what they'd want to attend. On the survey itself, tell customers when you'll announce the new event lineup. Then, ask for their email so they'll be first on the guest list!
Ultimately, seeking customer feedback is a powerful way to show you care. Yes, you're gaining valuable insights, but you're also boosting loyalty and reminding guests of your primary goal: giving them the best possible experience at your bar or restaurant.