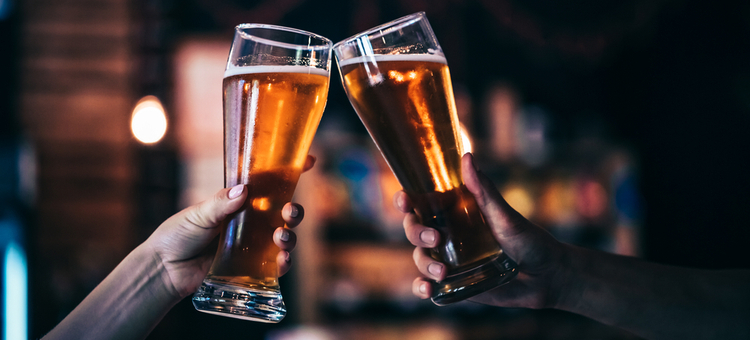 Raise your glass – of sorghum beer – to your next best opportunity: Creating a gluten-free beer list. With an estimated 1 in 5 Americans seeking out gluten-free food and drinks, you'll make 20% of your guests very happy.
The 4 Golden Rules of Offering Gluten-Free Beer
Catering to the gluten-free crowd has bottom line benefits. With great gluten-free beer options, you can build loyalty and become their go-to spot.
But some bars and restaurants have jumped on the gluten-free trend, viewing it as a marketing tactic. If you're going to promote that you have gluten-free beer, do it for the right reasons: to protect the health of your customers.
1) It's About Health
No, gluten-free guests aren't going against the grain to be difficult. It's a serious health issue for the 1 in 133 Americans diagnosed with Celiac disease – and the estimated 7 percent of the population that suffers from gluten sensitivity.
Even without a medical diagnosis, millions more report symptom relief when eliminating gluten from their diet. That's why today, 1 in 5 Americans look for gluten-free beer, food, and even beauty products.
2) Get Educated: A Grain By Another Name…
No gluten means no wheat, right? It's not that simple.
Wheat is a catchall term for dozens of gluten-containing grains – from rye to barley, spelt to semolina. Watch out for ingredients containing triticale, a rye-wheat hybrid. Get granular with the Mayo Clinic's complete listing.
3) Know What Going Gluten-Free Really Means
Those with Celiac disease and gluten intolerance can get sick from even trace amounts of gluten. They want to be assured that a gluten-free beer is really, truly free of all gluten.
There are beers on our list that are just shy of being officially gluten-free. For example, Omission and New Belgium's Glutiny line of beers use a special process that removes almost all gluten. These beers are labeled as "gluten-removed" or "gluten-reduced." Include that same language on your beer list.
Don't lump the gluten-free and gluten-reduced beers together. Celiacs want to know that YOU know the difference.
Things get even more complicated when it comes to food. Even if you create a 100% gluten-free menu, your work isn't done. Cross contamination is a major concern. You need a separate fryer and prep station to prevent contact with gluten. If you're serious about catering to the gluten-free crowd, consider undergoing the GREAT Gluten-Free Foodservice Training program.
By the way, don't be alarmed if a Celiac asks you to pour their gluten-free beer into a plastic cup. They're worried that there still might be traces of wheat on the glass.
4) Train Your Team
The last thing you want is a bartender hesitating when a patron asks, "is that a gluten-free beer or just gluten-removed?" After educating yourself, train your team. Otherwise your patrons will lose confidence in your gluten-free knowledge.
Now that you know the golden rules, it's time to dive into the list of gluten-free beer.
This list covers the most commercially available beers. Check with the microbrewers in your region. With the rise in popularity of gluten-free beer, there may be a hometown brew you can source. Another tip: just ask your gluten-free patrons which beers they prefer!
[fl_builder_insert_layout slug="whitepaper-signup-module-37-trending-happy-hour-menu-ideas"]
Naturally Gluten-Free Beer
The beers on this list are truly gluten free. Made without any wheat or barley, these beers rely on substitutes like sorghum and buckwheat. Despite its name, buckwheat is not in the wheat family at all and is safe for Celiacs.
Hops are also a gluten-free ingredient. That's good news considering hop-forward brews are one of the biggest beer trends right now.
One of the first big-name craft breweries, Dogfish Head Brewery is known for wild and crazy beer ingredients. For their signature gluten-free beer, Dogfish Head combines strawberries, sorghum, and buckwheat honey.
Bard's Beer was the first gluten-free beer brewed in America. Founded by two men with Celiac disease, one of whom had worked at Pabst Blue Ribbon, Bard's Beer is arguably the "Bud Light of Beers." In fact, that's what the two brewers were aiming for. Their goal was a taste similar to a light American lager – and to most gluten-free beer drinkers, it delivers.
Leave it to the Belgians to brew up a gluten-free beer that now has a cult following among Celiacs, and even the occasional beer snob. Green's also offers 8 other gluten-free beers, and the refreshing Enterprise Dry-Hopped Lager is also popular.
From the New Planet Brewery in Colorado comes 3 gluten-free beer options: a blonde ale, pale ale, and a raspberry ale. The New Planet Blonde Ale is made with non-GMO corn, and has a light yet caramel-like taste.
This popular "pilsner" is made from sorghum, rice, hops, and yeast. It was the first gluten-free beer the U.S. Government allowed to be labeled as a beer.
Without barley and wheat, gluten-free beer brewers have to get creative. Based in Montreal, the brewers of Glutenberg looked to black rice and corn, along with lots of citrusy hops. As an added bonus, this one comes in a sleek can.
"Gluten-Removed" or "Gluten-Reduced" Beer
Some people with a gluten intolerance or sensitivity may be able to tolerate trace amounts of gluten – and enjoy a beer that almost tastes like the real thing. That's because gluten-reduced beer has been brewed…with wheat!
However, an enzyme is added that breaks down or removes almost all gluten. NOTE: Whatever you do, don't market these beers are being 100% gluten-free. Be clear with your patrons that they are a gluten-reduced option.
This is considered the holy grail of gluten-reduced beers. It's a true craft brew with a true IPA taste and lemony hop notes.
New Belgium brews up the iconic Fat Tire Ale. In 2016, they launched their Glutiny series of ales. A mutiny on gluten, get it? Brewed with Cascade, Goldings, and Nugget hops, the Glutiny Pale Ale delivers an authentic hoppy flavor.
Brewed in the classic Belgian beer style, this "almost" gluten-free beer scored a gold medal at the 2011 US Open Beer Championships. It may be difficult to find, but worth the effort. In a review of 14 gluten-reduced and gluten-free beers by Paste Magazine, this one game out as the overall winner.
This hoppy pale ale gets rave reviews as a nearly gluten-free beer. Many say that Omission and Glutiny beers are as close to a pale ale as you can get…
Not to be confused with the Mikkeller Brewery in San Diego, this rare brew comes straight from Denmark. While it's labeled as gluten-free, it's probably safer to market it as gluten-reduced. There is limited information about their gluten-free brewing process online.
Mikkeller is a seriously in-demand microbrewer. If you can get your hands on this beer, you'll attract craft beer lovers in general.
Living gluten-free requires a constant watchfulness to avoid getting sick. Show your gluten-free patrons that you've got their back by carrying a few of these gluten-free beer options.
[fl_builder_insert_layout slug="whitepaper-signup-module"]