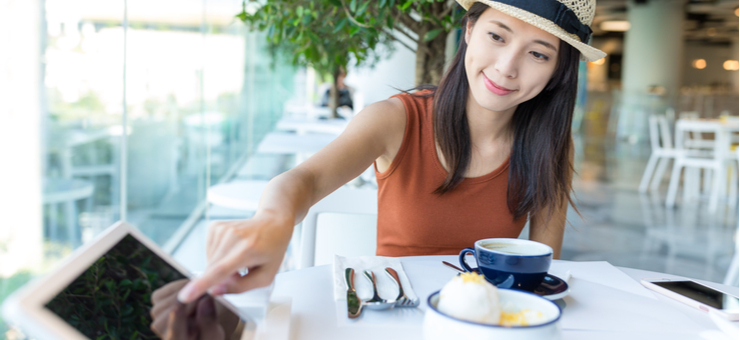 For fast casual restaurants and quick service eateries, digital signage is becoming crucial to beating out the competition. Having digital signage in your restaurant opens up endless possibilities, providing ways to cut costs, boost profits, and actively engage with your customers on multiple platforms.
Don't stay tied down to traditional paper menus and signs. These are the top reasons to switch to digital signage in your restaurant if you haven't already.
Menu Flexibility
Digital menus can showcase whatever food items you wish to upsell at any given time. If you need to make adjustments to price, you can do so in seconds. Digital menus and signage allows you to customize your menu to maximize profits. On the fly updates avoids hefty costs of printing and redesigning new menus. In seconds you can try a new layout or feature a different menu item.
Happier Customers
Digital Signage is also a terrific tool for crowd control and customer appeasement. For smaller (or simply popular) restaurants, long wait time to be seated can tarnish restaurant reviews and cause long-term financial consequences. With digital signage, you can display an active waiting queue so customers know exactly when they'll be seated. This causes less emotional distress and makes your customers happier.
Item Upselling
Digital signage allows you to prominently feature key menu items with specialized advertisements. You can display at peak times to keep customers ordering whatever you prefer. A study conducted by Capital Networks found that advertisements for specific menu items on digital signage within a restaurant will cause purchases to increase, and will ensure that sales don't decline for that item.
Website Plugging
There's no reason why you can't boost your online presence using in-store customers. Digital signage and tablets allow you to feature several screens and advertisements throughout the day – it's the perfect platform to showcase and link to your website. Plugging your website via digital signage will help boost impressions. This will help lead customers to your website. By collecting information on your website you can turn one visit into many, with targeted deals and promotions.
Social Engagement
Most restaurant owners are feverishly concocting plots to get customers to tweet about their location or hashtag their name on Instagram. One brilliant way to drive social engagement is to feature a social media board in a highly visible area. You can feature posts and tweets from customers in a constantly scrolling fashion. Customers will engage with your brand on social media while dining in hopes of showing up on your social media board.
Remote Oversight
With digital signage, you can update advertisements, menu item descriptions, promotions, and even the visual layout of your signage without actually setting foot in your establishment. Simply connect to a Wi-Fi network and update your menu in seconds. This saves time during work and allows for as efficient an operation as possible.
Digital signage is a must for bar and restaurant owners looking to retain and attract more customers. With Buzztime digital signage you get all the great benefits of digital menus, advertisements, and more.
[fl_builder_insert_layout slug="whitepaper-signup-module-top-ten-pos"]