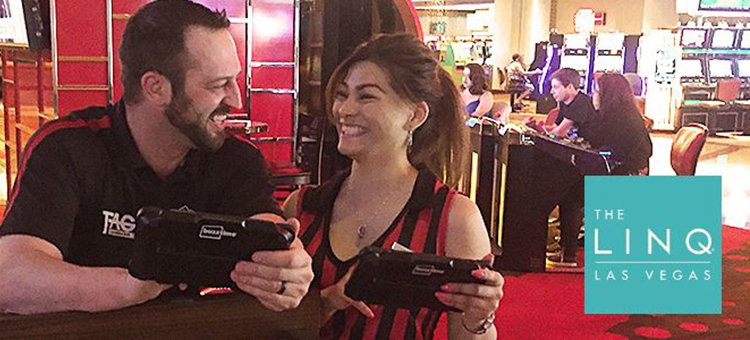 Envision a family playing Buzztime together. Picture the laughter and friendly competition.
You visualized the family at a restaurant table, right?
Instead, they're at a senior living community – visiting a loved one.
A new picture of Buzztime has come into focus as our tablet-based entertainment is now taking off in adjacent vertical markets, from senior living centers to auto dealership franchises.
Our diversification is the result of advances we've made to better serve our core market: chain and independent restaurants. As Buzztime evolved to meet demands for even greater tablet customization and functionality, these innovations turned into opportunities to penetrate new verticals.
Accessibility, adaptability, and agility have always defined Buzztime.
Now we're taking our "A" game into new verticals – here's how we're doing it, and why it's working.
HOW THE BUZZTIME "A" GAME iS POWERING VERTICAL MARKET EXPANSION
Accessibility
The Value of Inclusive Play
You can't be all things to all people. Unless you're Buzztime and 1 in 11 Americans have played one of your games.* Our mass appeal isn't an afterthought, it's strategic. We've designed the Buzztime portfolio of over 30 games and trivia challenges to attract players of all ages, interests, and skill levels.
Ultimate accessibility is even engineered into the Buzztime Tablet. The rugged, slip-resistant case is easy to grip – even for young children and elderly players. The bright, vivid touchscreen display accommodates those with vision issues, and the wide-angle screen allows others nearby to view the action.
Our inclusive approach appealed to Peggy Connelly, National Director of Life Enrichment and Memory at Care Harbor Retirement Associates, now offering Buzztime at senior living communities nationwide. She stated,
"Buzztime has provided a unique way for our residents and family members to bond through entertainment technology that is suitable for all ages."
Buzztime's accessibility even fosters social interaction beyond the venue. Harbor Retirement Associates are utilizing Buzztime's live trivia competitions to connect residents across their various locations. A strong sense of community is a key benefit in the senior living vertical, as it attracts new prospects – and enriches the wellbeing of existing residents.
Adaptability
Low-Cost Customization, High Impact Results
Product adaptability has defined Buzztime from day one.
The Buzztime operating system is fluid, and built for real-time optimization based on business intelligence. Buzztime can make instant changes across the game network – no action is required by our customers, no labor- or cost-intensive hardware modifications. If a game is under-performing, it is either modified or removed. Trivia questions are updated weekly. New games are added in response to market trends.
Our ability to rapidly adapt enables us to offer custom gaming solutions based on unique vertical market demands – this was the case for Harbor Retirement Associates. Since most senior living residents grew up in the 1940s and 1950s, Buzztime created new trivia content that referenced popular culture of that era. The trivia questions were mixed in until an ideal balance of past and present was achieved.
Beyond games and trivia, Buzztime can also adapt digital signage technology to meet specific venue needs. Senior living communities want to alert residents of activities and events – so Buzztime created an on-screen interface that can turn TVs into bright, enticing event calendars.
While Buzztime has built in capacity for customization, the overall system – without any alterations – is highly adaptable to many vertical markets, such as casinos. With three decades as the leading in-venue entertainment solution, Buzztime is a natural fit for the sports bar at the Linq Casino in Las Vegas as it creates a seamless transition from the casino floor to the bar area. The Linq's patrons experience the same excitement, thrills, and gaming action – whether they're at a roulette table or playing Buzztime. The result is a cohesive brand experience for patrons.
Agility
Strategically yet swiftly. That's how Buzztime is moving into new vertical markets.
Our agility comes from the cross-vertical appeal of the Buzztime promise: to solve tough challenges through fun. A more enjoyable, entertaining experience for the end customer translates to real bottom-line value. In the restaurant industry, Buzztime solves the challenge of wait time by transforming it to play time – and a 21% increase per table check for venues.*
Now, Buzztime has moved into the automotive industry, another vertical where wait time is a critical issue – especially for franchised dealerships that rely on high customer service marks for vehicle incentives and allotments.
A franchised dealership in the Southeast is providing Buzztime Tablets to customers waiting for repairs and service. Not only are customers more satisfied with their overall service experience, they're less likely to request loaners or a shuttle, which reduces labor and fleet costs for the dealership.
Agility also means acting quickly to capitalize on sustainable, high growth markets. That's why senior living is a high-value vertical for Buzztime. In 2014 (the time of the last U.S. Census), 14.5% of Americans were over 65 years or older. That means one in every seven Americans is a potential prospect for senior living communities – and Buzztime games. In 2040, the senior population is expected to be 21.7% – or one in every five Americans.**
Today, as the massive baby boomer generation enters the later stages of retirement, they're seeking out enhanced community living that's social, enriching, and exciting – exactly the environment that Buzztime can build.
WHAT'S NEXT ON THE VERTICAL HORIZON
With thousands of current customers across North America, the Buzztime infrastructure and supply chain is already in place coast to coast. We're ready to bring our "A" game – and the fun and functionality of Buzztime – to even more vertical markets.
*According to Independent Egg and Arbitron Studies
**https://aoa.acl.gov/Aging_Statistics/index.aspx
The above contains forward-looking statements which reflect management's current views of future events and operations, including but not limited to statements about our new vertical markets, customer and consumer satisfaction and the value of our product. These statements are based on current expectations and assumptions that are subject to risks and uncertainties that could cause actual results to differ materially. These risks and uncertainties include the risks of unsuccessful execution or launch of products, platforms or brands, risks associated with customer retention and growth plans, the impact of alternative entertainment options and technologies and competitive products, brands, technologies and pricing, adverse economic conditions, and the regulatory environment, failure of customer and/or player acceptance or demand for new or existing products, lower market acceptance or appeal of both existing and new products and services by particular demographic groups or audiences as a whole, termination of partnership and contractual relationships and technical problems or outages. Please see our recent filings with the Securities and Exchange Commission for information about these and other risks that may affect our company. All forward-looking statements are based on information available to us on the date hereof. These statements speak only as of the date hereof, and except as required by law, we do not undertake to publicly update or revise any of the forward-looking statements, even if experience or future changes show that the indicated results or events will not be realized.