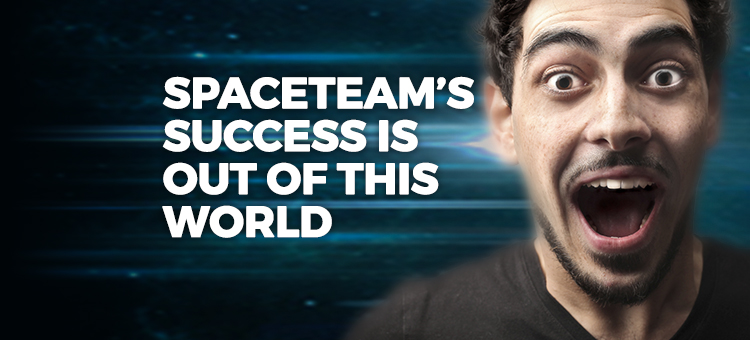 Noticed more laughs, smiles, and shouts from guests lately? You're not imagining it.
Chances are, your guests are playing Spaceteam on Buzztime tablets. In the four weeks since Spaceteam launched, over half a million games have been played in venues like yours. Each game brings players together for a wild ride through space as tablets turn into rocket ship control panels.
We brought Spaceteam to Buzztime tablets because of its unique multi-player format that gets everyone at the table involved (up to 8 tablets can be synched). Spaceteam is fun for guests, and great for your business – it creates an instant party-like atmosphere that everyone wants to join in. Bars and restaurants are reporting that both kids and adults are loving Spaceteam. It's a true crowd pleaser that's bringing guests back for more.
Buzztime is also driving repeat visits to your business by creating interesting ways for fans to participate around the Spaceteam game experience. We just invited players to vote for one of two limited edition game themes: "Into the Grid" or "Retro-futurism." Over 31,000 votes came pouring in, with the winning "Into the Grid" theme available for play between 4/28 and 5/4!
Spaceteam is just one way Buzztime is raising your venue's fun factor and enhancing the guest experience. You'll see more multi-player, socially rewarding games hit Buzztime tablets soon. Until then, Spaceteam is still in orbit…delivering outta this world fun for your guests.
"Love it when a game brings them together! If you could hear them you'd think they were in a NASA control room." -Instagram post from a Mom in St. Louis
"This was so much fun!!! We just got a bunch of our guests to join in and play everyone had such a fun time & was laughing." -Manager, Buffalo Wild Wings Fayetteville
Some of our top performing Spaceteam locations:
Arooga's – Warwick, RI
Buffalo Wild Wings – Santa Ana, CA
No Frills Grill –  Arlington, TX
Milano's – Beavercreek, OH
Buffalo Wild Wings – Rancho Cucamonga, CA