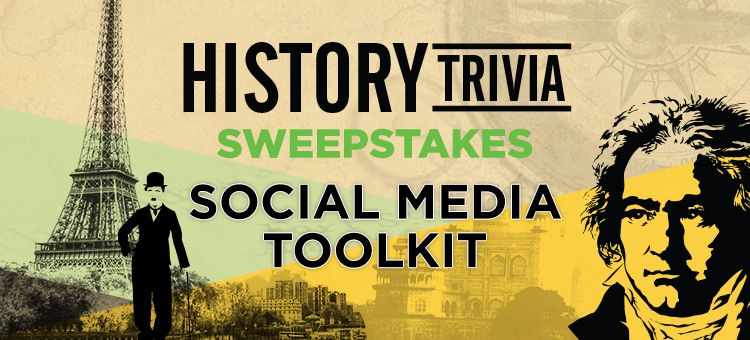 February will be one for the history books…Buzztime's History Trivia Sweepstakes is coming to your location February 7th through February 28th. Here are the epic details:
Every registered Buzztime player who plays a round of History Trivia on Wednesday or Sunday night is entered to win $500.
Each week there's a new winner. Your guests have 4 chances to score $500!
Quick note: History Trivia was formerly called Pastimes. We updated the style and name, but it's the same (historically awesome) game.
The Buzztime team will be reminding all 10 million registered Buzztime players to get their game on at venues like yours. Use these 8 tips to attract even more guests…
1) Always Tag Buzztime
When posting about History Trivia Sweepstakes on social media, use #Buzztime and #Sweepstakes so it's clear to guests that the promotion is administered by Buzztime.
"Tag" Buzztime on social media to align your business with these buzzworthy national sweepstakes.
Facebook: @Buzztime
Twitter: @Buzztime
Instagram: @PlayBuzztime
Tell guests to tag Buzztime in their own photos and videos using #Buzztime #Sweepstakes #YourBusinessName.
2) The "Winter Games" Tie In
If your TVs will be tuned to the Winter Games, give guests another reason to watch at your place: a chance to win $500 each week!
Every Sunday, the first round of History Trivia focuses on past Winter Games.
When the Winter Games end, remind guests they can still "medal" in trivia by competing in a round of History Trivia.
The theme on Wednesday, February 28th is "History in the Making" – with questions that recap the 2018 Winter Games
To keep guests coming back, always remind them there's a new $500 winner each week.
3) Preschedule Social Posts
Set it – and forget it! Take 10 minutes now to pre-schedule these social media graphics on Facebook.
Remember, History Trivia runs Wednesday and Sunday evenings. Schedule posts to run the day before, and day-of, for maximum visibility.
4) Pose a Question
Use questions to bond with guests on social media and promote History Trivia Sweepstakes. Go ahead, cut and paste these:
How would you spend $500 if you're this week's @Buzztime History Trivia Sweepstakes winner?
What's your favorite moment from previous Winter Games? Relive the highlights, and be entered to win $500! Play @Buzztime History Trivia with us this Sunday.
5) Use Trivia…to Promote History Trivia!
6) Capture Historic Moments
Show, don't tell, how much fun History Trivia is! When guests are playing, ask if you can take their photo or a short video to share on social media. Caption it with: "(patron first name)" is going for the gold – a chance to win $500 in @Buzztime History Trivia Sweepstakes.
Use Facebook or Instagram LIVE to capture the action – as an added bonus, both social platforms alert followers that you're live.
Buzztime created History Trivia Sweepstakes with your business – and guests – in mind. Use this toolkit to get your patrons excited about a chance to win $500…just for enjoying a round of History Trivia at your place!