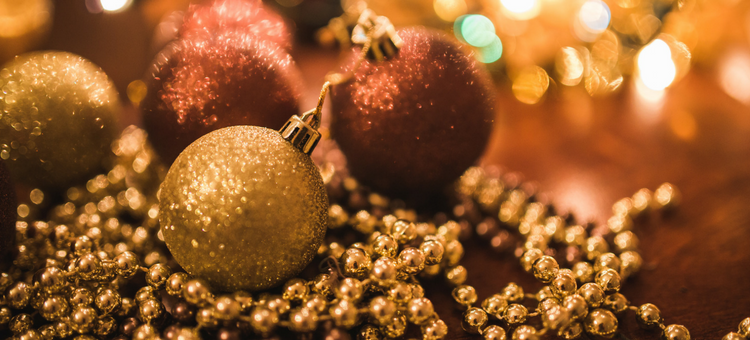 You've been very good this year. You just scored this nice list of 17 holiday promotion ideas to rock your bar or restaurant. From reindeer games (for grownups) to ugly sweater party ideas, get ready for a merry, bright, and profitable holiday season.
Holiday Promotion Ideas for Events
1) Ugly Sweater Party
The third Friday in December is officially Ugly Sweater Day, perfect for guiding your holiday promotion ideas. Bring the crowds your way with an Ugly Sweater Soiree. Award the tackiest, most tasteless sweater wearers with sweet prizes. Be sure your staff gets into the sweater spirit, too!
2) Naughty or Nice? Party
Guests can dress as nice…or naughty as they want. From angel wings to devil horns, naughty or nice holiday promotion ideas give guests a chance to raid their Halloween costume stash.
Take inspiration from your ugly sweater party holiday promotion ideas and run another contest: this time it's for the nicest and naughtiest costumes. Or, hand out stickers as customers arrive that say naughty and nice, and let them judge the winners instead.
You'll need a naughty and nice menu to match. Check out these 25 holiday cocktail recipes (LINK TO HOLIDAY COCKTAIL BLOG). For dessert, offer a "nice" angel food cake option and these sinfully delicious lumps of coal.
3) Pictures with Bad Santa
Set up a Bad Santa photo booth. If one of your staff members is game to have grown adults sit on their lap, they can wear the Santa suit. But whoever plays Santa needs to look "bad" (wear sunglasses, hold a beer, look tough).
Put out props for customers like elf ears or hats, signs that say naughty or nice, plus lots of garland and tinsel. Expect your Instagram feed to explode thanks to your Bad Santa holiday promotion ideas.
4) 'Tis the Season for Seinfeld
Want easy holiday promotion ideas? All you need is an aluminum pole and a sense of humor – and you've got Festivus, made famous by Seinfeld's Cosmo Kramer. If you want your Festivus holiday promotion ideas to stay true to Kramer's vision, serve meatloaf (try this gourmet beef and bacon version). Festivus also requires guests to perform feats of strength…skip ahead to reindeer games for ideas.
5) Carol n' Crawl
Feeling collaborative? Here's one of the top holiday promotion ideas: Team up with nearby bars and restaurants to host a caroling bar crawl. Popular in cities from New Orleans to Phoenix, a caroling crawl is exactly what it sounds like: a group of people singing holiday tunes and traveling from bar to bar. Across the pond, caroling bar crawls even double as fundraisers for local charities.
6) DIY Gift Night
Your holiday promotion ideas can make you a hero to procrastinators. You know, those who still haven't gotten their spouse a gift yet.
Host a DIY craft workshop through a company like Plant Nite or Paint Nite. The company provides the supplies and an instructor to lead attendees in painting a masterpiece or potting a terrarium. Guests leave happy with a homemade gift (you get a nice boost in business).
[fl_builder_insert_layout slug="whitepaper-signup-module-66-promotions-to-drive-sales"]
Holiday Promotion Ideas and Reindeer Games
7) Trivia Night
Give guests the chance to "sleigh" the competition in live trivia, one of the best holiday promotion ideas for boosting midweek foot traffic. Instead of hiring a trivia host, join thousands of bars that rock the mic themselves with Buzztime live trivia. You get all the up-to-date questions and tablets for fast, automatic scoring. Best of all, you can run live trivia any day…any time you want. There's no limit.
8) North Pole Corn Hole
Bring everybody's favorite backyard BBQ game indoors. Set up cornhole boards and host a tournament. Bonus points if you put fake snow around the boards.
9) Board Games and PJs
Get crazy with your holiday promotion ideas and host a pajama party. Guests can roll up in their robes, adult onesies – maybe even a snuggy? Serve milk and cookies (ok, White Russians and cookies). Bust out the board games for mature audiences only like Cards Against Humanity and What Do You Meme?
Social Media Holiday Promotion Ideas
10) Elf on the Shelf
It's Elf on the Shelf, two ways. Here's the first of two elf holiday promotion ideas: Purchase an Elf on the Shelf, and place him on a wine or beer tap that you'll put on special. Take a pic, post it to social media and announce your deal.
You don't even have to include a deal, the elf could be sitting next to a delicious new appetizer or on top of a trendy craft beer you just brought in. He could even be chillin' in the kitchen. The whole point of the Elf on the Shelf is that he moves around. Each day, use the elf to draw attention to something you want to promote.
Or, go big with Elf on the Shelf holiday promotion ideas. Literally. Have one of your staff members dress up like the famous elf and pose in funny places around your business. Post to social media. Repeat.
11) Secret Santa
Put on your red suit and fake beard. You're going to play Santa. Run a Facebook or Instagram contest that goes like this: Guests simply take a photo at your bar or restaurant and post it with a unique hashtag like #SecretSanta(YourBizName). Every few days, pick a winner to receive a $10 gift card.
12) 12 Days of Awesome
Want holiday promotion ideas to up your game on the 'Gram? For 12 days in December, announce a daily deal. Instead of a photo, just post a big, bold number as your Instagram graphic. In the text, describe your deal. It could be a 2-for-1 special, discounts on merch, or a "wild card" deal so good…they need to come in to receive it.
Holiday Promotion Ideas for Specials and Deals
13) Mystery Stocking Stuffers
You may do brisk business during the holidays, but what about mid-January? Use your holiday promotion ideas to bring guests back after the holiday rush.
Give your bartenders and servers large stockings filled with "bring back bucks." Guests stick their hands in the stocking to pull out their offer. The bucks can be in increments of $2, $5…maybe a few are $10 – but all are only redeemable in January. You can get even more specific with these holiday promotion ideas: the bucks could just be good on weekdays.
14) Giving Tree
Everybody wins with charitable holiday promotion ideas like a giving tree. Set up an empty pine tree with lights in your bar. Patrons can "decorate" the tree by bringing in new winter mittens, scarves, or hats. You'll collect these items and donate them to a local homeless shelter once the tree is full. To thank guests for their giving spirit, reward them with a complimentary drink or small appetizer.
15) Cans for Cans
Here's another win-win charitable concept. Host a canned goods drive to collect items for a local food pantry. For every guest that comes bearing cans, they score a can of beer on the house.
These holiday promotion ideas support a good cause – and can do good things for your business, too. The 2018 Edelman Earned Brand study revealed that today, 64% of customers "buy on belief." That means customers choose businesses that support causes they care about.
16) Gift Cards with Benefits
As one of your holiday promotion ideas, offer a $10 gift card for every $100 spent. Gift cards are also a great way to lure large groups to your place for holiday parties. Holiday promotion ideas that reward the host for selecting your bar or restaurant are a sure bet. Offer a $50 gift card to anyone who books a party with 10 or more guests.
'Twas the Week After Christmas…
17) Regift Auction
Last but not least, your holiday promotion ideas need to hold you over until New Year's Eve. After Christmas, host a regift "auction" also known as a Yankee Swap or White Elephant Exchange. It's insanely fun (you know if you've participated before). Just be sure everyone knows the rules…
'Tis the season to get creative with holiday promotion ideas. Don't forget to make some noise about your events and promotions by submitting a one-page press release to local media. Here's hoping your holiday season is merry, bright, and very profitable!