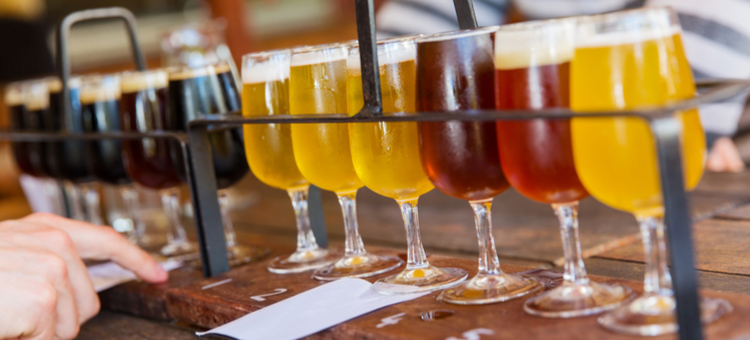 The nation has gone crazy for craft beer. So make it the main event at your bar or restaurant. Just tap into these 12 beer tasting event ideas. And for the beer lover in you, we're hooking you up with a dozen beer quotes…because, beer.
1) Mystery Beer Tasting Event
I love kale (with a silent "k").
Keep those beer lovers guessing with mystery beer tasting events. Don't forget to offer an awesome prize for the winner.
Mystery Ingredient: Task tasters with identifying the added ingredient in a selection of brews: from key lime pie in a gose to apricots in a wheat beer.
Name the Style: Is that a pilsner or lager? Stout or porter? Serve a flight and let guests make their best guesses at this beer tasting event. If a patron correctly identifies all styles, they score a small gift card or beer merch.
Select the Special: This beer tasting event would rock as a repeat event! Each month, offer a small-pour flight of 4-5 beers. Let customers vote on the one you'll offer as the month's special.
Domestic vs. Craft: Can you fool the snobbiest of craft snobs at this beer tasting event? Serve a domestic vs. craft blind tasting flight. Let patrons make their best guesses.
Mystery Tap Handle: Partner with a brewery on this beer tasting event. Invite them to launch a new beer at your place…without a name. After purchasing a pint, customers can submit their idea for a name. The brew master picks the winner, who scores a sweet prize.
2) Taster's Panel
"I am a firm believer in the people. The great point is to bring them the real facts, and beer." -Abraham Lincoln
Chances are, some of your patrons know more about craft brews than you. So tap into their knowledge when creating your beer list.
Invite them to join a private panel that meets monthly for a beer tasting event. Present participants with small pours of beers you're considering, and let them say "yay or nay." They might even help write your menu with tasting notes and descriptions.
You should also let your chefs know which beers are on tap so they can create a food menu to match. For the inside scoop on pairing perfection, use this expert guide to beer and food pairings.
3) Flight Night
"Beer, if drunk in moderation, softens the temper, cheers the spirit and promotes health." – Thomas Jefferson
Don't let breweries have all the fun. Your bar can pour up beer flights, too. Host a weekly or monthly beer tasting event: the flight night. Ask your bartender to curate a different flight of beers based on a theme. It could be beers from a certain region, a designated style (stouts or pale ales), or beers that start with the same letter.
4) Beer Tasting Event…For the Haters
"Beer, it's the best damn drink in the world." -Jack Nicholson
After a sip of Miller High Life (no offense to the champagne of beers), someone may have written off beer. But have they tried a citrusy, unfiltered IPA that tastes more like juice than beer?
Invite skeptics to a beer tasting event. Create a simple quiz they can fill out and bring to the bartender, who will pour a custom tasting flight of beers that might appeal to the drinker.
You could even turn this beer tasting event into a challenge. If the former beer hater finds a beer they love – they get a $10 gift card.
5) Beer Tasting and Trivia
"For a quart of ale is a dish for a king." -William Shakespeare
Live Trivia Night and Tastes: Live trivia and beer are the perfect pair. When Beef O'Brady's Restaurant in Apollo Beach, Florida launched this live trivia night, they increased customer traffic by 40% – and pitcher sales by 200%. Trivia night is trending at bars nationwide. Get in on the action but add a beer tasting event to stand out from the competition. After every round of live trivia, serve small pours and ask a related trivia question about the beer.
Mystery Beer Tasting Event with a Trivial Twist: Create teams of 4-6 people. Serve everyone a small pour of a beer. Then, teams guess the beer: both the brewery and the style. The host of the game – either a local brew master or your bartender – can share beer trivia after giving the correct answers. Before the game starts, let guests examine your tap handles or beer menu to prep. It's a non-salesy way to show off your amazing beer selection.
6) Can Jam Beer Tasting Event
When life hands you lemons, make lemonade. (Then sell it to buy beer.)
Cans are officially the "it" vessel for the coolest brews. Craft breweries like Mikkeller in San Diego and Other Half in NYC are known for bright, bold, and graphic beer can labels. The problem is, many only sell canned beer direct from the brewery.
So, what's a bar or restaurant to do? Go on a road trip, get those beers, then host a canned beer tasting event like Now & Later Tap Room or the Fish Friar, popular craft beer spots in Upstate New York.
If travelling for beer is too much, could the brews come to you for a beer tasting event? Now & Later hosts mobile can releases at their taproom.
[fl_builder_insert_layout slug="whitepaper-signup-module-50-best"]
7) Strange Brews
Beauty is in the eye of the beer holder.
There's some crazy stuff happening in the craft world. From sour lambics with added fruit, to beer brewed with lactose sugars, these strange brews are perfect for a beer tasting event. Let's get weird…
8) Seasonal Sips and Beer Holidays
"Isn't beer the holy libation of sincerity?" -Milan Kundera
You don't need a reason to host a beer tasting event. But a beer holiday certainly helps. Host a guided tasting or offer flights for these hoppy occasions:
1st Friday of Every August, International Beer Day
September 28th, National Drink a Beer Day
January 24th Canned Beer Appreciation Day
If you create a beer tasting event for any holiday, make it National Beer Day on April 7th (or New Beer's Eve on April 6th). After 13 long years, beer became legal again on April 7th, 1933. Celebrate the occasion with a countdown, then tap a keg at midnight on New Beer's Eve. Want more obscure holidays? Check out this calendar of 31 weird holidays just for bars and restaurants.
You could also launch a beer tasting event based on seasonal releases like fruit-forward summer beers or Oktoberfest selections. Try a pumpkin beer bracket challenge in the fall. Let patrons vote on the best pumpkin beer, to be announced on Halloween.
9) Meet Your Maker
"He was a wise man who invented beer." -Plato
To fans of craft beer, brew masters are straight up celebrities. Invite a local brew master to emcee a beer tasting event. Ask him or her to share the inspiration, brewing process, and maybe even a few secrets behind each selection. Bonus points if the brew master sticks around to autograph a pint glass (we're only kidding, sort of).
10) Perfect Pairings: Chef and Brewer
Today I'm a hero. I rescued beer trapped in a bottle.
Go a step further. Ask the brew master if they'd team up with your chef to create a menu of paired beers and eats. Kick off the menu at a beer tasting event where your chef and the brewer discuss their creations.
11) Brunch and Beer Tasting Event
"The problem with the world is that everyone is a few drinks behind." -Humphrey Bogart
Beer. It's what's for…breakfast? Yes, especially when it's a Founder's Breakfast Stout brewed with oats, coffee, and chocolate. Instead of mimosas and Bloody Marys, treat brunch patrons to a beer tasting event featuring a selection of coffee brews.
(P.S. you can thank Dunkin' Donuts for taking coffee beer mainstream.)
12) Show and Tell
I want someone to look at me, the way I look at beer.
Think of this beer tasting event as an open mic night for beer nerds. Each patron gets 2 minutes to tell the crowd about their favorite beer: why they love it, tasting notes, and even a story of how they discovered it.
Attendees then vote on which beer they're most excited to try, based on the 2-minute show and tell. The winner scores a gift card (and the glory). If you're in a state or municipality that allows patrons to bring their own alcohol, this could be turned into a BYO beer tasting event and bottle share.
This is just the start when it comes to beer tasting event ideas. Why not organize a brewery tour (that starts and ends at your bar of course)? Or, host "arts and crafts" night and let guests taste brews while painting their own pint glass or potting a terrarium.
The possibilities are endless. So get creative and get ready to impress your guests with an awesome beer tasting event.