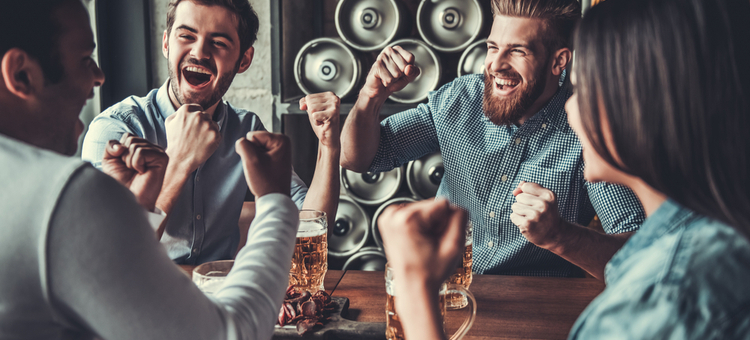 Question: When is National Trivia Day? Answer: It's January 4th!
Get ready now to pack the house and pop the questions with this guide to hosting the best live trivia. After all, live trivia events are a great way to boost business. Want proof? Beef O'Brady's in Apollo Beach hosted trivia nights and saw guest traffic grow by 40% and pitcher sales increase by 200%. So, let's get live…
STEP #1: THE PRIZES
DON'T Forget Them
We put live trivia prizes at the top of the list for a reason. Great prizes draw guests. Too many bars and restaurants figure the live trivia experience is a prize in itself. But competition is fierce for trivia night, and a creative prize is your best promotional secret weapon.
DO Get Creative and Promote the Prize
Here are 6 fast ideas for trivia prizes that guests love:
A Rotating Trivia Trophy, Championship Belt, or Giant Necklace- with a big medallion that the winning team gets to take home. The winners will take plenty of pics and share on social media for instant word of mouth advertising for your live trivia event. Plus, they'll need to return it the next week – or compete to keep it. Hello, repeat business.
$25 Gift Card- Trivia is usually played in teams, so giving a team a $25 gift card almost guarantees that the team will come back to use it. Why $25? Anything less isn't that exciting.
Appetizer Duo or Trio- The caveat? The 2 or 3 free appetizers can only be redeemed on a subsequent trivia night and on one table check. Let's be honest. Sometimes guests just order up pitchers of beer for the table. An appetizer giveaway ensures the crowd is exploring your menu.
Social Media Shout Out- This should be included with every prize. Give the live trivia winners the spotlight. Snap a pic and share on social media. This becomes advertising for your next trivia event, too.
Change it Up- Keep guests guessing by switching up your prizes each week. You could even bring in a prize wheel with a mix of awesome prizes. Again, this gives you an excuse to promote and talk up your live trivia event.
Don't Forget the Runner Up- How about 10 $2 coupons for the runner up team? Print them in bulk so you've always got them on hand each week.
STEP #2: THE QUESTIONS
DON'T Google
You could do a Google search binge, looking for bar trivia questions. You'll find them.
The problem is, most questions are outdated and sometimes even inaccurate. Imagine being called out at your live trivia event for a wrong answer. Super awkward. Or, you keep asking questions about the Johnny Carson Show, but your guests are mainly millennials. Super boring.
Plus, do you really have 2 hours a week to spend hunting down trivia questions?
DO Use Reliable Sources
Unfortunately, many outside live trivia hosts use the Google search method.
You're smarter than that. Partner with a complete trivia system company.
They'll provide you with accurate, up-to-date questions each week (and much more – see Step #3!). Reputable trivia companies have teams to double and triple check the accuracy of their questions.
STEP #3: THE HOST
DON'T Go Solo
In addition to sometimes-sketchy trivia questions, live trivia hosts are often expensive. Like, really expensive. Some bars report that trivia hosts cost more than hiring a local band.
Plus, independent trivia hosts are usually solo, one-person operations and if they "call in sick" – you're left hanging. And so are your disappointed guests.
If you DO get lucky with a great trivia host…one who woos the crowd and builds a bond, you're in the danger zone. That trivia host runs live trivia at other bars. Will your guests follow them elsewhere?
DO Go In-House!
Who's your most charismatic server? Who's your bartender that gets the crowd riled up? That's your next live trivia host.
If you opt for a trivia system like Buzztime, all you provide is the host! The trivia system includes everything you need to host a live trivia night: from credible, "cool" questions to handheld tablets for answering the questions. The tablets can also be used by guests to access nationally scheduled trivia games events 7 days a week, 13 hours a day (no host needed for these, your TVs run the game!). Guests can also enjoy on-demand arcade games 24/7 on the same tablets.
Plus, when your staff rocks the live trivia mic, you minimize the risk that customers follow an outside trivia host to your competitor.
Instead, you'll build a bond between your guests and your own staff. That's a relationship that will pay off beyond live trivia night. If you really do want to hire an outside trivia host, Buzztime can connect you with a trusted, professional host who's been trained to use the system.
STEP #4: THE SCORING
DON'T Try to Add It Up
Live trivia night gets competitive. Fast.
Hand-scoring takes time and can slow down the action for guests. You're also at risk for being accused of "human error." Recounts aren't just for elections…
DO Go Digital
The best live restaurant and bar trivia events have gone digital. Scoring is automatic and foolproof when tablets are used. Paper and pencils are just so old school – and not in a good 1990s rap sort of way.
STEP #5: THE TIMING
DON'T Just Host Live Trivia NIGHT
Weekday evenings are by far the most popular times for hosting live trivia events. It makes sense for customers and for you. Guests want the excitement and escape of a bar-like atmosphere on a "school night." Bar and restaurant owners want more sales during slow times. When done well, live trivia events can definitely create a lively social scene typically only found on the weekends. But don't stop there…
DO Host a Trivia Brunch
Mimosas, Eggs Benedict, and a side of live trivia? Yes, please.
Generate a buzz for your brunch daypart with a live trivia event. Remember, if you're using a host-yourself live trivia system – this doesn't cost you any extra. In fact, you could host as many trivia events as you want!
Or, if you want more mid-afternoon action on the weekends, host: Afternoon Delight Trivia. Guests can start their weekend festivities early and you'll enjoy an uptick in business.
The top pro secret is this: find a way to differentiate your live trivia events from the competition. Whether it's going digital with touchscreen tablets and your most charismatic host, or offering a crazy good prize, the extra effort will pay off.
*2008 Independent Arbitron Study. Actual results may vary.