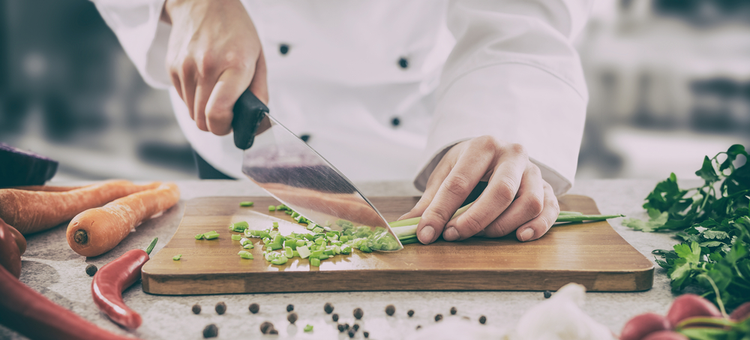 Being a chef is not only physically challenging, it requires the use of creative muscles on a constant basis. Head chefs are responsible for running their kitchens, but also for constantly thinking of new innovative dishes that will keep their guests engaged. With so much creative pressure, we were curious to see how chefs stay inspired in a highly demanding industry. We asked three chefs with diverse culinary backgrounds how they stay on their toes and think up new dishes.
Get Inspired by Ingredients
Every region has its own local flair. Regional produce, spices and herbs create a plethora of tastes and flavors unique to every area. Using the local and seasonal ingredients to gather inspiration is common for chefs, who are often people who love food and culture. Chef Micheal A Young of Sheraton Kauai Resort explains that it's the ingredients that lead the way to each dish:
"One of my favorite ways is to go to a Farmer's Market and look for something I am not familiar with. Then I ask the farmer not only what it is but how is it cooked and eaten. Then when they are done I ask them how they eat it. More often than not I get a great answer since this is someone who loves the product and has also eaten it for some time, so they've gone past the traditional and come with some creative ways to approach it. This never fails to kickstart my brain in another direction."
Using the local ingredients and farmer's specialties is a wonderful jumping board to great dishes.
Chef Danial England, the mastermind behind OMG Hospitality Group in San Diego, recognizes the significance of the local ingredients to his dishes, "We are fortunate enough to live in an area that has a lot of local seafood, fresh seasonal produce, and sustainable, organic farms where we purchase beef, pork and poultry, so much of our inspiration is a result of the high-quality ingredients we have access to."
Get Inspiration from Your Staff
Restaurant staff is usually a mix of eclectic people converging from different parts of the world and from different backgrounds. It's been recognized by many restaurants that dishes on the menu are inspired from the regional dishes staff members create for family meals. Using your staff to gather information, learning more about their regional gastronomy and gaining tips is a wonderful way to gather inspiration and come up with new and exciting dishes.
Chef Kristof Kubiak of La Bonne Cuisine Catering and Events was even inspired to create a causa station after learning about Peruvian cuisine from a manager:
"One of our main sources of inspiration is our own staff! And not only the kitchen crew; even our managers. Our Director of Sales is Peruvian, which has inspired a whole Peruvian-inspired causa station, which has been a huge success."
Get Inspired by Other Chefs
From Mexico city to Baltimore, more and more places are becoming dining destinations attracting very talented chefs from many backgrounds and culinary influences. Using your local restaurant scene and gathering inspiration from your community is a wonderful way to keep your creative juices flowing. Chef England makes sure to experience other chef's cuisine:
"I eat A LOT! I take every opportunity to go out to eat, since I love to see what other chefs are doing."
Getting to know your fellow restaurant comrades is also a great way to strengthen your community and use one another as a springboard for  elevating your culinary knowledge and expanding your circle.
Get Inspired by Books
There are so many incredible editorial resources for chefs, from magazines to books written by culinary experts, food academics and chefs. Culinary texts can be about interesting topics in food and can also be used as resources of information about ingredients, techniques, and flavor.
Chef Young refers to the "The Flavor Bible" when he wants to find new and interesting flavor combinations:
"The book is a catalog of different products and the flavors that complement them. There aren't unique concepts in the book but having all those items listed out pushes me out of the rut my brain can get in." Chef England agrees, "I'd say I have over 500 books at the moment, including cookbooks from all over the world. In fact, some of the older ones are still written in French. I also have several food magazine subscriptions to keep up on industry trends and to spark my own imagination."
Stay Inspired
When you have less things on your mind and some time to rest and treat yourself, your mind has space to think more creatively. Utilizing tools to help you run your restaurant, often gives you the time and headspace to focus on the best part of your job, creating unique dishes, connecting with your guests and working on the creative aspects of your business.
With a boost in technology, there are a number of technological resources available to help you do anything from managing your restaurant inventory to creating staff schedules. Take advantage of all the help you can get so that you can really invest your time on doing things that continue to inspire your creativity.
Contributors

Michael Young | Executive Chef Michael's current primary focus is to oversee all culinary operations at the Sheraton Kauai Resort and develop the teams that service them. A seasoned culinary professional, Chef Young has over 25 years of experience including front of the house, opening and operating his own restaurants, and has been asked to contribute to industry leading books and blogs. His culinary philosophy is to let the ingredients he works with speak for themselves. People on the other hand, usually need a lot of work.

Christophe Kubiak | Christopher is the Executive Chef and founder of La Bonne Cuisine Catering and Events, based in Oakland, CA. Born and raised in Paris, France, he learned to cook from his mother. He grew up spending time in the restaurant kitchens of his parent's friends, and studied under an uncle who owned a bakery. He decided to move to the Bay area, sight unseen, because of its reputation as a melting pot. Christophe founded the company in 1995 along with his partner and Head Designer Sebastien Sanges.

Chef Danial England | Corporate Chef Daniel England is the mastermind behind the San Diego-based OMG Hospitality Group, a consortium with multiple locations around the city.
About Author
SimpleOrder was founded "way back" in 2012 by restaurant industry veterans in order to shed light on restaurant Back of House operations, so that chefs, managers, and owners can rightfully focus their energies on the food, their staff and their guests.