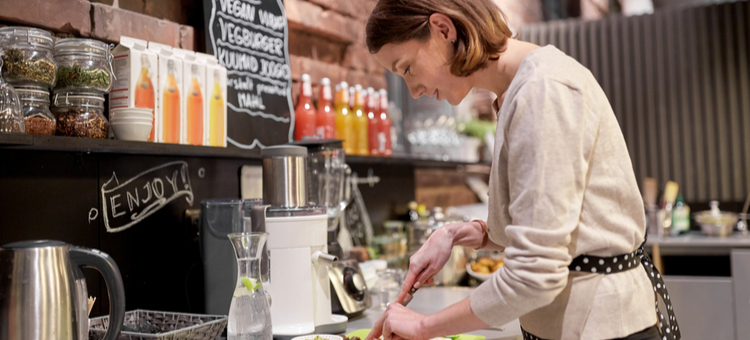 3, 2, 1…Happy new diet! For those who make new year's resolutions, 70% say that dieting and eating healthier are their top goals, according to a recent Inc. Magazine report.
Is your restaurant or bar ready with a menu that features dietary accommodations for your resolution-making patrons? If not, turn to these words of wisdom from bar and restaurant professionals…
A quick note: Yes, these are dietary accommodation insights from real people in the biz, but most prefer to remain anonymous so names and locations have been changed.
"Undertake dietary accommodations with enthusiasm…or don't even bother. Never make patrons feel like they're troubling your restaurant by asking for vegan options or notifying their server of a wheat allergy."
Sean R., owner of a restaurant in Boston, MA
Sean is adamant that if you're going to work with dietary accommodations, you're doing it because you and your staff genuinely care about your customers.
"Anything less, and they'll see right through you. It's especially important you don't 'fake' it. My sister is a celiac, meaning that even trace amounts of wheat can make her really sick. Sadly, she's been to restaurants that say they offer gluten-free dietary accommodations and she's become ill the next day. Do it right, or don't do it all," Sean cautioned.
For example, Sean's restaurant offers the option of most pizzas being made gluten free. Of course, the crust is wheat-free, but Sean goes a step further and makes sure the pizza is prepped, sliced, and served without coming into contact with any wheat-contaminated surfaces or cutlery. If you're interested in offering gluten-free dietary accommodations, Sean mentioned the GREAT Gluten-Free Foodservice Training.
Sean also takes a proactive approach to dietary accommodations. He's trained his team of hosts to ask those placing reservations if they have any allergies or restrictions. The server also asks the same question when they first introduce themselves to the table.
"The customer alwayss get a look of surprise, then relief, when a server asks if anyone needs dietary accommodations. Honestly, it feels good when a customer says 'I don't eat wheat' and then we can say… 'great, we have some options for you'," said Sean.
"One of the biggest dietary accommodations we are seeing lately is a request for mocktails from people who aren't drinking for whatever reason."
Erin M., bartender in Des Moines, IA with 20+ years of experience
Another big dietary accommodation trend is alcohol-free drinks. We're not talking about basic fountain drinks or just removing the booze from popular cocktails. Instead, patrons want you to put in a little effort – crafting sophisticated "mocktails" meant for indulgent sipping…sans alcohol.
Again, alcohol-free dietary accommodations are big in the new year thanks to rise of "Dry January." During January, folks commit to reducing or even eliminating all alcohol from their diet – primarily for wellness reasons. In fact, this trend has caught the attention of the big guns like MillerCoors who've launched "Dry-ish January" to promote their 64-calorie, 2.9% ABV beer.
But according to Erin, making dry dietary accommodations is a trend you should embrace year-round:
"Think about how many people don't drink…recovering alcoholics, those who abstain because of religious reasons, pregnant women, those on medication. I could go on and on. I've noticed more people asking for a mocktail list. And I don't think it's because more people are into a dry lifestyle all of a sudden. I believe customers are just getting more confident asking for an alcohol-free beverage that they can sip and enjoy – just like an actual cocktail."
Erin also explained that price isn't really an issue for those seeking dry dietary accommodations:
"They just want something that tastes great. Something like a treat."
Without the addition of booze, mocktail dietary accommodations can be a great way to boost your bottom line. For inspiration in creating your drinks list, start with these 40 mocktail recipes.
[fl_builder_insert_layout slug="whitepaper-signup-module-create-menu"]
"Many items already on your menu can be pretty easily modified to fit dietary restrictions. Look for items on your menu that require the fewest fixes or no adjustments to meet a dietary need. Then, do yourself a big, big favor…mark these items on your menu!"
Leon B., owner of a small chain of restaurants in the Northeast
Making room in your operation for dietary accommodations doesn't have to be a big ordeal, at least according to Leon. He recommends going through your current menu to see which items can be adjusted, before creating more menu items.
"I see too many restaurants going overboard with dietary accommodation. Their intentions are good. They're adding a vegan section, and gluten-free section, even a low-carb section. But the result is an overwhelming menu, and with so many options, quality is going to suffer."
Leon's observation about menu overwhelm is spot on. Researchers found that to maximize customer satisfaction and minimize "choice overwhelm," menus should not exceed for 10 items per category for fine dining, and not exceed 6 item choices for fast casual and quick service. Categories refer to main dishes, appetizers, desserts, etc.
So, how can you squeeze in dietary accommodations? As Leon suggests, it's all about substitutions, swaps, and simplicity.
"You need to use symbols on your menu. End of story. Don't forget to put a legend on the menu too, so it's clear what each of your dietary accommodation symbols mean. There's no universal code. Also note if the item is already vegan, for example, or if it requires a modification to be made vegan. You could use an asterisks to denote which items require a modification."
Some typical symbols include: Ve=Vegan, V=Vegetarian, and GF=Gluten-Free.
"If Burger King can do it, so can you…"
Nancy V., manager at a fast-casual restaurant in San Antonio, CA
"For decades, Burger King built their brand around flame-broiled burgers made with beef. Today, they're known as the place you can get a vegan Impossible Whopper? Yes. It was a complete 360, but it worked so we've done it too. Welcome to 2020 – and beyond," said Nancy.
In fact, you could call 2019 the year when meatless dietary accommodations went mainstream…and started tasting delicious. And if the rise of Veganuary is any indication, 2020 is going to be another year where vegan dietary accommodations just keep getting more prominent. Companies like Beyond Meat and Impossible Foods are making meat-free proteins that are appealing to everyone – not just those seeking dietary accommodations.
"We're just a single-location, independent restaurant. But we offer the Impossible Burger at our restaurant and I can tell you it's not just diehard vegans ordering it up. I know this because many people get this meat-free burger but then split a round of chicken wings as an appetizer," continued Nancy.
Studies on the latest dietary accommodations back up Nancy's observations. Mintel and the NPD Group found that 38% of all Americans are trying to eat more plant-based food…and about 90% of these people are NOT vegetarian or vegan.
"The best way to approach modifying your menu for dietary accommodation is to look at the demand. Look at percentages. What percentage of your clientele is hungry for variations on your menu? For example, just because that keto diet is a big deal nationally doesn't mean your customers – or even potential customers – care about it."
Amy W., manager at a pub in Hartford, CT
At the end of the day, it's all about serving customer demands. And if most of your customers aren't looking for dietary accommodations, then you may find some of this advice overkill. However, if your goal is to attract new customers, there's a good chance that you'll need to be more flexible and embrace the rise in dietary accommodations. So, how can you take the pulse on whether you need to up your game? Amy says all you need to do is ask:
"Start with a simple survey. It could be one you set up using Facebook polls, or use SurveyMonkey.com to create an online survey. Or, try telling your servers to ask patrons to take a 3-4 question survey for a chance to win a $50 gift card. The point is, ask your customers if they would like more dietary accommodations on your menu. Then plan accordingly."
Amy also says she looked around at other restaurants, bars, and even breweries nearby to see what they were doing. She did notice a rise in vegan and gluten-free offerings, so she did what Leon did and added symbols to her menu on a few items that could be modified to meet dietary accommodations.
"It took a little extra work, yes. But it was totally worth it to at least add in some simple substitutions. If demand for a certain kind of food…like organic, vegan, whatever the trend is…starts to get bigger, we'll reflect that on our menu."
And that's a wrap on how to factor dietary accommodations into your restaurant. Cheers to a successful 2020 – and beyond!