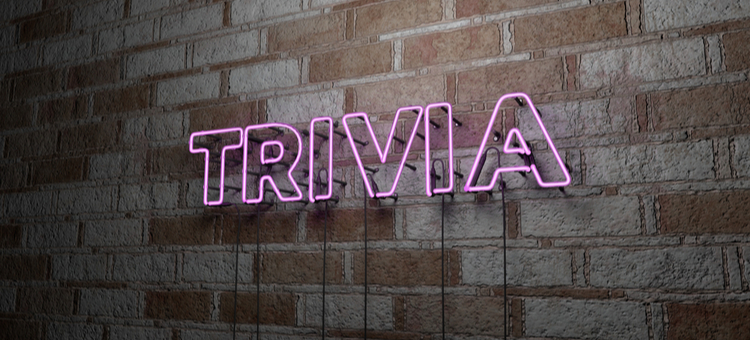 Obviously, a Buzztime blog like this would want to tout the advantages of incorporating pub trivia into any restaurant or bar location. But the reason we're sold on the idea is simple: it really works in those crucial evenings before the weekend pub crawls. Trivia has a storied history of driving sales, and you'd be remiss to miss it. Here's a quick breakdown on the history of "pub quiz" and the economic advantages of pub trivia in the Twitter age.
History
Pub trivia originated in the UK as a way to drive revenue on weeknights during the 1970s. The events that first gained traction took the logistical refinement route, hoping to keep staying power by organizing carefully thought out leagues consisting of over 30 teams that would send off stats to stay updated on precisely calculated league standing. When Trivial Pursuit exploded in the 1980s it changed the face of pub trivia, creating a more relaxed yet still competitive atmosphere that centered on location-specific competition. This shift made the work easier for pub managers, and allowed for more variety and promotions to be incorporated.
The Current Climate
Trivia seems to be a young mans game – in America, the average pub trivia connoisseur tends to be in their late 20s or early 30s. Due to the current cultural infusion of technology into day-to-day life, the popularity of trivia nights with digital interfaces continues to rise as fewer pubs want to hire different hosts and trivia question writers week in and week out. If you upgrade to the digital trend, you'll experience more customer interaction and be able to host constant trivia. This type of trivia incorporation creates a community of patrons that come to your bar or restaurant primarily for trivia, and the loyalty of these customers is greater than those who are hooked by the food and drinks alone.
The Economics
But, at the end of the day, is investing in trivia worth the money? Most studies and figures indicate a strong yes. Depending on a host of related factors (including the marketing push for trivia events and the frequency of trivia events) the increase in sales during pub trivia can range from 30% to 65% in your location. Considering the relative low cost of a digital trivia interface, this creates a clear incentive for restaurant and bar owners looking to carve out a niche and pad their pockets with extra profit. Just remember – while trivia does work, you need to carefully promote your events and system to maximize an increase in sales. Numbers don't lie – pub trivia works, in a variety of forms.
Want to learn more about using pub trivia in your bar? Visit our website for more details!