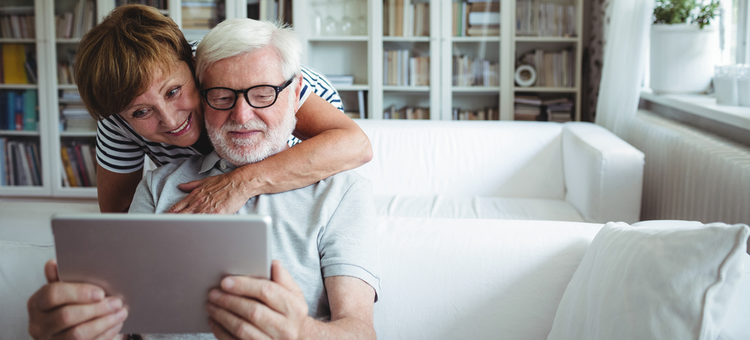 Creating a healthy and happy living environment for seniors is not an easy task. First off, you have to battle the bad representation senior homes get. Then you have to provide continuous exceptional service to a customer base that often errs on the side of being critical.
Many people think that working at a nursing home is one of the hardest jobs out there, and they're right. The reward you get from providing exceptional service though, is something very few other jobs give.
The first step to creating a safe and happy environment for the elderly is by having nurses who have the qualities of a great nurse, but beyond that there are ways to enhance the experience through technology. Although technology also gets a bad representation there are many ways they can support a positive nursing home environment.
So how can you provide a positive senior living experience with technology? A wealth of tools exist to help create enriching nursing home experiences. These products can significantly improve the lives of both seniors within homes, and the staff who care for them. Even better, many of these applications are also relevant to the elderly who are living alone.
Jumping in to it, we've found 3 types of applications that seniors and retirement homes can use on their tablets, computers, or phones, to create a healthier nursing home environment. Senior tablets are quickly gaining traction in the industry, and there are thousands of applications tailored to their needs.
The focus of these three technologies are to keep seniors at homes happy and healthy, while helping homes have smoother operations.
On-demand healthcare
The most essential part of providing a positive senior living experience is through providing constant attention to their health. It is necessary both to keep the seniors healthy and happy, while also keeping the children of the elderly worry free and happy with your service.
The first part of providing a healthy environment for senior living is by having on-demand healthcare that is suited to each individuals needs. Every day there are complications that require nurses to check in with a patient.
Often times these check-ins are fruitless. There are no problems, and the best solution to provide the senior is affirmation that they're doing fine so they can relax. There is a balance between doing this and actually scheduling check-ups with doctors.
This process of scheduling a doctor visit is very often time consuming and costly. It can often take days for a doctor to come in to do a checkup. More often than not, the senior will have to take a trip to the hospital for the checkup. This move takes a lot of work from the nurses in preparing the patient for the visit, and is rarely a positive experience for either party.
It's not uncommon for a quick talk with a doctor, which provides affirmation or a strict diagnosis of what's going on, sometimes involving a prescription. We're so used to the need for a trip to the hospital, or a visit from the doctor, that we forget there are thousands of doctors around the world ready to give their professional diagnosis & opinion.
In recent years there have been major developments in making healthcare more accessible and convenient. There is a huge segment of on-demand doctors available through online applications. These are healthcare practitioners specializing in medicine who can give prescriptions, lab tests, or specialist referrals, without making the patient leave their home.
Some example companies would be:
Righthealth – providing health care connected to your current doctor and medical records
Akira – providing on-demand healthcare for families
UnitedHealth Group – Providing virtual health consultations
These companies very often have enterprise sales options where you can pay specifically for individual users. The great part about a service like this is that it helps the children be more comfortable that their parent is healthy, and a monthly premium can be collected by people interested in the offer.
Restaurant-to-home
One of the greatest pain points for seniors living in homes is that before they joined the nursing home they would cook all their own meals. They'd have the freedom to cook what they want, and however they wanted to cook it.
Even if the food your home provides is of good quality and of good variety, there are bound to be some seniors who are likely to complain about the quality or diversity of the dishes. It may seem impossible to please this crowd, but what these seniors are really getting frustrated about is their lack of ability to choose daily what they want to eat.
It's impossible logistically to plan out specific meals for each individual senior, and realistically there can only be 2-3 options per meal. With restaurant-to-home food delivery though, anyone can have the opportunity to order food online that's specific to their tastes. Not only does this reduce the overhead cost of organizing the food, but it can make seniors happy that they have more choice.
There are both meal delivery companies that deliver food from local restaurants, as well as pre-cooked meals that are often made by professionals. Some example companies that provide this service are:
For some nursing homes it can be too difficult to logistically organize opening the door consistently for many delivery drivers, however there are other work arounds like weekly deliveries or group orders.
What's most important is keeping a happy environment for living that gives people choice. Small amounts of choice can greatly affect mood, especially when it comes to food.
Entertainment
A very difficult problem that many nursing homes face is engaging their patients with activities to increase conversation and interaction. Building relationships once you get to a certain age can be very difficult, however having friends and consistent conversation can drastically change someone's mood.
In the past, these activities would often look like cards at night, maybe once a week. Many nice nursing homes have implemented a wide variety of social occasions to bring out people and encourage connection.
Some types of activities that have gone over well at nursing homes around the world are:
Birthday Parties
Stretching/yoga
Gardening
Painting
You've probably tested and been a part of these activities throughout your life, and can attest that they can strengthen relationships and positively affect your mood. The difficulty is that in reality, many of these activities require planning and promotion to be successful. On top of planning, events can often only be available when a staff member is available.
Now there applications available that can support running these events, while also providing seniors with 24/7 entertainment. Companies such as Buzztime have built application platforms that make promoting and marketing events easy, while also giving seniors the ability to entertain themselves.
Buzztime does this in three ways:
Giving you the ability to stream promotional posters easily from the Buzztime tablet to your television. Giving you the ability to have your ad up for more time.
Providing fun trivia nights for interaction between the seniors. These trivia games can either be automatically hosted through the Buzztime platform or live.
Having games that can be played with young kids and families to make it easier for seniors to connect with their families through entertainment, creating positive experiences for both the seniors and their families and guests.
Creating a fun environment that persists throughout the day is difficult in such a complex system, but happier means healthier.
Why should you invest in creating a happy nursing home environment?
It may seem like the effort involved to create a positive environment can be too much work, while the return can seem unknown. These 3 types of technologies can be an easy first step to creating an nursing home environment that makes customers happier.
The benefits to the customers are known and recognized throughout this article, but setting a positive tone at your nursing home can also increase your own efficiency and boost your bottom line.
Creating a happy nursing home environment not only makes the seniors and families happier, but it also makes nurses jobs easier and more engaged. An engaged environment means increased productivity and retention. While happier customers means less complaints and time spent resolving these complaints.
In the end, physical health, food, entertainment, and friendship are the 4 core components of a healthy and happy lifestyle for anyone. Using the technology listed above, you have the ability to create a positive nursing home experience in a customized and easily implementable way.
About Author
Peersight is a recruitment marketing platform that allows employers to build a brand in the image of their most-engaged employees, and allows job seekers to get to know their potential colleagues before they accept an offer.