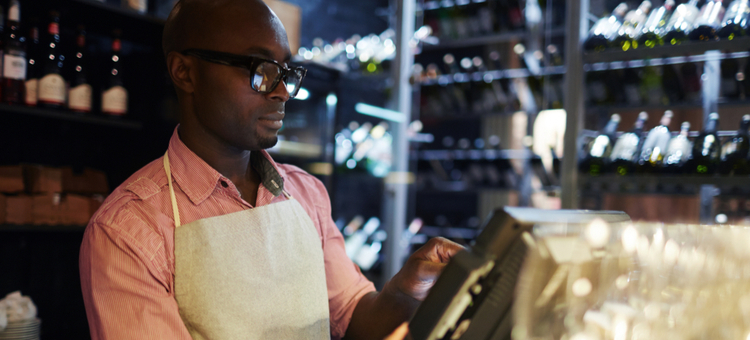 Just a decade ago, bar technology solutions were limited. You had QuickBooks and maybe a digital POS system. Today? There are hundreds – if not thousands – of bar-focused apps, tools, and tech at your fingertips. They all promise the same thing: to raise the bar on your profitability.
So how do you know which bar technology solutions are worth considering? Start by answering these 4 questions, then check out this shortlist of the most popular digital tools in the bar biz.
1) Which task takes up the majority of my time?
For the next week, keep an hour-by-hour list of what you do all day. You may be surprised to see "time suck" trends emerge. For example, are you constantly juggling staff schedules? Or, maybe you always find yourself in the walk-in, recounting inventory. There are bar technology solutions that are proven to reduce the time it takes to handle your business.
2) What areas of my bar business could benefit from better trackability?
Would you like to know exactly how many ounces of beer get poured each night? Worried an employee might be stealing? Many bar technology solutions can "solve" unknowns for you.
3) Are there bar technology solutions I currently use "just because"?
You know how to use it. It works. So, why upgrade it? Many bar owners stick with tech that's outdated simply because they're comfortable using it. After all, 32% of today's bar and restaurant operators admit they're lagging behind in technology according to a National Restaurant Association survey. Start small. Select just one type of technology you're using, and commit to exploring at least 3 other options.
4) Am I afraid new tech will be too costly?
Think again. Today, bar technology solutions typically cost less than $100/month – and often much less than that (see below for pricing). For that, you can thank the rise of cloud-based software. That means data is stored on a remote (secure) server accessible through an internet connection, eliminating the need for costly dedicated servers. Cloud-based technology is also updated frequently – and automatically. You aren't charged when a new version of an inventory app or CRM platform is released.
[fl_builder_insert_layout slug="whitepaper-signup-module-ultimate-checklist-bar-sales"]
Today's 5 Essential Bar Technology Solutions
1) Upgrade Your POS System
The POS system is at the heart of your business. It's hands down the most important piece of technology for any bar. The National Restaurant Association also found that 4 in 5 bars and restaurants use a digital POS system (also known as an ePOS or electronic POS).
More than just a tool to process sales, today's ePOS systems are loaded with extra features: from inventory tools to guest management databases. Plus, the best ePOS options will integrate with dozens of other bar technology solutions. For example, you can sync your loyalty program with a POS like Square – making it easy to track guest spending and dole out rewards.
Honorable POS Mention: Upserve
What it is: An iPad-based POS system and suite of bar technology solutions.
Pricing: Starts at $99/month
Cool Features: Upserve HQ sends you an easy-to-read report of your bar's performance…every day. Gain insights like how many drinks you sold, or which dayparts were busiest. Upserve Guest builds a guest profile for each customer that pays by credit card, so you can start to track and optimize repeat business.
Also Consider: Square for Bars, Lavu, CAKE from Sysco
2) Tableside Payment Takes Off
Today, many bar owners are going a step further with their POS. They're going mobile with mPOS bar technology solutions! In fact, many of the POS systems listed above offer mobile, hand-held devices that can take guest orders, and even process payments right at the bar top or table.After all, the latest research in a Modern Restaurant Management article found that 79% of today's guests want bars and restaurants to offer tableside payment. Why? Because mobile bar technology solutions are more convenient – and secure. The guest's credit card stays within their possession, eliminating the chance an unscrupulous bartender would steal their info. Plus, only a mPOS device can accept mobile payments through a guest's smartphone (like ApplePay and Samsung Pay).
Honorable Mention: Toast GO Handheld
What it is: A handheld device that has an embedded mag strip and EMV ("chip") card reader.
Pricing: Starts at $79/month
Cool Features: Toast POS includes an intuitive Kitchen Display Screen (KDS) so orders input by servers and bartenders instantly appear on a large screen in the BOH. If you're looking for bar technology solutions that are scalable, meaning you can add extra terminals or mobile devices over time, Toast POS is a great option.
Also Consider: Lightspeed POS, Nobly, TouchBistro 
3) Bar Technology Solutions Take Inventory to a New Level
If you're still taking down inventory onto a clipboard, then entering it into Excel – it's time for an upgrade. Wouldn't you like to get back hours in your day while improving inventory accuracy? Right now, you could be using your smartphone's camera to take a picture of each bottle of liquor, or weighing it on a scale connected to your phone. Your phone would then send the quantity and count data right into your inventory management platform. These inventory bar technology solutions might sound futuristic, but they're available right now – and more affordable than you think…
Honorable Mention: BevSpot
What it is: A beverage inventory management platform that tracks beer, wine, liquor, and food.
Pricing: Starts at $68/month
Cool Features: A downloadable mobile app lets multiple staff members take inventory at the exact same time. The software allows you to organize your inventory list based on how food and beverage items are placed on your shelves. You can track products by weight or unit with BevSpot's bar technology solutions. It's up to you.
Also Consider: Any of these 10 Beverage Inventory Systems  
4) Ordering and Vendor Management
If you're like most bars, you've diversified your product line to include local craft beers and spirits, maybe some hard-to-find international wines. It's rare to find a bar using just 1 or 2 liquor or beer distributors. Instead, most are juggling orders between multiple suppliers. Things can get complicated, fast. That's where bar technology solutions come in…the latest platforms let you consolidate vendors into one database. Then, you can quickly make orders, manage payments, and even discover new vendors – all in one place.
Honorable Mention: BlueCart
What it is: A vendor and distributor management platform.
Pricing: Free version available, contact BlueCart for a custom quote for the paid version.
Cool Features: With bar technology solutions from BlueCart, you can instantly connect to over 40,000 suppliers, compare prices, and also find additional vendors that deliver in your area. Start by adding your current vendors to BlueCart, and go from there.
5) Work Smarter, Not Harder with Staff Management Tools
It's a fact of life in the bar biz: employees are always trading shifts, asking for different shifts, you name it. And it all comes down to you, the manager.
Bar technology solutions for staffing can help streamline the process of scheduling employees – and even keep them more accountable. From a central dashboard on your laptop, tablet, or smartphone, you can handle time-off requests, set up schedules, and divvy up tasks.
Honorable Mention: ShiftNote
What it is: ShiftNote provides bar technology solutions for staffing and claims you'll spend 75% less time on scheduling.
Pricing: Free version available, contact ShiftNote for a custom quote.
Cool Features: Easily set up group chats, and send out multiple text messages or emails to alert staff of their schedule.
Also Consider: 7 Shifts, Hot Schedules, When I Work, Buddy Punch, Ximble
6) Have a Mobile App to Control Your Bar Business Remotely
Every now and then a bar owner has to take some urgent business decisions being away from their bar. In such moments, it's best that they have accurate numbers on sales or inventory at hand.
Some POS and inventory management systems for bars provide business owners with smartphone apps for managers. The main purpose of such apps is to give the manager access to real-time business data and allow them to receive important notifications. They help bar owners stay on top of things wherever they are and make their decision-making process more flexible.
Honored mention: Poster POS & Poster Boss app
What it is: A cloud POS and inventory management system with a smartphone app for business owners
Pricing: Starts at $44/month
Cool features: Poster Boss app syncs with Poster point of sale system and allows you to quick-check how everything's going in the bar when you're out. It will take you a glance in the app to know how busy your bar is at the moment or how much inventory left in stock. Seeing a high inflow of orders, you may decide to come and help your employees serve a large crowd. Knowing that a popular liquor goes low, you can make an unplanned purchase on time. And one more important thing. Right after another cash shift closes, you'll get a notification about how much money has been earned this day.
These 5 bar technology solutions are just the tip of the digital iceberg. Essentially, there is an app, software program, or digital device that can streamline every aspect of your job. But don't worry. The ultimate goal of this technology isn't to replace the human factor, it's to make life easier – and business