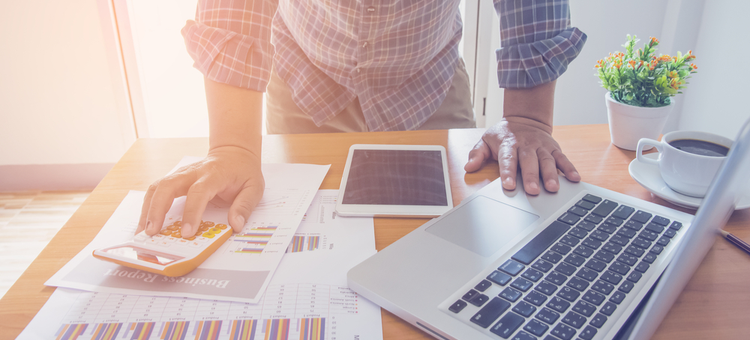 Congratulations, you've decided to open a restaurant! You have an awesome concept, the perfect menu, and even the floor plan in mind. But do you have $275,000? That's the total median startup cost for opening a restaurant today. Most people don't have that kind of cash sitting around. That's where these 6 sources for restaurant loans come into play.
On a mission to improve your operation? Expanding to a second location? These 6 types of restaurant loans can work for you as well. In fact, you'll have an advantage when applying for restaurant loans since you're already in business.
1) Start at the SBA: Your Partner in Securing Restaurant Loans
Good For: Startups and business-savvy restaurateurs who want complete control of their business.
Even if you have all your restaurant startup ducks in a row – from choosing the right restaurant name to market research – many banks are hesitant to hand out restaurant loans.
You know the statistics; the restaurant biz can be high risk.
The 7(a) program is a system that lowers that risk for banks. Basically, the Small Business Administration (SBA) guarantees to repay a portion of any restaurant loans with default payments. That way, you have a better chance of securing a loan, while still benefiting from the fixed interest rates and flexibility of the 7(a) program.
Pro Tips
Set up a meeting at your local S.C.O.R.E office. It's a partner organization of the SBA and offers free mentoring and support for small businesses. Typically, the office will pair you with a mentor experienced in the restaurant world. Showing banks you're receiving advice and mentoring may help you secure those restaurant loans.
2) Micro Restaurants Loans Can Have a Big Impact
Good For: The restaurateur looking to spruce up their business or replace some equipment.
Restaurant loans aren't just for startups. If it's time to replace that wood paneling or worn carpet, a micro loan is the answer.
Micro loans come in smaller amounts than typical restaurant loans. They can range anywhere from a few hundred bucks to $30,000 to $50,000. The SBA can also help you secure micro restaurant loans, or you can try going direct to the bank.
Pro Tips
Be prepared with a plan to show exactly what you plan to improve – and why its necessary for your operation.
No matter which restaurant loans you're going after, showing a thoughtful business plan – complete with research – will prove to the lender or investor that you mean business.
Alternative financing institutions can provide you with restaurant financing that fits your needs, whether you need a significant amount of money to start an expansion project, or simply need to meet monthly payroll.
3) Consider a Credit Builder Loan
Good For: Startups with a little credit history…
When you'd rather hide your credit history and shred your financial statements…credit builder restaurant loans to the rescue!
A credit builder loan is a type of micro loan that allows you take out a small amount (often from your savings account) which you pay back over a shorter time period. This gives you the credit you need to take out larger restaurant loans as you work towards opening your business.
Pro Tip
There is one big drawback to credit builder loans: since they're smaller than traditional restaurant loans, you may wind up paying much higher interest rates. Take time to calculate that interest before moving ahead.
4) Fast Cash (But Proceed with Caution): Merchant Account Funding
Good For: Restaurateurs who need capital NOW.
While bank restaurant loans are a good place to start for restaurant funding, time may not be on your side. Approval and processing can take weeks, which won't work if you need money ASAP. Merchant account funding – also known as merchant cash advances (or MCAs) – may be a better choice.
Here's how it works. Merchant lenders give you capital upfront. Then, you pay back the lender later with a percentage of future credit card sales. The obvious benefit is quicker access to cash. Plus, you typically won't be held to a set monthly rate as you would with bank restaurant loans. The monthly amount is simply based on your monthly sales.
Pro Tips
Yes, merchant account funding is a quick fix. But beware. Interest rates for merchant account funding tend to be higher and aren't often regulated like bank restaurant loans. You could be paying much more out of pocket due to sky-high interest. Use this free MCA calculator from Nerd Wallet to run your numbers.
Do your research and check out the Better Business Bureau ratings before signing on the dotted line.
5) Try Crowd Sourcing – The Newest Way to Fund a Restaurant
Good For: Restaurateurs who excel at social media and are very passionate about their plan.
Got big dreams for your restaurant? Bring the crowds along for the ride. Crowdsourcing involves requesting financial support from people online instead of turning to restaurant loans or merchants.
If you really don't want to worry about restaurant loans, payment plans, and interest rates, then crowdsourcing could be the solution for you. Thanks to sites like GoFundMe, Kickstarter, and even Facebook, it's easier than ever to get donations from your supporters.
However, it takes time to build funds from crowdsourcing. And while restaurant loans have set waiting periods in place, crowdsourcing is like rolling the dice. There's no telling how long it will take to reach your goal, or if you'll get there at all.
Pro Tips
To improve your chances of winning over the crowds, you need to be a marketing whiz (or hire one).
It's all about your story. It must motivate and inspire people to invest their personal cash into your business. You can also try strategies like offering rewards to funders at varying levels. From naming a menu item after someone to offering them VIP treatment on opening night, the goal is to give investors a feeling of ownership.
Use Entrepreneur's guide to crowdsourcing to see if it's a restaurant funding option for you.
6) Calling All Angels: Private Investors
Good For: Someone who can deliver a great pitch – and isn't afraid of giving up a little (or a lot of) control.
Also called "angel investors," private investors are another alternative to traditional restaurant loans. A single person or group puts up the money for your restaurant. In return, they get a cut of the money you make.
But the devil is in the details when it comes to angel investors. Unlike restaurant loans, private investment loans and programs are unregulated. Consult with a lawyer before you make it official.
Many angel investors also want to be involved in the operation of your business. Others may give you advice – all the time. After all, it's their cash, and they want you to succeed.
Pro Tip
Like crowdsourced funding, securing an angel investor requires a compelling and well-researched "pitch." You may need to deliver it to a room of investors. Use these 5 tips for winning over the room with a killer angel investor pitch.
Here's the Bottom Line on Restaurant Loans
No matter which lender or funder you approach, a solid business plan increases the odds they'll "show you the money." Now, go forth and research until you find the ideal ways to fund your new venture. Cheers to your success!
[fl_builder_insert_layout slug="whitepaper-signup-module-run-a-promotion-max-roi"]