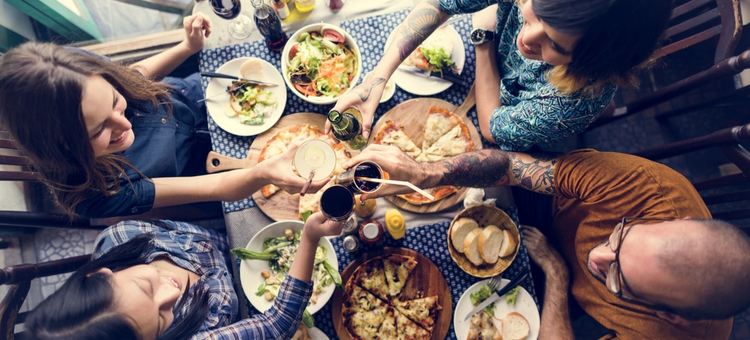 When you attempt to boost restaurant sales you may spend thousands redoing your interior or investing in gimmick recipes and menu items. No matter how much you change your brand or modify your image the best tool for raising your bottom line is keeping loyal customers. Growing a solid customer base of satisfied and enthusiastic patrons is the best way to create reliable income.
The best part of customer loyalty is that it's relatively cheap. If it were that easy, however, all restaurants would have hundreds of loyal customers. Finding the perfect combination of service, promotions, and menu items to attract customers can be tricky. Let us assist in demystifying customer loyalty. Here are tried and true ways to instill customer loyalty for all first-time visitors.
Always focus on interactions with staff. 70% of customers choose to not return to an establishment based on negative interactions with the staff. Cultivate a friendly atmosphere to see customers return for subsequent visits. In our number-crunching digital world something as simple as a human touch can be overlooked. Pay your staff a more competitive rate so they can feel motivated every day to go above and beyond the standards of customer interaction. It just takes one pleasant and understanding waiter or waitress to make a loyal customer.
Reward repeat visits. The more obvious draws for being a loyal customer are tangible perks. Send email blasts promoting customer loyalty programs. Discount menu items for return visitors. Running a punch-card promotion or a referral discount lets customers know that you're willing to do things for them if the return. Everyone likes free and discounted food. Throw your customers a bone and they'll be more likely to keep coming back.
Simplify payment. The actual transaction process at your bar or restaurant needs to be as hassle-free as possible. Customers who can pay with most forms of payment see your location as more convenient. Reducing stress and mental exertion wins over customers in droves. Eliminate the manual check process entirely by utilizing the Buzztime digital dining experience at your bar or restaurant. When customers can order digitally from their tables and check out immediately on a tablet they're free to enjoy more of their evening. Even delicious restaurants aren't worth the fuss if the end of the meal necessitates a twenty-minute math discussion so patrons can correctly split the check. Make it easy with Buzztime's self-service dining and payment.
Host live events. Events help foster a sense of identity in restaurants and especially bars. You can carefully curate events to target a specific age group, or you can vast a wide net and make everyone feel welcome. Either way, provide perks and takeaways for customers that attend your live events. This adds to the sense of reward that a loyal customer can have when they stick with your restaurant or bar.
Increasing customer loyalty will boost profits significantly as you'll spend less time and money on enticing new customers. Swings in attendance will be less severe and your ratings on sites like Yelp will go up as regulars seek to reward your bar or restaurant for your perks and promotions that target them. Put the customer first and everyone wins.
[fl_builder_insert_layout slug="whitepaper-signup-module-33-customer-loyalty"]