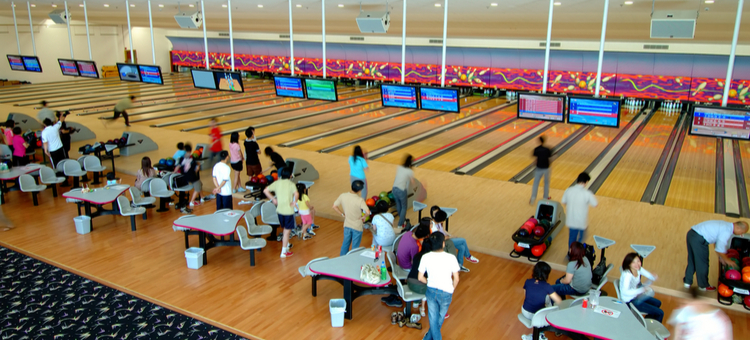 Bowling alleys usually have limited options when it comes to their snack shop menu. Fortunately, there are plenty of opportunities to make the most of your bowling alley concessions. We've got suggestions for some affordable pieces of equipment – and creative merchandising ideas – that will help you expand your menu, attract customers, and increase your revenue!
Smart Marketing Moves
Use these promotional tips to show off your awesome bowling alley concession menu…
Make Your Counter Space…Count!
Visible counter space is your most valuable real estate. If customers can see something, they're more likely to want it. Take a look at the counters in your snack bar and see if there are any items taking up space that could be moved below. Instead, use the important space on top of your counters for food display equipment. Hot dog rollers, pretzel warmers, and other food display cases provide attractive visual cues that make it hard for hungry bowlers to resist.
In between turns, bowlers usually do a little exploring and start looking for a snack. You can make it easy for them to find what they're looking for by filling your space with the nostalgic scent of fresh popcorn and sweet cotton candy. These types of foods practically sell themselves and are easy to serve. Many popcorn makers and cotton candy machines are a spectacle all on their own, thanks to their bright colors and whimsical design.
Show and Tell Using Digital Signage
While bowlers and in the middle of a game, you can still catch their eye and promote your bowling alley concessions. How? By using digital signage to showcase your menu offerings.
In a few clicks, the latest digital signage software can turn any screen in your venue into a customizable "billboard." But don't just show photos of mouthwatering food and drinks, boost your bowling alley concession sales by running limited time offers (also known as LTOs). For example, run a 99 cent popcorn deal…good for the next hour only. Expect to see patrons rushing over to get the deal (and purchase a drink at full price, too). Most digital signage solutions make it simple to pre-set your advertisements to run on specific days at certain times, in just a few clicks.
Want proof that this type of in-venue advertising drives sales on the spot? A study by Nielsen has shown that sales of items promoted on digital signage increased by 33%.
[fl_builder_insert_layout slug="whitepaper-signup-module-little-black-book-pricing-secrets"]
Indulgent, Upscale Eats
Today, bowling alleys are attracting more affluent customers. These 32 bowling alley statistics reveal that more "white collar" folks are coming in than ever before. For instance, IBIS World found that today's typical bowler lives in a household with an income of $100,000 or more – and 40% of them are college educated. Therefore, look for ways to incorporate more upscale food and drinks into your bowling alley concessions:
Paninis for the Win!
You don't need an expensive flat top grill to make toasted sandwiches! Panini grills have a small footprint so they work well in snack shops with limited space. Plus, if you invest in a double-sided grill, you get twice the output. You can expand your menu to include grilled cheese sandwiches, quesadillas, and burgers.
A simple way to take your bowling alley concessions to a more upscale level is to add locally sourced ingredients. Take that panini or sandwich to the next level by including produce – like lettuce or tomatoes – from a nearby farm.
It's entirely possible to put together a respectable snack bar menu for your bowling alley without a full size commercial kitchen. To make the most of your small space, invest in equipment that has a small footprint, fits on your countertops, and allows you to sell items with a high profit margin. Most of your customers spend several hours in your bowling alley, so why not make the most of it and offer them a delicious snack? You'll profit from better food sales and attendance.
Deep-Fried Desserts? Yes, Please!
One of the easiest ways to expand your menu is to invest in a deep fryer. Even a small countertop fryer is going to allow you to serve a variety of popular foods, like french fries, onion rings, and chicken tenders. Frozen fried foods require very little effort to prepare, and they have a high markup which improves your food sales.
Try adding a unique fried dessert to your menu for the ultimate indulgence. Fried donut holes, fried twinkies, or fried cookie dough are all easy to prepare and attract a lot of attention. Before you know it, you'll have a line of curious bowlers that want to try your fried confections. They'll also remember that your bowling alley is the place with the yummy dessert!
Get Crafty
If you're able to serve alcohol in your establishment, it's time to diversify. Alongside classics like Budweiser and Miller, why not offer a few craft beer selections? With the boom in local and regional craft breweries, there's likely one near you. Reach out and see if that brewery would be interested in supply their craft brews to your customers.
The Classics: Nachos and Soda!
Sure, some bowlers will go for your upscale options. Others will prefer to stick to the classic bowling alley concessions…like a heaping plate of nachos smothered in cheese, paired with a refreshing soda.
Nacho Cheese Dispenser and Chip Warmer
Who can resist a plate of cheese-covered nachos? Many pump-style nacho cheese dispensers accept a #10 size can, so all you have to do is remove the can's lid and put the can inside the dispenser. Voila!  Cheese dispensers are easy to use and they allow you to add everyone's favorite ingredient to anything on your menu. A small upcharge for cheese on top of fries, hotdogs, or chili adds up quickly and helps your bottom line. Don't forget a chip warmer! You can make sure your tortilla chips are on display and always served warm and toasty.
Soda Fountain Dispenser
Fountain drinks can be a big money maker for your bowling alley. When you use a soda fountain dispenser, the cost of each serving of soda is mere cents. If you sell each drink for $2 or $3, it doesn't take long to pay off the cost of the machine and turn a large profit. The markup on sodas is actually more profitable than alcohol, so you don't need a liquor license to make money off of drinks.
Now you have 7 ideas for taking your bowling alley concessions to the next level! Your goal is to be a crowd pleaser: create a menu that has a mix of the classics like nachos and soda, as well as some enticing upscale offerings.