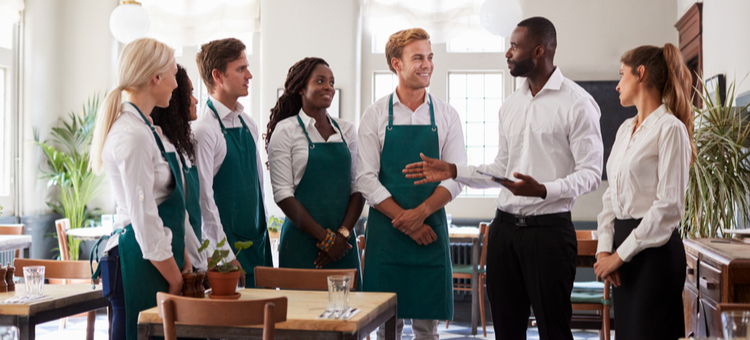 We talked to bar and restaurant owners to uncover their 9 toughest challenges when it comes to customer service skills: from treating every. single. guest like a VIP, to handling "campers" like a pro. Consider this a crash course in treating every customer like gold…even in the stickiest situations (see #5-8).
First, it's worth mentioning that 80% of restaurant complaints are the result of poor service – not subpar food or drinks. So, by all means, strive for menu perfection. But always ensure that customer service skills are a top priority.
1) Roll Out the Red Carpet (The Most Important of All Customer Service Skills)
All customer service boils down to this: make each customer feel like they're the most important person in the world when they're with you. So exactly do you go about doing that?
Integrate "surprise and delight" tactics into your customer service skills. According to the Kano Model of Customer Needs, the best way to earn customer loyalty and increase satisfaction is by giving guests something they didn't know they wanted – but are delighted to receive. It could be an amuse bouche. Or, try sending guests home with a $5 voucher redeemable at their next visit.
SevenRooms set out to find exactly what customer service skills make guests feel warm and fuzzy. And it really is the little things: 35% of customers would love to be greeted by name. When a guest makes a reservation, you know their name. So, use it! Bartenders also have it easy here. When they open a tab, they can see a guest's name.
Here's one of the simplest customer service skills…Always ask if guests are celebrating anything special, ideally when you take reservations. That way, you can prepare to "surprise and delight" with extras like a rose or small bouquet for the ladies celebrating a big birthday. Or, have a complimentary glass of champagne ready for other milestones like a retirement or engagement.
2) Cater to the Kids
When thinking about customer service skills, don't overlook the kiddos! You can win the hearts (and wallets) of parents by giving their kids the VIP treatment, too.
Again, surprise and delight comes into play. When you bring out the bread basket, bring a basket for the kids filled with faves like Goldfish or animal crackers.
Train your team to be respectful, warm, and engaging with children. Simple kid-friendly customer service skills include crouching down to get on a child's level when taking their orders. Or, be prepared with a G-rated joke of the day for tables with kids.
Other customer service skills should aim at keeping the entire fam entertained. That's where restaurant tablets can help. Thousands of restaurants and bars give their guests restaurant tablets loaded with complimentary arcade games and interactive trivia.
3) Respect the Invisible FOH-BOH Line
I'm going on break now. According to Ari Weinzweig, co-founder of the ZingTrain Customer Service Skills Training method, no customer should ever hear you or your staff "talk shop." Customers want the focus to be on their needs, not what's going on behind the scenes.
Your goal is to "protect" the customer from anything that takes the magic out of their experience: sights, sounds, even smells. These are the customer service skills to implement now:
Go outside to your parking lot or the sidewalk and enter your building as a customer would. Do you see (or hopefully not…smell) any garbage bins or delivery boxes? Move them ASAP.
Follow the path a customer takes to the restroom: do they pass the kitchen or POS area? What do you see and hear? Simple measures like adding rubber flaps to kitchen doors can dampen sounds so customers don't hear cooks shouting "we've 86'd the steak!"
When reviewing customer service skills with your staff, require that they only discuss BOH issues…in the back of the house. Not at the bar. Not at the POS station.
4) Embrace Dietary Lifestyles and Preferences
From gluten-free patrons to trendy keto and paleo dieters, it seems like everyone is on a special meal plan these days. Don't just tolerate it, embrace it through customer service skills:
Instruct both bartenders and servers to ask if anyone has any dietary preferences or allergies before taking orders. This sets a personal, welcoming tone.
Educate yourself and your crew to master these customer service skills. For example, when one of the 1 in 5 Americans who follow a gluten-free lifestyle asks for a wheat-free drink, what will you serve? Hint: only a few beers are truly gluten-free. Understand the difference between a vegan and a vegetarian. Spoiler alert: vegans abstain from all animal products, including meat, eggs, dairy and even honey.
Yet again, bar and restaurant tablets can enhance your customer service skills. The best restaurant tablets let guests browse a digital version of your menu, even sorting by dietary preferences. Patrons can build out their "dream meal" in a few taps on the tablet – and send orders straight to the kitchen or bar.
Ignore these diet-focused customer service skills at your own risk! According to the SevenRooms study mentioned earlier, 1 in 3 Americans won't return if they feel their preferences were overlooked.
[fl_builder_insert_layout slug="whitepaper-signup-module-33-customer-loyalty"]
Customer Service Skills for Super Sticky, Icky Situations
The customer isn't always right. In fact, sometimes they make big mistakes…Getting fall-down drunk at your business or posting a review with more expletives than an Eminem rap. Still, you have to take the high road. These customer service skills will help you do it…
5) Respond to Complaints: The Good, The Bad…the Ugly
My chicken is RAW! The service is SLOW! Unhappy guests are the ultimate test of your customer service skills. The key is to be proactive by having a plan in place. You can use the 6A formula below for managing customer complaints in person. When the feedback comes in online? Use this variation of the 7A formula for responding to negative reviews.
But you must act quickly when deploying these customer service skills, especially for reviews on social media, Yelp, or Google. Set up notifications so you're immediately aware when a customer has something to say. Even positive comments deserve a response in 24 hours or less.
Apologize: Whether or not the complaint is warranted, apologize: "I'm so sorry you're disappointed!"
Ask: Don't try to cut off the guest. Ask them to explain what's wrong. Just listening to them vent can defuse their anger.
Authority: If possible, train your team to ask for a manager when confronted with a very angry guest. Customers appreciate when an authority figure listens to them. It makes them feel valued and important, which is the most important of all customer service skills!
Amends: Tell the table how you will make amends: take the item off the bill or add on free desserts.
Action: Tell the guests what you will do to ensure it doesn't happen again. Undercooked chicken? "This is serious, and we will be reviewing cook times with each chef."
Affirm: Ensure that your guests are satisfied before leaving the table. Otherwise, repeat these customer service skills from the beginning.
6) Dealing with Customers Who Won't Leave
Known as "campers," guests who won't leave cause a ripple effect without proper customer service skills in place. First, if guests feel that you are rushing them, they will be unhappy. Second, because the "campers" are taking up a table, you're not able to seat the next party – making them angry as well. Top restaurants have protocol in place and train their team with step-by-step customer service skills like the following plan.
"Can I Get You Anything Else"? Most guests have some insight into customer service skills and know this line is code for "let's wrap it up." It usually works.
Say Good Night (and Goodbye) If the party has paid, say goodbye while holding the check holder – then walk away. "It was such a pleasure serving you tonight. I hope to see you again soon. Good night!"
Send in the Busser If steps 1-2 don't work, send in a busser (or another waiter) to clear the table. This is a visual cue that things are wrapping up. If guests are annoyed, it's not directed at their server.
Incentivize, Move to the Bar Ask the party if they wouldn't mind being relocated at the bar. Set up a $10 tab to soften the ask. Let your team know in advance if they have the power to execute on these customer service skills involving bar tabs – or if they need manager approval.
7) Handle an Intoxicated Customer the Right Way
As a bar or restaurant owner, you're in the business of fun. But sometimes guests take it too far. It's imperative that you've mastered customer service skills for dealing with drunk patrons.
In fact, this issue goes beyond customer service skills. Many states will hold bars and restaurants liable for over-serving if a patron is involved in a drunk driving accident or is injured. Plus, your liquor license may be at risk.
Before reviewing these customer service skills, first visit the U.S. Federal Trade Commission to learn about the liquor laws in your state. There may be specific steps you must take as required by law.
Stop Serving: When in doubt, "cut them off." It is not illegal to stop serving a customer. Yes, they may be angry. But they may also forget about it if they are that intoxicated. Plus, one unhappy customer isn't worth the risk of liability.
Talk to the Friends: If the intoxicated person is in a group, tell the most-sober individual why you are no longer serving the drunk person.
Be Kind: Offer a non-alcoholic beverage, coffee, or snack to the individual.
Call a Cab or Order an Uber: Under no circumstances should you let them drive.
Call the Police: If the customer becomes irate, bring them outside and call the police. You're beyond customer service skills at this point, and it's about public safety.
You can also enlist the help of a 3rd party training program to brush up on your customer service skills for dealing with an intoxicated guest. Check out ServSafe Alcohol by the National Restaurant Association and The TIPS ® Program.
8) Protect Patrons From Sexual Harassment
Is it harmless flirting or something more? It may be hard to tell. But it's more important than ever in the wake of the #MeToo movement. That's why many bar and restaurant staff across the nation are finetuning their customer service skills in an effort to keep patrons safe.
In states like Arizona and Indiana, Raise the Bar training – a 5-hour bystander intervention program – may even be free for you and your staff.
Once you've mastered these 8 crucial bar and restaurant customer service skills, the next step is to see if you and your team are moving the needle on guest satisfaction. Send out an email with a short survey (use SurveyMonkey.com, it can be free for a certain amount of responses). Use those bar and restaurant tablets to launch a quick, on-the-spot survey. Or, set up a simple Facebook poll and ask followers to grade you and your staff's customer service skills.
Now, go forth and impress those guests. You got this!