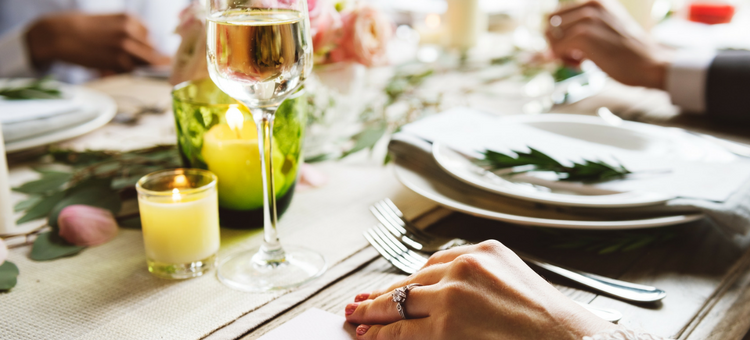 Hosting a wedding reception at your restaurant or bar is a golden opportunity to create tons of new regular customers, and to walk away with a considerable profit. Many smaller-size weddings are turning to local restaurants for receptions, both for the practicality and the allure of decent food. If asked to host a wedding reception, follow these tips to guarantee a great time for your guests and a smooth process for your staff.
First of all, don't undersell your space. Hosting a wedding reception shouldn't be viewed as a nuisance or burden, but also shouldn't be viewed as a great benefit to your business until the numbers are ironed out. Once you're told the number of the party, be sure to accurately calculate how much business you'd typically take in if those spaces were available. If a wedding party rents out half of your space, keep in mind how often you turn tables in an evening and how much you would otherwise make on bar tabs.
Once you've settled the price, work to ensure a stress-free occasion for all parties involved. Newlyweds typically choose restaurants for the reception due to the food, so there's a high chance the bride or groom has a soft spot for your restaurant. Ask what their favorite dishes are, and make sure to serve knockout food to all guests that have never dined at your restaurant before. Focus on signature dishes if you can, but good restaurant ideas involve catering to the customers' needs.
[fl_builder_insert_layout slug="whitepaper-signup-module-little-black-book-pricing-secrets"]
In that vein, be as accommodating as possible while instilling an overall respect for your space. The wedding party should realize that this is a restaurant and is still operating as such, but a little leniency can go a long way. Maybe let the bride decorate the back room with specific flowers if she wants, or set up a projector for a wedding slideshow if you have one available. Many wedding parties will tip generously if they feel like you've given special attention to their large group.
Remember, these guests want to kick back and have a good time, so focus your staff's efforts on a set lucrative objective – alcohol sales. Make sure your wine list is in top shape, and be sure to ask often if anyone in the party needs another round of drinks. Wedding receptions are a momentous occasion, and the celebrating family will drink accordingly. Offer discounts or special deals on alcohol for wedding parties to really boost your bottom line.
If all goes well, you'll make a sizable profit and expose your restaurant to many new customers. Wedding receptions can be a great business venture if you focus and prioritize during the event.