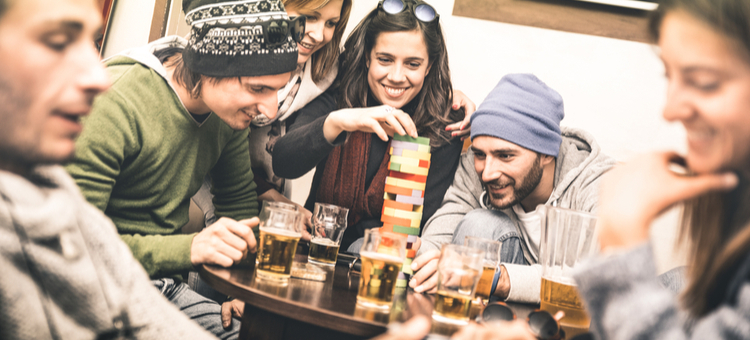 The latest restaurant trend is…playing with your food? No, people aren't flinging chicken wings across the table (although a #wingflingchallenge could be a fun contest). Guests are playing board games, trivia, and even indoor cornhole at restaurants nationwide.
If you're not serving food with a side of fun and friendly competition, you're missing out on a chance to bring in new customers – and delight existing ones. That's why we created this guide to games for restaurants – including 12 game ideas. Ready to play? Let's do this.
[fl_builder_insert_layout slug="whitepaper-signup-module-get-more-customers"]
How to Get Started with Games for Restaurants in 5 Steps
Step 1) Identify Your Target Customer
What's fun for a trendy twenty-something may not appeal to a senior sports fan. Your first step is to select games for restaurants that will appeal to your customer base…and fit into your restaurant's concept.
Step 2) Pick a Day (Not Just Any Day)
Restaurant games and competitions can send business through your doors – when you need it most. In fact, that's why so many venues host midweek trivia events. Live trivia can increase foot traffic by as much as 40%. Use your POS to analyze sales figures. Find out what day and daypart needs T.L.C. Then plan games for restaurants during that time.
Step 3) Select Games for Restaurants Like Yours
For this step, we're helping you out by sharing 12 ideas for restaurant games. Remember, always keep your target customer in mind when choosing games and entertainment.
Step 4) Plan It…
Unless you love logistics, step 4 isn't the most thrilling – but it is critical. Plan out your staffing list, draft a floor plan, review any rules or legal issues related to games for restaurants. For example, if you run a competitive eating contest, you'll need participants to sign waivers.
You also want to create a budget (and stick to it). The good thing about games for restaurants is that there's an option for every budget. Want proof? Check out this list of games from low-cost to investment-level.
Step 5) …Promote It!
Last but not last, get the word out. Promote your event ASAP by setting up a Facebook event, sending out a press release to media, and emailing your current customers.
Take it Outside with Patio Games for Restaurants
Outdoor seating is hands down one of the most profitable moves you can make. A study by Fast Casual found that outdoor dining can boost revenue by up to 30%. When you add these patio games for restaurants, expect to see an even bigger ROI…
Chalk it Up to Fun
Kick it old school. Use sidewalk chalk to create the markings needed for classic playground games: from hopscotch to four square. Leave blank spaces and set out extra chalk so patrons can come up with their own outdoor games for restaurants (giant tic-tac-toe anyone?). You could even run a sidewalk chalk art contest.
Launch Some Lawn Games
Classy retro games like bocce ball, lawn bowling, and even croquet are making a big comeback as popular games for restaurants and bars. Or, set up a little putting green and run a daily happy hour hole-in-one contest for a $10 gift card.
Supersized Games for Restaurants
Why not build your own set of huge Scrabble tiles or Jenga blocks? In fact, the just-opened Recess Bar in West Boylston, MA, built their concept around life-size games…including human fooseball. Where can we sign up to play!?
Games for Restaurants Trying to Woo Gen Z and Millennials
Spoiler alert: every restaurant should be trying to win the hearts (and wallets) of millennials. After all, the average millennial dines out at least 5 times per week. Here are the games they're playing at restaurants today…
Board Games (Rated M for Mature)
Move over Monopoly. There's a new kind of board game in town, and it's definitely for adults only. Host a board game night featuring millennial-approved card match games like "What Do You Meme?" and Cards Against Humanity.
Axe Throwing, Eh?
You can blame – or thank – Canada for the latest trend in games for restaurants and bars. Yes, people are eating, drinking, and throwing axes…everywhere from Seattle to Brooklyn. Aside from freak "axe-idents", most venues that offer axe-throwing claim it's safe and fun. We'll let you decide if this trend makes the "cut" on your events list.
Bring the Best of the Backyard to Your Restaurant
From college campus parties to neighborhood BBQs, there's always a game going on. Millennials love a good round of flip cup, beer bong, KAN-JAM, and of course…cornhole – all potential games for restaurants. Don't think you need a large outdoor space to set up these games. All of them can be played indoors, too.
Host Live Trivia
Why let bars have all the fun? Pub quizzes work just as well as games for restaurants. Best of all, trivia night events are traditionally held during the week. From young professionals to college students, they all enjoy the thrill of going out "on a school night" to beat the midweek blues. Many will form teams and compete week after week at the same venue.
So do what Arooga's Grillhouse in Lancaster, PA does – and host a recurring trivia night. Arooga's is one of over 2,600 bars and restaurants that use the Buzztime trivia platform. With Buzztime, one of your staff members can host the event – no outside host needed.
Run eSports Tournaments
Today, video games – now known as "eSports" – are a lot more social. Online games like Fortnite and Overwatch bring players across the world together to compete for glory…and even crazy cash prizes during tournaments. So, what does this have to do with games for restaurants? Some venues are hosting video game tournaments. Players bring in their gear, and get their game on.
Put on a Show! Restaurant Games That Double as Live Entertainment
These games for restaurants are just as fun to watch as they are to play…
Buzzed Spelling Bee
When it comes to words of a certain length, most of us rely on Spellcheck and autocorrect to get it right. Take away the tech, add in a few drinks and willing contestants, and you've got a buzzed spelling bee…one of the trendiest types of games for restaurants. To set up your own buzzed bee, check out the rules posted by The Come Back In Tavern in Madison, WI.
Upgrade Your Open Mic Night
Listen, paying bands gets expensive. So why not crowdsource your live music by hosting a weekly open mic night?
You could even run open mic games for restaurants in the style of American Idol. Each week, performers come in to compete for a chance to perform in a final open mic event where a trio of local musicians (the judges) will crown your restaurant's "idol."
For another twist on the open mic format, try open mic comedy night. Let the crowd pick their favorite amateur comedian who hosts the next's week event.
Battle of the Bartenders
Ready for another twist on games for restaurants? Your bartenders are the players, who will compete in front of your guests.
One option is to use a format similar to the Food Network's Chopped cooking show. Tap a few bartenders to participate in a 3-round battle. Each round, the "contestants" are given a mystery ingredient – and must use it in a cocktail.
Your guests act as the judges and taste a shot glass pour of each cocktail. Then, they vote on one bartender to eliminate. The last bartender standing is the champion (and every guest is a winner after sampling crazy fun cocktails during these games for restaurants).
Don't Forget Family-Friendly Games for Restaurants!
Kids really do run the show, at least that's what the statistics show. The Technomic Generational Report reveals that nearly half off today's parents let their children decide where to dine. And kids are gonna go where the fun is…
Bring the Entire Arcade to the Table (Seriously)
Don't worry. We're not suggesting you try to squeeze a bunch of Ms. Pac-man machines into your venue. Bring the arcade tableside on handheld restaurant tablets. Loaded with dozens of arcade games for restaurants, these entertainment tablets turn wait time into playtime – which every parent will appreciate.
Now that you have 12 ideas and a quick 5-step plan for setting up games at your restaurant, you know what to do. Let the games…begin!