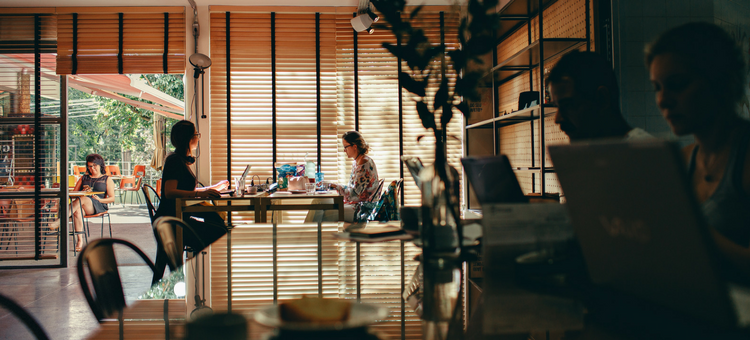 First, the bad news. The average restaurant's annual cost of employee turnover is $146,600. The good news? To reduce turnover, you don't need to increase your budget. Check out these 4 no-cost restaurant retention strategies for boosting employee retention rates.
1. Show Respect to All: From Dishwashers to Top Managers
If you want to reduce turnover, start showing respect for your employees. Treating people with respect is the most important factor in employee satisfaction – even topping compensation – according to the Society for Human Resources Management (SHRM). There's no cost associated with treating all employees with respect, yet you'll reduce turnover which could potentially save you thousands.
Remember: creating a culture of respect starts with you…lead by example!
The first step to respect? Acknowledge all employees. Spend a few minutes each day in the back of the house
Compliment your line cooks when they're hustling
Ask your dishwasher how they think business is going, respect means showing you value all opinions
If you witness an employee disrespecting another, pull them aside and explain why respect matters
2. Boost Employee Engagement
Engaged employees stick around. It's that simple. By engaged, we don't mean headed for the altar. It's a measure of how connected and committed employees are to your bar or restaurant – and the people who run it. Unfortunately, multiple studies indicate that just over half of the restaurant workforce is actively engaged and management is often to blame.
The Dale Carnegie Training Institute claims that "employees don't leave businesses, they leave people." Are the people you've put in charge motivating and positive? Are they leaders? Do they reduce turnover, or are employees leaving because of them? You can analyze your restaurant's employee engagement using Dale Carnegie's 3 factors: 1) relationship with the direct manger 2) belief in senior leadership and 3) pride in working for the company.
Create a simple, anonymous survey, asking employees to rate their satisfaction with the 3 factors – also request their ideas for improvement. Hold a meeting to review the results.
Institute an annual review process if you haven't already, employees want their managers to provide clear expectations and goals to strive for
Gather your staff and brainstorm a charitable cause that your bar or restaurant can support – 54 percent of employees who are proud of their company's contributions to society are engaged with their job
Not only does an engaged staff reduce turnover, a recent Gallup poll revealed that businesses with strong employee engagement outperform the competition by 202 percent.
3. Recognize and Reward
We'd all love a hefty bonus, but non-monetary recognition and rewards will go a long way in your efforts to reduce turnover. The latest trend is peer-to-peer recognition. Instead of management selecting the traditional "employee of the month," get staff involved in nominating the "bar hero" or some other fun, less-formal title. Ask that employees catch their peers doing something positive, like going above and beyond to accommodate a guest request. When you announce the winners, share why they earned the recognition so other employees can follow their lead. Recognition alone is often enough of a reward – on social media or in your restaurant or bar using digital signage.
Set goals for your staff such as a 5% check average increase over a month period, and then reward the entire team with a trivia night at your place during a daypart or day you're not open
Get creative with employee recognition: name a drink special in their honor or give them a special parking spot (everyone still loves that)
Give out company swag as a reward – like high-quality sweatshirts or hats that employees are proud to wear. Yes, there's a cost to purchasing the apparel, but you'll likely break even because employees become walking advertisements for your business. It's a win-win.
4. Hire Smarter Next Time
To reduce turnover, improve your hiring process. Just ask the man behind the Facebook empire. Mark Zuckerberg was quoted at a 2014 conference in Barcelona stating: "I will only hire someone to work directly for me, if I would work for that person." First, think about your managers. Would you work for them? Would they provide encouragement and guidance that would push you to do your best work? Too often busy restaurant and bar managers hire with their gut, instead of analyzing an employee's skillset and character attributes.
Set aside a few hours to write up job descriptions for each position, so you're always ready to fill vacancies. Clear job descriptions are essential so your new hire knows exactly what's expected.
Reduce turnover by examining an employee's history – it will reveal their turnover rate quickly! Always ask for a resume and references. Your gut isn't always right.
Create an onboarding process so new hires become engaged with your business immediately. Don't let them loose without guidance!
It can be hard to reduce turnover when you feel like the cards are stacked against you. The statistics are alarming: 40 percent of your staff may leave and seek employment elsewhere this year, and the rate is even higher for your millennial employees, 60 percent of whom are open to new employment at this very moment, according to a 2017 Gallup poll.
Gain confidence by taking a proactive approach to reduce turnover by starting with these 4 steps. You'll see a ripple effect of positivity and profitability. For example, when you reduce turnover, you also increase guest satisfaction. An employee who's happy to be working for your bar or restaurant will deliver better customer service.
[fl_builder_insert_layout slug="whitepaper-signup-module-rewards-program"]