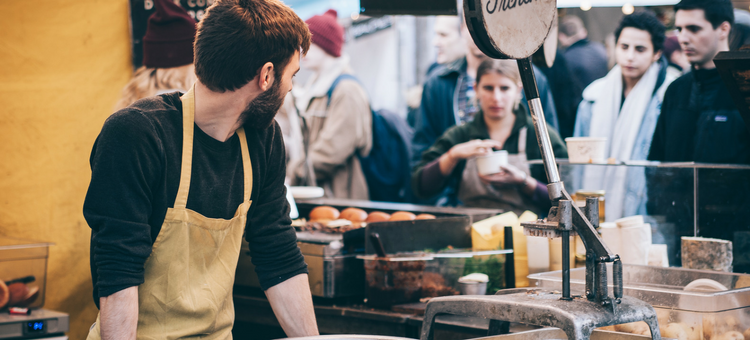 Nobody likes to wait. In terms of customer satisfaction, the worst thing you can do to discolor a customer's opinion of your restaurant is to make them wait for half an hour before being seated. Most customers will only negatively review a business on Yelp if they were forced to wait for extended periods of time or if a service member is unexpectedly rude.
For restaurants, the rumor of a long wait can positively kill business. If you earn a reputation as the restaurant no one can get into after 6 pm, that isn't good news. But don't fret – these methods can reduce the average customer wait time in your restaurant substantially.
Eliminate Chokepoints
What's a chokepoint within a restaurant? Any area that creates bottlenecking and leads to a congestion of foot traffic. Poor table layout can be a factor, but typically the culprit is a lack of wide and direct walkways throughout the restaurant.
Simply eliminate one or two tables so you can rearrange the seating in your restaurant to provide servers, waiters, and waitresses unbroken and direct paths to deliver food and seat customers. You'd be amazed how much of your customers' time you're wasting with even one "chokepoint," and how much of a domino effect congested foot traffic has throughout the day.
Switch to Digital Dining
The key to reducing wait time is to clear tables as soon as a party is finished eating. The bill payment process eats away valuable time and distracts waiters and waitresses from other tasks. With Buzztime's digital dining system the customers are fully in control and can leave moments after dessert.
Allowing customers to pay at their table through an automated system empowers them to leave when they want and potentially tip higher, as waiters and waitresses can properly wait on them full time without distraction. Payment is simple and allows you to clear that table in minutes so another party can be seated.
Provide Entertainment
One of the most frustrating parts of waiting to be seated is the inevitable boredom. Few restaurants provide any entertainment for customers as they sit in the lobby or waiting area hoping for their name to be called, leading to the wait times seeming even longer than they actually are.
If Buzztime's tabletop arcade games and trivia are immediately at a customer's fingertips when they put their name on the waitlist the wait itself will fly by. With tons of gameplay variations, genres of games, and ways to interact with other players, customers will the buzz of excitement before they even get to their table.
With your restaurant free of chokepoints, your tables equipped with digital dining, and your customers plugged into fun games upon arrival, wait time will be greatly reduced and customer satisfaction will be through the roof.
[fl_builder_insert_layout slug="whitepaper-signup-module-33-customer-loyalty"]