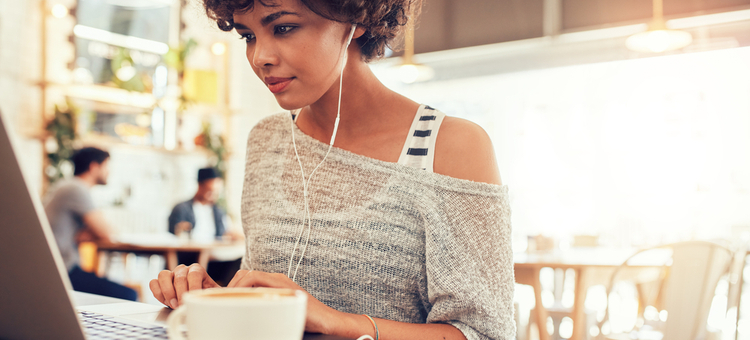 Looking to up your game in the bar and restaurant biz? The world is at your fingertips, literally.
With the rise in online learning, you can quickly acquire new skills, certifications, and even the latest hacks and shortcuts – all from your favorite digital device. Best of all, many of the best online learning resources are free or cost about the same as an overpriced coffee.
So, What Exactly is Online Learning?
Yes, technically watching a YouTube tutorial on how to make a layered B-52 shot is online learning.
However, over the last few years, a handful of websites have popped up with more in-depth educational resources. From Udemy to Coursera, these platforms make it easy – and affordable – to access expert-level instruction in a wide range of topics.
In most cases, online learning – also known as e-learning – revolves around pre-recorded video instruction although podcasts and written guides are also popular. Some platforms will provide instructor feedback; however, for the most part, e-learning is self-guided and you don't have to "check in" with an instructor along the way.
How Online Learning Benefits Bar and Restaurant Professionals
Tech Rescue
If you're the owner or manager of an independent restaurant, you're also likely the head of HR, marketing, and accounting. As technology changes at a rapid pace, online learning helps you keep up. Need to build a website? Take this 3-hour Udemy course for just $15. Confused by the latest Quickbooks updates? There's an online course for that, too.
Learn on Your Time
Were you scared off by the fact that the website course was 3 hours? No worries, it's broken into 17 shorter videos, because online learning is meant for real life. Unlike an actual "live" course, you can press pause on online learning. The goal is to learn in minutes…not hours.
Gain Skills for the Next Job
Maybe you're a bartender and you've got #careergoals of becoming a manager. Yet, taking management classes at the nearest college doesn't fit into your budget (or your schedule).
With online learning, you can obtain real-life management skills – from calculating restaurant metrics to rewarding employees – and even earn certificates to prove you know your stuff.
Speaking of certificates, there are many certifications specific to the bar and restaurant industry that can be acquired online. For example, for just $69, you can get a Level 1 Cicerone Certification through an e-learning course.
Train Your Team
It's not just about increasing your knowledge base. Many restaurants and bars are integrating online learning into their training and onboarding processes for staff, too.
Hey, Teacher
Yes, that's you. Put all the knowledge you've gathered over the years to good use – and get paid for it. Some of the platforms listed below allow professionals to create their own courses and even charge whatever they want.
[fl_builder_insert_layout slug="whitepaper-signup-module-run-a-promotion-max-roi"]
Start Here! 5 Online Learning Platforms
Skillshare.com
Best if you want: to pay as you go for courses you need.
Cost: Many courses are free. Or, for $99/year you can access over 25,000 premium courses.
As its name suggests, Skillshare is focused on hooking you up with practical skills. Many of the video courses are focused on technology, business, and marketing – and can be watched in as little as 15 minutes to an hour. Videos are at the core of Skillshare, and the caliber of instructors is impressive. It may be worth springing for the premium membership.
Start Learning Now: Intro to Social Media Marketing
Coursera.org
Best if you want: to dabble in college-level courses…or get an actual college degree.
Cost: Courses start at $29
Next time someone asks what you're doing on your phone, you can say "oh, just taking a class with Stanford University."
Through Coursera, you can take a single college course or even complete a degree. What sets Coursera's online learning platform apart from the rest is that all courses are taught by instructors from actual universities, colleges, and even big-name companies. You'll also receive a certificate for each course you complete.
Fair warning: Most courses require a time commitment similar to an actual college course, from 15 to 50 hours spread out over a few months. No 15-minute Photoshop tutorials to be found on this online learning platform!
Start Learning Now: Training and Onboarding Employees
Udemy.com
Best if you want: to pay as you go for courses you need.
Cost: Free and up to any amount (the instructor sets the fee).
Like Skillshare, Udemy is built on easily digestible content. You can watch a short half hour video, or take a slightly longer course. Udemy is all self-paced, so you can learn on your time. Course fees range from free to around $100, although most that we reviewed came in at under $15.
As the saying goes, you get what you pay for…and even $15 courses often include valuable, downloadable resources.
Start Learning Now: Restaurant Human Resources Best Practices
Lynda.com | LinkedIn Learning
Best if you want: unlimited access to courses and tutorials, and the option of training your team through online learning.
Cost: Free month, then as low as $19/month
Lynda.com was one of the first major online education platforms, and was recently acquired by LinkedIn. Through Lynda.com, you can watch videos taught by experts in a variety of subjects.
Unlike Skillshare and Udemy, you're required to purchase a subscription to Lynda.com after your free month. There's not an option to purchase single courses. However, the courses on Lynda.com are very high-quality. Most of the online learning courses are geared towards technology, software, and business skills. Lynda.com is a great place to start if you want to master a specific skill like food photography or Quickbooks.
Start Learning Now: Facebook for Beginners
Edx.org
Best if you want: free college courses (or $49 for a certificate of completion)
Cost: free to $49
Last but not least on this list of online learning platforms is Edx.org. It's similar to Coursera, and you can take classes from prestigious colleges: from Harvard to the University of Michigan.
Start Learning Now: Customer Service and Relationships
The next time you're tempted to mindlessly scroll your newsfeed, why not download one of these 5 learning apps instead? It's a great opportunity to take your skillset to the next level, without committing to a "live and in-person" class. We wish you success as you tap into the world of online learning…