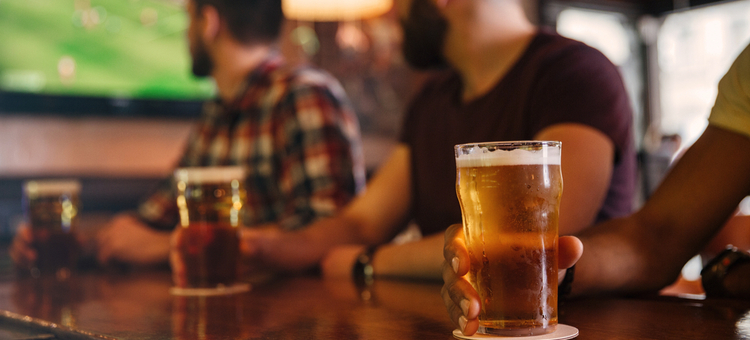 Everyone from parents of teenage gamers to researchers are fretting about the negative effects of too much screen time. It's isolating. It's turning us into a nation of lazy bums. It's making us anti-social. Or is it?
That all depends on the scene surrounding the screen. The screens on our smartphones and home TVs create private experiences; shared screens in public places create shared experiences.
That's why many of today's bars are tapping into the power of TV to bring people together. From watch parties to interactive trivia, this is what bar TV entertainment looks like now…
"Fan Up and Go": The Watch Party Phenomenon
Real fans don't stay home and watch the game alone. They go to a bar for a "watch party" whether it's the NHL finals on a weeknight, or an epic college football rivalry on a Saturday afternoon.
However, venues are discovering that simply broadcasting the games doesn't qualify as bar TV entertainment anymore. Fans need more of an incentive to get off their sofa. Hence the "watch party" moniker. So, what makes it a party?
Drink specials, biggest fan contests, and themed menus with insider fan terminology are just some ways venues are upgrading their bar TV entertainment – and turning it into an event.

Some bars even partner with sports franchises for the rights to host official watch parties. For example, Springbok Bar and Grill in Los Angeles regularly hosts viewing parties in partnership with the L.A. Galaxy soccer team.
Beyond just bar TV entertainment, these events feature appearances by the L.A. Galaxy team mascot and star players during away games. There are raffles with prizes, even free food to get folks in the door.
The result is an atmosphere that mimics being at an actual game, surrounded by fans who are equally enthusiastic about their team. It's social, high energy, and creates a community – right at the bar.
Bar TV Entertainment Goes Beyond Sports…Cruz vs. Beto, RuPaul's Drag Race, and the Walking Dead
There are some customers who believe bar TV entertainment only belongs in sports bars.
Thousands of bars – and their customers – disagree.
In New York City, bars like the bustling Ninth Avenue Saloon often host watch parties for RuPaul's Drag Race on VH1.
Across the country in Dallas, many bars got political with their bar TV entertainment during the 2018 election season…hosting viewing parties for debates between Senator Ted Cruz and U.S. Rep Beto O'Rourke.
Ultimately, the key to successful bar TV entertainment for business owners is this: to thine own audience be true.
Find out what your customers are interested in, then plan bar TV entertainment accordingly. Soon, you'll see your own community of like-minded folks gathering on a regular basis at your venue.
What Ruins a Watch Party? Cease & Desist Letters (So Keep Watch on the Rules)
In May 2019, hundreds of bars nationwide took a gamble with their bar TV entertainment. They hosted watch parties for the final season of HBO's Game of Thrones. Never mind that HBO stands for "home box office" and HBO's legalese clearly indicates that its content is for home viewership only.
The same goes for Netflix, Showtime, Hulu, and Amazon Prime…do not show this content at your bar, or you risk being sued by one of these networks.
On the flip side, pending you have the right commercial license with your cable provider, you can legally show basic cable shows like AMC's The Walking Dead.
The Rise of Bar TV Entertainment…For Bars Only
Ultimately, watch parties still compete with every customer's temptation to stay home and watch the action on their own TV.
So, bar owners have gotten creative, offering bar TV entertainment to patrons that they simply can't get in their living room. That's where companies like NTN Buzztime and CHIVE TV come in, turning bar TVs into interactive screens.
Over 2,600 bars across North America tune a few of their TVs to the NTN Buzztime network. Customers can use their smartphones or bar-provided touchscreen tablets to compete in trivia with players across the bar – or across the country. The action is all displayed in real time on the bar's TVs.
Buzztime trivia games run 24/7, so whenever the bar is open, there's interactive bar TV entertainment waiting for groups of players.
Local and national leaderboards even display player standings, giving them that 15-minutes-of-fame feeling when they're winning at trivia.
15 Minutes of (Bar) Fame
Another way that bar owners are using TV screens to make folks feel like celebrities? Simple, affordable digital signage turns any screen into a customizable display.
Some bars will run photo contests on Instagram or Facebook, then feature the winning photos on their TVs. Others use this creative TV advertising to highlight a "customer of the week" or month.
Bar owners are also cultivating a sense of community through their TV screens by using them to promote charitable causes. A local animal shelter likely can't afford TV ads that run on all news stations. However, a bar can provide the animal shelter with complimentary advertising on their own TVs.
Here's another twist on this type of bar TV entertainment…The best digital signage software is programmable by day and daypart. Bars are creating "flash specials" that run for 15-20 minutes only during happy hour. It turns typical bar specials into an exciting, energized event – almost a game – as customers try to predict what will go on special next.
Closed Captioning Opens Bar TV Entertainment to Everyone
Bar TV entertainment can also serve to unite all customers – including those with hearing issues. The Americans with Disabilities Act has been at the forefront of the bar and restaurant industry as owners grapple with how to ensure a socially rewarding experience for all patrons.
One way that bars are stepping up is by turning on closed captioning on their TVs. In fact, in Seattle, bars and restaurants are now required by law to display closed captioning whenever bar TV entertainment or content is shown.
What Does the Future of Bar TV Entertainment Look Like?
As technology becomes even more sophisticated – and interactive – expect to see more advances in bar TV entertainment in the near future. Live streaming continues to impact how we engage with televised content. In some cases, bar social scenes become the entertainment. In Cleveland on Cinco de Mayo, thousands tuned in to virtually attend a "fiesta" held at a local bar during their lunch hour, as the party was live streamed to Cleveland.com's Facebook page.
With the rise in artificial intelligence (AI), bar TVs may soon be able to "read the room" and provide content that is targeted to individuals. Yes, in the future, a bar TV might give you a suggestion on what to order.
In the meantime, bar TV entertainment continues to unite customers at places they love – so they can experience fun, games, and good times…together.