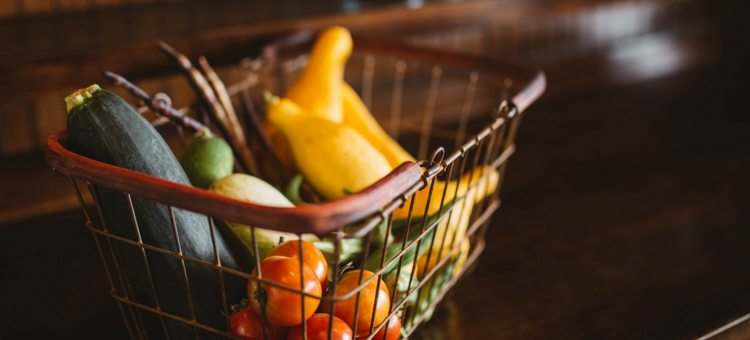 Crunchy leaves. Chilly nights. Cozy sweaters. Fall is in full swing; do you have the menu to match? Get ready now with these 8 fall menu ideas that will cure any customer's craving for a taste of autumn.
1) Season's Eatings: Farm-to-Table Fall Menu Ideas
Farmers have a little secret to share…autumn is peak produce time.
Sure, strawberries are out of season. But just about everything else is ready now to inspire your fall menu ideas: from squash to apples, potatoes to leafy greens like kale and swiss chard. Many farmers are using high tunnel farming, which extends the growing season for "summer" produce like tomatoes and peppers. In the Northeast, fall raspberries are even available until the first frost.
Now that you realize you're surrounded by a local bounty, it's time to plan fall menu ideas around what's in season. Start by contacting growers using this list of 11 best sources for local produce. Then, use these fall menu ideas for inspiration:
Autumn salad featuring candied walnuts, roasted butternut squash, goat cheese, and finely chopped kale
Baked acorn squash stuffed with pork sausage (bonus points if it's locally sourced pork)
Fingerling potatoes mashed with fall herbs like thyme and rosemary
Charred brussels sprouts with fresh cranberries and thickly grated Parmesan
Make apples savory again with your fall menu ideas: try an apple curry with chicken; pork tenderloin with an apple-maple glaze; or spinach salad with hazelnuts, apples, and a warm Dijon-bacon dressing
2) Family-Style Dining for the Win
Fall marks the arrival of the holiday season. First up? Thanksgiving. There's a rising trend of customers going out to dinner or ordering Thanksgiving feasts to-go from restaurants. For example, over 40 restaurants in the Phoenix area stayed open for Turkey Day. But don't limit those Thanksgiving vibes to just one day. Customers may want to celebrate "Friendsgiving" in the weeks preceding or following turkey day. When big groups come in, be ready with family-style fall menu ideas. You could offer a prix fixe menu: from appetizers through desserts like Yardbird in Las Vegas. Or, let guests select their options from a family-style menu.
3) Oh, Deer! Are You Game for Exotic Meat?
Ok, venison isn't exactly exotic. But it's different. And different is good when it comes to fall menu ideas. After all, fall is the start of open season for hunting. You don't need to serve up a rare venison steak but why not swap out ground beef for venison in your chili? Or, try a buffalo meat burger. Rabbit ravioli with caramelized shallots is a sophisticated option. And by exotic meat fall menu ideas, we don't mean kangaroo.
[fl_builder_insert_layout slug="whitepaper-signup-module-get-more-customers"]
4) Tofurkey 2.0: Meatless Fall Menu Ideas
Newsflash: even carnivores like to switch things up sometimes. Research firm Mintel found that 8 in 10 millennials today are seeking out meat-free meals. Keep in mind that Mintel also discovered that taste is the top reason diners order meatless food. Sorry, that pre-made veggie burger won't cut it anymore.
With Thanksgiving on the horizon, show love to anyone craving plant-based options with meatless fall menu ideas. Need some inspiration? Check out these 56 vegetarian fall menu ideas from Bon Appetit.
5) Tailgate
Different kind of game
6) Cheers to Fall! Autumnal Beers and Cocktails
Raise your glass of hot buttered rum and say cheers to boozy fall menu ideas. Start by planning a cocktail list of seasonal sips using this list of 17 fall cocktail recipes. From a spiced persimmon old fashioned to a ginger snap vodka concoction, expect your customers to fall for these seasonal sippers.
Consider beverage-focused fall menu ideas that can be made in large batches in advance. Hot mulled cider is a must: the scent of fall spices will have guests asking what smells so good. You can prepare it as a non-alcoholic drink for kids and those skipping alcohol. For those imbibing, just add brandy or whiskey.
Don't think we forgot fall menu ideas for your beer list. Of course, you'll want to have a few pumpkin beers in stock. But craft beer drinkers often think they're too cool for pumpkin brews. Try these crafty fall menu ideas: Rogue Hazelnut Brown Nectar Ale, Abita Pecan Harvest Ale, or Harpoon Brewery Flannel Friday Amber Ale.
7) Spices That Warm and Wow
Looking to add a little trendiness to your fall menu ideas? Break out the spices. No, not that pumpkin pie spice. We're talking savory and spicy flavors from faraway places like North Africa and the Middle East.
Try sumac. Its peppery, lemony taste and brilliant red color can enhance any salad. If you give sumac a try, you won't be alone…According to the Kimpton 2019 Food Trends report, 31% of chefs surveyed said that sumac is the #1 spice they'll be using in 2019.
8) Maximize Your Margins: 3 Top Menu Tips for Any Season
Try Restaurant Tablet Menus: Many restaurants dread seasonal offerings because it means the expense and hassle of a menu reprint. Kiss those print costs goodbye and switch to touchscreen restaurant tablet menus. In a few clicks, you can integrate those fall menu ideas into your main menu.
Name That Dish: Another benefit of tablet menus? You can get descriptive without creating a dictionary-sized menu. Research by the University of Illinois shows that you can increase sales of a menu item by up to 27% with a vivid description and name. Basic baked brussels sprouts become Glazed Maple Brussels Sprouts, made with local maple syrup of course.
Launch Your Fall Menu Ideas on Social Media: Take a cue from the big chains, who use Facebook and Instagram Live to announce their fall menus. Ask your chef to share their inspiration behind each dish along with all the mouth-watering details. If you've partnered with a local farm, why not go live on site and show customers where their food really comes from?
You don't have to go all in for fall. But changing your menu with the seasons is always a good idea. You can swap out dishes that aren't performing well, while keeping your menu mainstays. The best fall menu ideas capture what's best about the autumn season: fresh local produce, rich and warm food, and meals meant for sharing with friends and family.