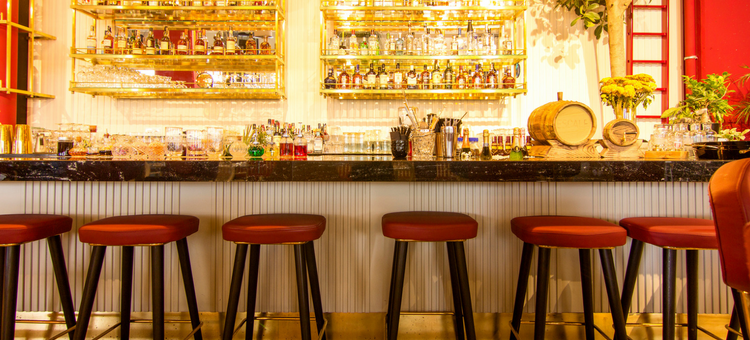 Why bother with restaurant branding? After all, as long as your food is good, nothing else matters…right? Wrong.
When done correctly and consistently, restaurant branding can do so much more for your business, including boosting revenue by about 23%. It also allows you to share your story and company values. And it makes your restaurant relatable to customers. And best
Still not convinced that restaurant branding is important? Here are some other key reasons it pays to pay attention to branding…
Restaurant Branding Appears Everywhere
Branding extends far beyond the four walls of your venue. Sure, the decor of your dining area and bar plays an important role in establishing your identity. But you need to ensure that your restaurant branding leaves an impact long after your guests leave.
To do that, get a firm grasp on your restaurant branding and ensure that it's represented in every aspect of your business, including:
Marketing Materials: It's important that your marketing materials, both print and digital, reflect your restaurant branding in look and feel. You want potential customers to recognize right away if they're receiving a message or viewing an advertisement from your business.
Social Media: Restaurant branding also includes the online persona for your business. Which means your Facebook, Twitter, Instagram, and any other platform you use need to match your brand. It can even determine which channels you should be focusing on to effectively reach your target audience.
Promotions: Understanding restaurant branding can help your business in several ways, including selecting promotions that have a higher chance of being successful. Knowing your brand means you'll be better equipped at planning a hit promo to boost slower nights. Because you'll know exactly what your audience is looking for and what they expect to see.
Consistent Restaurant Branding Establishes Trust
Customers what to know what to expect from the brands they engage with. That sense of security helps to establish trust and loyalty with guests.
Think about how confusing it would be if you promote yourself as a family restaurant, but mainly featured drink specials on all of your advertisements. Or if your logo looked different on your social media pages versus your website versus your actual restaurant sign.
Consistency is key when it comes to restaurant branding because that's what builds brand awareness. If you're unsure how to maintain consistent restaurant branding, here are some elements to pay attention to:
Design: The visuals you use to represent your brand should be the same across the board. Pick a logo, wordmark, and color scheme and stick to it on all of your marketing materials. And don't underestimate the power of color. According to Color Matters, colors can increase brand awareness by 80%.
Voice and Tone: Remember to check your voice and tone on every piece of copy for your restaurant. You want to ensure that you sound the same in all of your messaging to prevent confusing your customers. And a firm restaurant branding plan can help provide direction on the voice you choose for your business. For example, if you own a fun-loving sports bar, you may want to use an excited tone with active language for your copy.
Values: Your values are at the core of your company and should be reflected in every action your business takes. Because chances are, your customers may be choosing your restaurant based on the values you share with each other. Forbes reported in their Consumer Technographics data that "nearly seven in 10 U.S. Millennials actively consider company values when making a purchase."
[fl_builder_insert_layout slug="whitepaper-signup-module-50-best"]
The Right Restaurant Branding Builds a Better Customer Experience
Restaurant branding can also be used to enhance your customer experience. If your customers are drawn in by the spirit of your brand, then you can take things even further by having your venue reflect every aspect of your restaurant branding.
Music: Figure out if your restaurant calls for lively International music, bass-bumping DJs, or classical instrumentals.
Decor: We touched on decor before, but it bears repeating — your venue should reflect your restaurant's identity. For example, beer signs on the wall make sense for a sports bar — not so much for an upscale cocktail lounge.
Menu: Your restaurant branding strategy can influence your menu item choices as well. Do you want to be known for your hyper-local, sustainable cuisine? Or for having the best wings in the state?
Customer Service: Yes, even the way you treat customers is influenced by your restaurant branding strategy. A more casual restaurant can usually get away with jokes and banter among wait staff and customers. Upscale establishments may call for a more formal approach. But no matter what, stay friendly — 73% of consumers reported loving a brand due to is friendly customer service.
Strong Restaurant Branding Makes You Stand out
In a sea of the same concepts, your restaurant should stand out from the crowd. And with the right strategy, you'll be able to do just that.
First and foremost, restaurant branding is about forming your own identity and personifying your business. If you do that, you'll make an impact on a wide range of people, including:
Your Competitors: Your competition takes note on strong restaurant branding. Why not have them focus on yours? Rather than following the crowd, make them want to be like you.
Your Community: Build local trust and raise awareness with restaurant branding that is involved in your city or town.
Your Customers: Strategizing your branding is an opportunity to show your guests that you get them. Show off your values and give guests something stronger to relate to than just a delicious menu.
The Bottom Line
Restaurant branding is not something that can be swept under the rug or ignored. At least, not if you want to run a successful business.
As you can see, branding is more than a buzzword — it's essential for your business. So take some time to list your values, pick your color scheme, and most importantly…have fun with it!