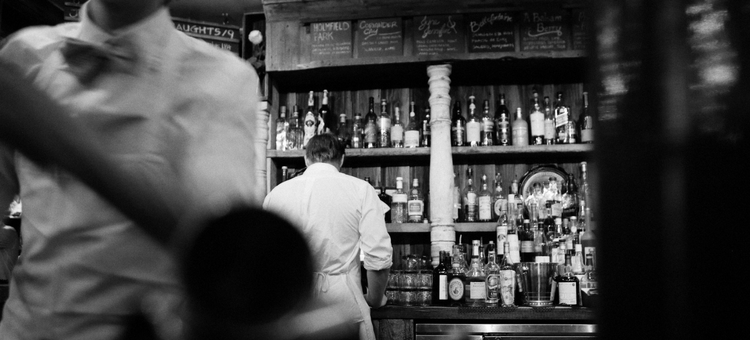 Do you run a dive bar that's always busy despite fluorescent lighting, elevator music, and that wet rag smell? You can ignore these 10 bar atmosphere tips.
For everyone else, creating a bar environment that impresses guests – and keeps them coming back – takes a little work. Start with these strategies for improving your bar atmosphere by appealing to all 5 senses.
Sight
1) Get Lit! (Or Not): Bright Ideas for Bar Lighting
No, it's not the beer goggles. People really do look better in most bars, thanks to the lighting. Dimmed lights create a warm glow that softens the wrinkles of time. But you still gotta see those bar tabs. That's why most experts in bar atmosphere and design suggest a 3-layered lighting approach:
(Layer 1) Ambient Light: This is the main source of light, so choose wisely for best bar atmosphere results. Recessed lights are a classy touch. Or try large, industrial pendant lights for a more casual bar atmosphere.
(Layer 2) Task Lights: While ambient light focuses on the big picture, task lighting is on a smaller scale. It's all about the practical stuff. Think cool brass gallery lights with small but bright bulbs so bartenders can easily check IDs and run tables. Task lighting also applies to the bar atmosphere you set at individual tables. Warm LED lanterns or small, softly lit pendant lights add a sexy vibe (and let patrons browse the drink list).
(Layer 3) Accent Lights: Shine a light on a cool architectural feature like a rugged brick wall or a large plant. Accent lighting should also highlight your liquor bottles. After all, you want guests to see that top-shelf option. For a signature look, line up bottles in rainbow order. Then get ready to go viral on Instagram.
2) Catch Their Attention with Digital Signage
One source of lighting is so obvious, you missed it. Use your TVs to change the channel on bar atmosphere. Join thousands of bars using digital signage to present menu items, events, and specials in an exciting light.
Unlike posters and table tents, digital signage is dynamic. It brings that new craft brew or featured wine to life on the big screen. Not only does digital signage create a lively, upbeat bar atmosphere; it can boost revenue by up to 33% at the point of sale.
The best digital signage software for bars will easily integrate with your existing TVs and flat screen monitors. You'll also get access to customizable templates.
3) Instagram-Worthy Décor
Keep your bar in the picture when those millennials snap their selfies. All it takes is adding a little trendiness to your bar atmosphere using these tips:
White Walls are Out: According to an NYC interior designer, the minimalist look of white walls in simple fixtures is getting old. What's in? Color. Funky, bold colors inspired by the 1960s bar atmosphere. Think turquoise, burgundy, and burnt orange.
Try Living Walls: Go green with plants…planted vertically on a wall. We can almost guarantee you'll get plenty of local press coverage.
The Gallery Look: Team up with a different photographer or artist to "take over" the walls every season. Let them sell their work to patrons in exchange for the free and instantly cool bar atmosphere.
Sound
4) Music Matters
What if creating a better bar atmosphere also improved drink sales…by up to 40%? Follow the advice of researchers who suggest playing slow tempo music when business is slow.
On the flip side, crank up the tunes when the bar is packed and patrons will drink faster. Music can even influence how we perceive the taste of food and drinks. Science, it rocks. Check out the research behind these 3 tips and 5 more musically minded tactics for improving bar atmosphere.
5) What Bartenders Say
Like the sound that your POS makes when you enter transactions? Then train your bartenders to say the right things to customers. That means upselling. And no, it doesn't need to be pushy or sleazy. When done right, upselling creates a luxurious bar atmosphere where bartenders cater to a customer's ever need.
For example, instruct bartenders to offer sample pours of a new, high margin wine or spirit. Wait, how is that upselling and won't this turn my bar atmosphere into a Costco? No, here's why:
First, free samples put the "reciprocity principle" in action. When someone is generous with us, we feel obligated to be generous in return – by purchasing that premium drink, or leaving a nice tip. Then, studies show that free samples boost sales of the item by 2,000%. Nope, not a typo: 2,000%. See the study and these 26 upselling tips from A to Z.
[fl_builder_insert_layout slug="whitepaper-signup-module-26-bar-promotions-that-work"]
Touch
6) Give Me Some Space! Seating Smarts
Most bargoers love a packed house. A loud, fun, and super social bar atmosphere is the gold standard. Touching shoulders with strangers just comes with the territory.
But when it comes to sitting down at a table to you know, talk or eat – patrons want their space. So, you need to do a little math and apply these restaurant and bar seating rules for spacing out tables.
It's not just where patrons sit that factors into bar atmosphere, it's what they sit ON. Hard, wooden stools may prevent folks from camping out at the bar. But they may also rush patrons out when their butt goes numb. Consider a happy medium like rugged, leather-upholstered stools. Or try swanky velvet seats with a small back that's comfortable…but not too comfortable.
7) Touchscreen Bar Tablets
You already know the secret of a great bar atmosphere. Guests don't just want a drink. They want a great time. So, give the people what they want: a more entertaining experience.
Start by putting fun at their fingertips with Buzztime touchscreen bar tablets. Guests can get their game on by competing in real-time trivia – across the bar, or across the nation through the Buzztime trivia network. Trivia games run 7 days a week, 15 hours a day. Or, to really liven up your bar atmosphere, host your own live trivia game using bar tablets.
You can also expect to see some new faces. There are over 10 million registered Buzztime players who seek out bars that offer their favorite trivia and arcade games.
8) Smells Like My Fave Bar: Signature Scents
You know you're in a Kimpton hotel – even if you're blindfolded (wait, that doesn't sound right…but go with it). That's because every property is scented with the same signature citrus fragrance.
The Kimpton chain is tapping into the power of olfactory marketing – and you can take the same approach with your bar atmosphere. After all, a study by Rockefeller University found that people remember 35% of what they smell as opposed to 5% of what they see, and 2% of what they hear.
If you want your bar atmosphere to be memorable, focus on smell. Burn a specific candle or diffuse a custom essential oil blend. Use crowd-pleasing scents like citrus, vanilla, or a trendy bourbon-tobacco blend. But beware: when it comes to scent in a bar atmosphere, less is more. It should be barely detectable yet still present. This is a bar, not a spa.
9) Little Fresh Air, Lotta Profit
When the sun is shining on a 70-degree day, no one wants a dark bar atmosphere (unless they're going through a breakup). So take it outside. Set up picnic tables, café tables, or just move a few seats to the sidewalk. You could even go big with your outdoor bar atmosphere and invest in a permanent patio. Wherever you go outdoors, millennials will follow – and spend up to 43% more on drinks.
Taste
10) Social Bites
What's on the menu impacts bar atmosphere. Think about it. If your goal is to be the "it" spot in town, you want to attract big groups. So, you need a menu meant for sharing – and socializing.
That's especially important at happy hour. Research firm Technomic found that for 61% of guests, happy hour is a social hour. They want to meet up with friends (38%) and bond with their work crew (23%). Use these tips to build a bar atmosphere…one bite, and one sip, at a time:
Board and Bottle: Serve up cheese, sliced meats, and crackers on a rustic cutting board. Then pair it with a bottle of wine.
Sangria and Tapas: Offer pitchers of Sangria and a menu of shareable, small plate appetizers.
 Pizza and Beer with a Gourmet Twist: Who says pitchers need to be full of cheap beer? Offer pitchers of cool craft brews and gourmet pizzas made for sharing.
Whether they realize it or not, your patrons experience your bar atmosphere through all 5 senses. With these 10 strategies, you can ensure every sight, sound, smell, touch, and taste is on point. Whatever you do, be intentional when creating your bar atmosphere. Unless you're that rare dive bar with a cult following that defies logic. Just keep doing what you're doing…