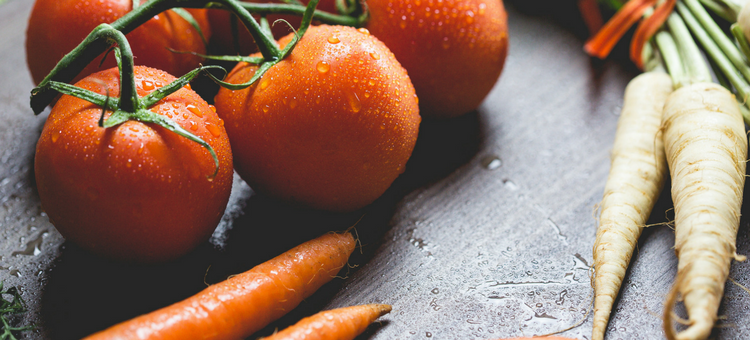 There's never been a better time to put local food on the menu. From cost savings to competitive advantages, restaurants are enjoying bottom line benefits – just for going local. This is one bandwagon worth jumping on…ASAP. To get started, go straight to these 11 best sources for local ingredients.
Sourcing Local Ingredients: 4 Key Business Benefits
Capitalize on the Latest Trends
You could call 2018 the "year of local." Nearly every Top 10 trend on the National Restaurant Association 2018 What's Hot Chef Survey centers on local ingredients.
Hyper-local
Natural ingredients
Food waste reduction
Vegetable-forward cuisine
Environmental sustainability
Locally sourced meat and seafood
Locally sourced produce
Simplicity/back to basics
Farm-branded items
Gain a Competitive Advantage
According to a study by Mintel, 62% of consumers try to "buy local" whenever they can. The same study found that when guests decide where to dine, 41% of them look for restaurants with local ingredients on the menu.
Reduce Food Costs, Improve Quality
Sourcing local ingredients revolves around seasonality. When tomatoes are in season, not only do they taste best – they're cheaper. When food is shipped in from across the country, your distributor has to bury delivery costs somewhere…and it's usually in your food cost.
Get Recommended by 72% of Your Customers
Want to get people talking about your restaurant? Source local ingredients – and support farmers and producers in your community. Customers will notice: 72% of consumers recommend businesses that support a good cause over those that don't.
The 11 Best Sources for Local Ingredients
1) Think Farmers Markets First for Local Ingredients
Use the USDA Farmers Market Directory to find your nearest market.
Round up your chefs. It's time for a field trip to the farmers market. The farmers market is the single best place to source – and be inspired by – local ingredients. Most farmers markets only allow vendors from within a 50-75 mile radius to sell at the market, so it's an easy way to know that local ingredients…are truly local.
Get Connected: Bring your business card and introduce yourself to the farmers. The goal isn't necessarily to buy at the farmers market: just to make connections with the farmers – and learn about their local ingredients.
Build Relationships: After visiting the farmers market, follow up with farmers who are interested in selling their local ingredients at wholesale prices. In fact, if you form a relationship with the farmer, they might even "custom grow" items for you next season!
End-of-Market Deals: Typical farmers won't be prepared to sell bulk quantities of local ingredients at the market. But the exception is closing time. A farmer may want to unload any unsold products at a discount.
2) Ask Your Local Extension Office
Use the USDA NIFA Finder to locate your county's extension office.
While a farmers market is a great place to find local ingredients, not every farmer sells at a public market. Some farmers only sell wholesale. To get a list of ALL farms near you, use your county's extension office. It's a valuable (free!) resource.
What's an Extension Office? The USDA partners with a university in each state to provide agricultural resources. That university has an office in every county within that state.
Let the Farmers Come to You! Tell your extension office that you're seeking local ingredients from farmers. The office may alert farmers for you – or at least direct you to farms set up to sell local ingredients to restaurants.
3) Find it at a Food Hub!
To find the nearest food hub, use the USDA Food Hub Directory.
If the thought of sourcing local ingredients from a dozen farmers makes your head spin, start with a food hub instead.
A food hub is an organization that manages the distribution for multiple local farms. Most food hubs are set up to interface with businesses. That means easy billing, reliable delivery, and even quality control measures.
4) Talk to Your Distributor
Many broadline food distributors are getting in on the "buy local" trend. While most food products are sourced nationally or regionally, it's still worth asking your distributor if they carry any local products.
5) Grow it Yourself: Hyper Local Ingredients
Get inspired by these 6 NYC restaurants with rooftop gardens.
Picture this. Your bartender harvesting mint for mojitos from your restaurant's very own garden. (Mint is one of the easiest herbs to grow, no green thumb needed.) "Hyper" local ingredients refer to fruits and vegetables grown at your location. There's no need to plant an acre, start small with a few herbs or lettuces in containers. If you're a beginning gardener, talk to your local extension office for tips.
6) Tap Into a Local Brewery
Find your nearest local brewery using this brewery finder.
Don't limit your search for local ingredients to just food. Think local brews, too! With over 6,300 craft breweries across North America, chances are there's one near you. Could you brew up a partnership? Go beyond just putting local beer on tap:
Host a "meet the brewer" night and invite the brew master in to give a talk.
Challenge your chefs to create a happy hour menu that pairs local brews with a food menu that features local ingredients.
See if the brewer would be interested in doing a "private label" brew just for your restaurant.
7) Use Grower Associations for Local Ingredients
Use this list of grower associations to get started.
Similar to an extension office, a grower association can help you source local ingredients directly from producers. There are national and state grower associations for almost every food product: from apples to cheese, maple syrup to potatoes.
8) Connect with Your Customers
Who knows, maybe one of your regulars is a beekeeper? Or, another customer might know a local beef farmer. Post on Facebook, send out an email, or put up signage asking your own customers for tips on where to source local ingredients.
9) Pour Up a New Partnership with a Coffeehouse
Like craft beer, locally roasted coffee is seriously trending right now. While the beans aren't grown in North America, coffee still makes the list of local ingredients because it is locally roasted. Many coffeehouses have loyal fanbases you can tap into. For example, Recess Coffee roasted in Syracuse, New York is a beloved bean. To help customers find their coffee, Recess Coffee lists all partner restaurants on an interactive map at their website.
10) Get Schooled in Local Ingredients
Many schools and colleges have created on-site gardens where students can nurture their green thumb. Contact local schools in your area to see if you could source local ingredients from their garden. Go a step further and offer to talk to the class about how restaurant chefs are using local food in their dishes.
11) Look the Part with Local Arts and Crafts
So, you've sourced a good mix of local ingredients. Now it's time to look the part. Head back to the farmers market, but this time look for handmade crafts. Think handmade cutting boards, coasters, coffee mugs, and vases. Picture serving flights of local craft beer on a custom-made board with your local etched into it. Or, serve local charcuterie (meats and cheeses) on a rustic cutting board. You could even offer these handmade products for sale in your restaurant.
BONUS! How to Incorporate and Promote Local Ingredients on Your Restaurant Menu: 5 Creative Ideas
1) The "Power of One"
There's no need to ditch your distributor in favor of 100% local ingredients. Instead, try incorporating at least one local ingredient into a few dishes. Then, build from there.
2) Get Descriptive
Ensure that guests know you've gone local! Name some of your menu items after the farm the local ingredients were sourced from. For example, if you source chicken for a Caesar salad from a local farm, call it "Richards Farm Fresh Chicken Caesar Salad." A study by Cornell University found that customers purchased 27% more of an item when it had a descriptive menu title – and were willing to spend 10% more.
3) Buy Local Week
Set up a special prix fixe menu featuring local ingredients and build a "buy local" restaurant week around it. For even greater impact, team up with other local businesses nearby.
4) Go Live on the Farm
Thanks to Facebook's new algorithm, it's harder for restaurants (and businesses in general) to get their content seen in Facebook's newsfeed. However, Facebook itself said that live videos have a 6x greater chance of being seen than regular videos and photos.
So, "go live" at one of the farms you source local ingredients from. Work with the farmer to plan out your live video in advance. Then, just open the Facebook app on your smartphone and hit the "record live video" button.
5) Farm to Table Pop-Up Event
Create a special event to put your local menu items in the spotlight. Consider setting up a pop-up dinner event – right on the farm. Pop-up restaurants are one of the hottest 2018 dining trends, according to Food and Wine.
It looks like the buy local trend is here to stay. The sooner you can integrate local ingredients into your menu, the better. Because when you go local, everyone wins: your customers, the community, local farmers…and your restaurant.
[fl_builder_insert_layout slug="whitepaper-signup-module-create-menu"]