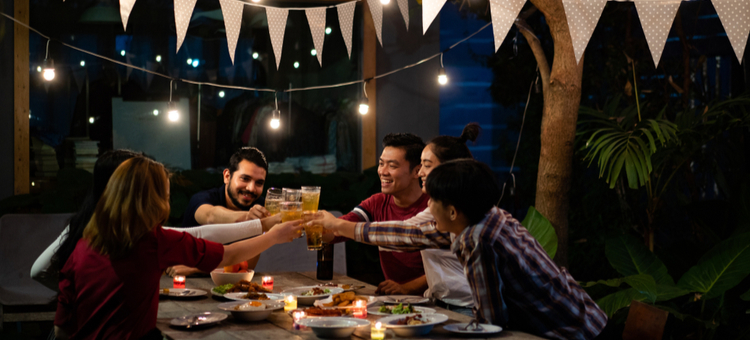 No need to throw a Hail Mary and hope for crowds on gameday. With these 15 football promotion ideas, you can kick off a successful fall – and keep things going strong until bowl season arrives. So huddle up with your team, draw up a game plan, then watch the fans rush into your bar, restaurant, or brewery…
The Kick is Good! Football Promotions to Kick Off the Season
Your goal? Become their go-to spot to watch the games, celebrate a win…or drown their sorrows after a loss. No pressure, but it helps to start the season off strong with football promotion ideas like this:
1. Host a Tailgate-Style Kickoff Event
Have an outdoor seating area? What about an oversized parking lot? Great, you're already ahead of the game on these football promotions.
Just turn that extra space into tailgate headquarters and bring the fans to you for a little pregaming. P.S. don't forget to set up a Facebook event for your tailgate now, it's one of the best Facebook marketing strategies out there.
The key with football promotions is to generate hype and prove to fans that you've got team spirit to match theirs. An outdoor tailgate is a visible advertisement to other potential customers that your place is THE place for all things football.
You'll want to rent or buy at least one tent. Print a big banner that says "Gameday Tailgate." If your town's zoning allows it, cook some food outside – smoke rising from fired up grills are another sign that your tailgate is the real deal.
If all goes well? Why not continue the tailgate-focused football promotions whenever the hometown team is playing.
2. Run Games on Games on Games…
Adrenaline is pumping before, during, and after the first game of the season. Give fans a chance to get their game on with football promotions built around these bar games:
Cornhole Tournament: It's super easy to build your own cornhole boards. Paint the boards in the hometown team's colors. Just add bean bags, and you're good to go. If it's raining? Just bring the games indoors.
Flip Cup or Beer Pong Faceoff: Now trending at bars and breweries, these backyard classics make perfect football promotions.
Trivia Throwdown: Run a live trivia game after the on-field action wraps up. It's an easy way to keep customers sticking around and spending more.
Football Bingo: Create bingo sheets with things like "sweaty announcer" and "failed kick attempt." The first five "bingos" get free appetizers.
3. Open Early for Gameday Brunch
Not every game takes place during "typical" bar hours (nighttime), so open up early for a noon or early afternoon game. Take your football promotions to the next level: Create a special brunch menu complete with football-themed brunch drinks like a "Hail Mary" instead of a "Bloody Mary" or one of these 17 trendy beer cocktail recipes. Instead of a happy hour, create a fan power hour – an hour before kickoff with great drink specials.
4. Invite Fans to Walk the Green Carpet
As one of your season kickoff football promotions, set up your own selfie stadium complete with a fake grass carpet (which will only set you back about $40). Invest in a "step and repeat" backdrop banner featuring your logo or a giant poster of a stadium.
Then, set out props like pom poms, jerseys (with your logo), footballs, helmets…you get the picture. Then, you can either hire a local photographer to snap pics of fans arriving, or just let everyone take their own selfies. Don't forget to include signage with a unique hashtag like #1FanYOURBARNAME – and of course, a selfie stick.
[fl_builder_insert_layout slug="whitepaper-signup-module-37-trending-happy-hour-menu-ideas"]
Keep the Momentum Going: Football Promotions to Run All Season Long…
5. Cater to the Fantasy Fans
For some, Fantasy Football is more important to them than the "real" game. Target football promotions to attract fantasy leagues to your business. Offer pitcher and shareable appetizer specials meant for big groups. In your football promotions, always mention you have free and fast wi-fi, because fantasy players are always – and we mean always – checking their stats.
6. Free Tacos for the Win
In some areas, Taco Bell gives away free tacos if the home team wins by a certain amount. Put a twist on their football promotions by coming up with your own. It could be a complimentary slice of pizza…or, how about a "sweet sorrow" free dessert if the local team suffers a blowout by over 20 points?
7. Score Big with Football Themed Drinks
Pull patrons into the game with football promotions directly pulled from the gameday action. This could a two for one pitcher special for five minutes after the home team makes their first touchdown. This would incentivize fans to arrive early and get ready for their team to score! Or, offer football-inspired gameday drinks like a Gridiron Gimlet or a Fan-hatten.
"Secret" menus are trending at bars. So, build a "Super Fan" drink menu of special cocktails that you reveal to your most loyal customers. Let them know they're welcome to share the secret!
Football promotions that make big fans feel special will boost their loyalty to you.
8. Go Get 'Em!
Don't just spread the word about your football promotions online and in your bar or restaurant. Go straight to the source…the stadium grounds! No gameday ticket? No problem. Fans will be tailgating or walking to the game.
Send a staff member or two out to the stadium area to hand out business-card size coupons for your football promotions. Insider tip: you can get about 500 business cards printed for around $50 online at Vista Print.
Coupons are an excellent strategy for bringing in new faces: 67% of consumers will try an unfamiliar restaurant or bar instead of their usual haunt – if a coupon is available.
One more thing: make sure the football promotions on your coupon are worth being stopped for – like a free appetizer.
9. Bring 'Em Back
Congrats! You've got a full house for gameday. Now, keep the crowds coming back with football promotions that incentivize repeat business.
Why not hand out "kickoff return" bucks for your football = promotions? Print out $5 "bills" with your logo (and um, don't make them look like actual dollar bills) good for $5 off – ONLY on the following gameday.
10. Buy a Billboard!
Nah, we don't mean buying a billboard on the highway. We're talking about something more targeted – and affordable. Short radio ads under 10 seconds are often called billboards. These run during commercial breaks on radio shows…like the broadcast of the football game, or a wrap up show. Why not make some noise about your football promotions with a short billboard? You can fit a lot into 10 seconds…exhibit A:
"Huddle up after the game… at Lisa's Bar and Grill on Main Street! Grab 2 for 1 appetizers and domestic drafts till close. Fan up at Lisa's Bar!"
11. Be Nice to the Visiting Team's Fanbase with Friendly Football Promotions
If your bar or restaurant is located near a stadium, embrace the opposing team – or at least their fanbase. Task your bartender with whipping up a cocktail based on the visiting team's state or region: here are signature cocktail recipes for each of the 50 states.
To reach these out-of-towners with your football promotions, run a Google Ads campaign the day before – and the day of – using keywords like "bars near XYZ stadium."
12. Star Power Play
Former football players, coaches, or cheerleaders can add star power to your bar or restaurant on game day – or at a night-before pep rally. Let their celebrity status shine as one of your football promotions.
They can sign merchandise and their presence will get customers excited. Plus, the celebrities can promote their appearance at your venue, opening up the audience for your football promotions.
You may need to pay a small appearance fee for these football promotions, but if the celebrity has a strong following – it will be money well spent. Or, offer the local celeb gift cards as "trade." When they cash in on their trade, your guests will see a celebrity frequenting your venue – boosting your brand as THE football hotspot.
13. Go Live!
Use Facebook or Instagram Live to show all those fans at home what they're missing. Just ask the crowd (loudly) if everyone is ready to go live! The wallflowers will stay away from the camera, you can count on that.
Even if you aren't going to live broadcast to Facebook or Instagram, you should still get in the habit of recording video that you can use in future football promotions and marketing.
Whip out your phone and start recording during the final play of a nail biter. If the hometeam loses, and everyone yells out profanities? Just delete your video.
However, if the home team pulls off a victory – you just captured the moment –which you can upload to your social media platforms to (humble) brag about how exciting it is to watch the game at your place! Boom. Football promotions made easy.
14. Biggest Fan Contest
Football season is all about big rivalries. Tap into that gameday spirit by hosting competitive football promotions like a Biggest Fan Contest. Create a hashtag for your contest with your restaurant or bar's name. Promote your contest with posters in your venue, on social media, and at nearby, non-competitive venues. To save on print costs, you can turn your bar's existing TVs into eye-catching digital signage.
Ask that contestants email you a picture of them decked out in their fan gear. Create a gallery on the Biggest Fan contestants on Facebook and encourage followers to vote for their Biggest Fan by liking the picture.
The picture with the most "likes" is crowned Biggest Fan. This is one of those football promotions that will give you big bang for your buck. The Biggest Fan contestants will definitely be asking their friends to "like" their picture…so more people will be visiting your Facebook page.
15. Create Your Own Mascot
Last but not least…go big with your football promotions and create your own mascot. It's not as difficult or expensive as you think.
Most mascots are just animals with a memorable name. If your bar's name is Tim's Hometown Pub and you're known for 30 cent chicken wings on game day, spend a few hundred bucks and rent a chicken costume for your biggest gameday.
Get a t-shirt printed with a number 30…you now have a mascot: Tim the Chicken. Bonus points if your mascot hits the streets and hands out coupons for all your football promotions!
You might think a mascot is cheesy but wait until everyone wants to "say cheese" and get their picture taken with your mascot. All of a sudden, all eyes are on your bar on Instagram and Facebook…
To get the crowds involved in your football promotions and contests, add in an interactive element. For example, "crowdsource" your mascot's name. Post a picture of your mascot on Facebook and ask your followers to put their best name in the comments.
Armed with these football promotions, you'll be ready to score big on gameday and stand apart from the competition. Let's do this!