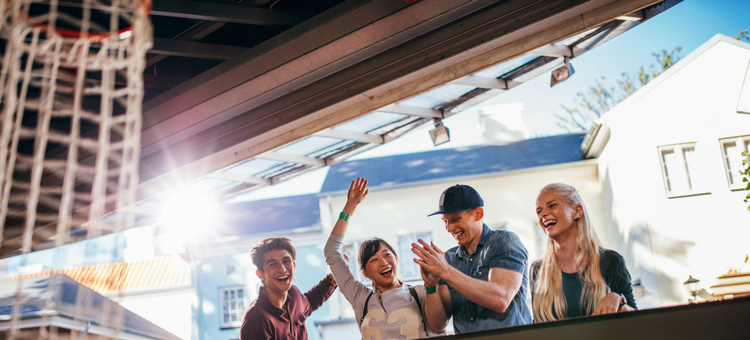 Crazy upsets. Cinderella teams. Bracket wars. It can only mean one thing: it's college basketball tournament time. These 12 basketball promotions for bars will be a slam dunk with fans – and add points to your bottom line.
First, a quick timeout: It's illegal to run a betting pool around the tournament. Basketball promotions for bars should also steer clear of all trademarked NCAA terms – like those that rhyme with "arch" and "sadness."
Hoop it Up! (Literally)
Everyone wants to be like Mike – or at least their favorite college player. With these basketball promotions for bars, customers can drive for the basket and liven up your bar.
1) Halftime Shootout
Let's be honest. College basketball halftime isn't exciting. Use the lull in action to launch one of these exciting basketball promotions for bars – like a halftime shootout.
Throw a toy basketball hoop over your door, break out the mini basketball, and create a line with tape far enough away to make it a challenge. Then, let guests shoot to score a free appetizer.
2) Trick Trash Shot
Basketball promotions for bars don't have to be fancy. This one is so simple, yet you'll have the crowds roaring. Host a "trick shot" contest using plastic cups – and your trash can. Guests can channel Lebron's unstoppable move – and show off their own tricks. Let crowd applause – and whether or not they make their basket – determine the winners.
3) Dribble Like a Globe Trotter
Many avid college basketball fans shot hoops themselves in high school or college. Let them show off their dribbling skills with basketball promotions for bars that reward their sweet moves. All you need is a basketball, and willing contestants. For added excitement, use Facebook or Instagram LIVE to broadcast the competition. You'll also show other fans all the fun they're missing at your bar.
4) Take It Outside
In a zone where it's warm in March? (Lucky you.) Or, seeing some 60-degree temps instead of snow? Take these basketball promotions for bars outside. Set up a basketball hoop in the parking lot and hold mini games or shoot outs during halftime. Guests will be thirsty after their quick game. Plus, those driving or walking by will be intrigued by the action.
Basketball Promotions for Bars Built Around Brackets
Filling out a bracket to guess who will advance in the college basketball tournament is an age-old ritual. Even presidents get in on the fun! But basketball promotions for bars get even more exciting when everything from beer to cute pets face off…
To build your custom bracket, use these free blank bracket sheets.
5) Go Traditional: But Add a Biggest Loser Twist
While basketball promotions for bars can't involve betting with money, you can still run contests around picking the right – or the wrong – teams (as long as it's free to enter).
Distribute empty paper brackets for guests to fill out, then keep them on file throughout the tournament. Guests will return to see where they stand. Consider handing out prizes or discounts for the leader after every tourney round.
Let those who aren't basketball fans have a shot at winning a bar gift certificate, too. Reward a fan who fills out the worst bracket with a prize.
6) Bar Menu Face Off
Need creative basketball promotions for bars? Try this. Set up a bracket with 4 "regions": wines, beers, cocktails, and miscellaneous.
Here's how these menu-based basketball promotions for bars work: Each week, the beverages face off and customers select their favorites. Just printing out the bracket introduces patrons to your entire bar menu in a fresh format. Be sure bartenders don't overserve: the goal isn't for guests to taste all 64 options…just to vote on paper (and taste a couple beverages along the way). Spotlight some of the contending beverages on social media using these 13 Instagram tips for bars.
If you don't have 64 options, no worries – start with 32 or even 16. The 4 champion beverages from each "region" can be sold at a discount for rest of April. Basketball promotions for bars that bring guests back week after week, and into the next month? That's an epic win.
You could also set up a bracket with your menu items using: desserts, entrees, apps, and sides. These bracket basketball promotions for bars also reveal which food and drinks score big with guests.
7) Yes, There's a Bracket for That…
If you can dream it, it can go into bracket-based basketball promotions for bars. Use these ideas to get started:
Have customers submit photos of their cats and dogs for a cutest pet bracket faceoff.
Brainstorm 64 potential theme songs or mascots for your bar, and let the customers decide on the winner each week of the basketball tournament.
Be True to Your School (Or Several)
Whether you're in a big city, where recent grads of many colleges tend to gather, or a smaller town, there's always hardcore fans nearby. These basketball promotions for bars let customers know: you're their team headquarters.
8) Trivia Tournament
The best basketball promotions for bars tap into the competitive mood of the tournament. So, host a weekly live trivia event in March. There's no need to hire an (expensive!) trivia host. Your most charismatic bartender or server – or you! – can do it.
The right trivia company provides you with questions and bar tablets for easy, automatic scoring. The same tablets can be used by guests to compete in nationally scheduled trivia 7 days a week, 15 hours a day. So, it's a win-win.
The March tournament runs Thursday through Sunday, so hold your event on Wednesday to start the excitement a day early. Who knows? Trivia basketball promotions for bars could become one of your most popular ongoing events.
9) Dunk on Discounts
Did the home team advance to the next round? Offer a discount on a specialty drink or local brew from the school's region. Alumni can reminisce about their college days while enjoying your basketball promotions for bars. Use these cocktail ideas from all 50 states to get started.
10) Taste of Team Spirit
Bring some madness to your bar food menu. Take a cue from popular college basketball teams – even those outside the local fan zone. For example, Kansas always shows up in the tournament. Plus, Kansas City style barbeque sauce is one of the eight fastest-growing barbecue flavors, according to research firm Technomic. Try tossing your wings or topping your pizza with a Kansas City sauce. Easy. Basketball promotions for bars just take a little creativity…
Dressed Up and Ready to Party
Everyone likes an excuse to wear something wild. These basketball promotions for bars deliver. Let's get weird.
11) Creative Colors
Team t-shirts are nice, but your fans have more enthusiasm than that. Challenge patrons to put together the wildest outfits they can using only their favorite team's colors. From thrift store sheet togas to strange objects from around the house, you never know what crazy fans might come up with…
12) Mascot Mania
Bulldogs, panthers and…slugs? Oh my! When it comes to basketball promotions for bars, the wilder – the better. Hold a costume contest for guests to put together their best mascot costume. Many will choose a team that's in the tournament, but don't limit them.
Get patrons inspired on social media by sharing funny mascots: like the University of California Santa Cruz Banana Slugs, or the Evergreen State College Geoducks. (Yes, a geoduck is a giant clam). Check out these other oddball college mascots.
There's only one rule when it comes to basketball promotions for bars: Put your fans first. How can you add value to their visit? Go beyond putting the tournament games on. Try one of these 12 basketball promotions for bars – and watch what happens.
[fl_builder_insert_layout slug="whitepaper-signup-module-live-streaming"]