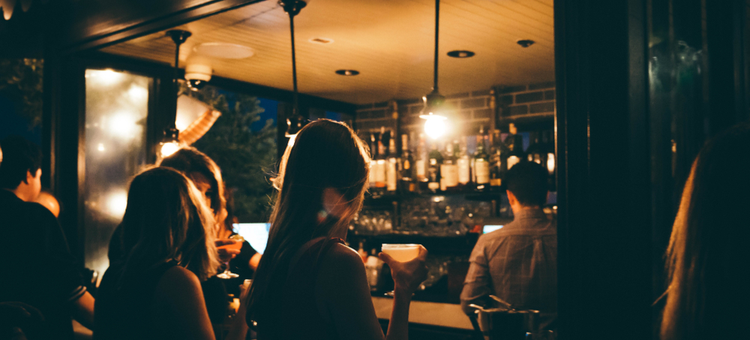 The best bar promotions are a win-win: entertaining guests and adding to the bar's bottom line. Buzztime Marketing Director Mark Madsen shared 5 winning ideas for bar promotions with Nick Fosberg of Bar Restaurant Success. Listen to the podcast here, or read on for a summary of the exciting promotions…
1) Dice Roll Promotions
NICK) So I know the other day we talked about dice roll bar promotions, how do those work?
MARK) Dice roll can be a great way to bring in patrons and also add a lively, kinetic energy to your bar atmosphere. It's important to check with both your state liquor authority and local laws to ensure that any form of dice game is legal. You can never require guests to purchase anything to play. You're usually safe with dice bar promotions as long as the game happens between patrons, like this example: If someone rolls the dice and it comes up with an even number they have to buy the person standing next to them a drink. If it's an odd number, they get the free drink from the person next to them. It's a great way to get people socializing who are just acquaintances.
NICK) What other ideas for dice roll bar promotions do you have?
MARK) You could also use cards, and if guests draw a joker card, the bartender has to tell them a joke. Bar promotion ideas like this are a way to build relationships between guests and the bar's staff. The question should always be: how can I make the guest visit even more entertaining? That's how the best bar promotions – like these 50 best bar promotions – are created…
2) Contests as Bar Promotions
NICK) Other bar promotions I think we're all familiar with is the fishbowl contest. What's your take on that?
MARK) Yes, it's one of the most popular bar promotions with good reason. It works like this: the bar or restaurant sets out a fishbowl near the host stand and patrons can drop their business card in. There can be a weekly or monthly prize like: we'll help with your upcoming business party, or we'll surprise everyone who entered with a discount on their next meal.
NICK) Tell me about some other contests that make for great bar promotions.
MARK) People love to be celebrities in their own right – within their own social spheres. For example, everyone is taking pictures of food and sharing them on Instagram, Facebook, and Snapchat. So take advantage of that and center your bar promotions and contests on a specific hashtag. So, if you're "Pat's Bar and Grill" run a contest using the hashtag #PatsBarandGrill. At the end of the week, the owner can use hashtag #PatsBarandGrill to pick the very best photo, who can win a gift card. Social media bar promotions like this also get your brand out there in front of new customers in an authentic, interesting way.
NICK) I'll also add to why these types of bar promotions on social media are so critical. Facebook has just made a big change in their algorithm where business pages in general are getting less exposure. It's pay to play now on Facebook, so for bar restaurant owners, people aren't going to be scrolling and seeing your business as much – because now, 85-90% of what a user sees is coming from friends and family members. So, bar promotions that put your business into their conversation are more likely to be seen.
3) Sports Bar Promotions
NICK) What about bar promotions that increase dwell time?
MARK) Great question! Again think…how can I make the game even more entertaining with my bar promotions? At the same time, you want to think how you can increase dwell time. You want people to stay for the entire game. For example the Warriors and Spurs played last night. I'm a big Warriors fan, so I'd be drawn to bar promotions that celebrated the Warriors as they played. For example, if the Warriors are ahead at the end of a quarter, the whole bar gets $2 off an appetizer or something. You could also do something special at halftime or at the end of the game. These 15 sports bar marketing ideas can really make the difference between a packed house and a quiet night.
NICK) This is similar to the dice game in that there is an opportunity to gamify the experience with entertaining bar promotions. You engage and reward your customers to keep them in their seats longer. You also incentivize them to spend more.
4) Buzztime Trivia Bar Promotions
NICK) Last but not least, let's talk about Buzztime. Tell us about your company and how it can work for an owner as one of their bar promotions. I know it increases check averages and entertains customers, but give us a little more information.
MARK) Buzztime has been in the industry for over 30 years serving bars and restaurants – and providing engaging entertainment to guests. Many businesses build bar promotions around our offerings.
Buzztime Trivia is scheduled every single night. Players at bars can compete in real-time at a national level. For example, if a trivia game is scheduled at 5pm on the West Coast, you're competing against other trivia players on the East Coast at 8pm. We've got trivia games for all interests: history, science fiction, sports, pop culture. To play the games, guests just use Buzztime Tablets – and the venue's TVs showcase the questions.
Ultimately our goal is to create an entertaining, social atmosphere in every venue that carries Buzztime. Most importantly, we give people reasons to return to a bar or restaurant for this unique entertainment. We have data that supports the fact that because of Buzztime, venues do see an increase in check averages.
Plus, our partners get creative and run bar promotions that draw guests in for Buzztime – and their special offers. Buzztime also provides digital arcade games for solo players – even live Texas Hold 'Em tournaments and live trivia.
5) Live Trivia and Poker Events as Bar Promotions
NICK) So with Texas Hold 'Em, the pot is popping up on like a TV screen right? That's drawing others into the game. With great bar promotions, I could see this being a weekly event.
MARK) Exactly, we provide the Buzztime Tablets and then the Texas Hold 'Em gameplay is mirrored on any number of screens in the venue. Many Buzztime locations even run bar promotions and tournaments each week.
NICK) What about trivia? I know you said Buzztime trivia runs on a national level – but I have heard of bars running a regular 10-week trivia contest. Teams come in each week to compete. I think that would be one of the coolest things. I know live trivia night is one of the best bar promotions. Yet, owners don't want to hire a trivia host at $200 a night. Then, they have to keep track of it all and come up with the questions. How does Buzztime make live trivia night easier?
MARK) Our Buzztime account management team can help venues run bar promotions and events around Buzztime. It's also not uncommon to see the live trivia set up as a contest between local bars. Plus, we also run monthly promotions and sweepstakes as well, that Buzztime players can join in to win gift cards – and bragging rights.
NICK) I think overall, people are tired of going to places where they just sit at the bar. They want to have some kind of interaction. They want a chance to win something through exciting bar promotions. Who wants to look at their phone that they're on 10 hours a day?
MARK) Exactly. Whether it's running a dart league or bar "winter games" (or summer games") – anything that gets everyone involved in a fun event with a little friendly competition is a "win."
NICK) I agree, thank you for joining us Mark.
MARK) Thank you Nick!
About Bar Restaurant Success:
Bar Restaurant Success is the go to place for motivated bar and restaurant owners to increase sales and dominate their competition. Check out President Nick Fosberg's latest report on loyal regular value optimization and how to get the greatest ROI for your marketing dollars here.