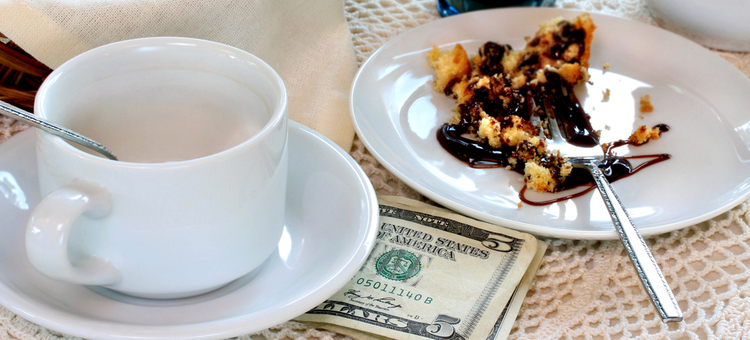 Let's face it—tips can make or break your night. However, you need to think outside of the framework of "the customer is always right." The core competencies of this notion should always be apparent, but there are additional ways to ensure a great customer experience, and in turn, receive larger tips. There is no precise winning formula to achieve this goal. You must feel out every table and tailor your behavior.
Make First Impressions Count
First encounters can be the most impressionable moment of the entire dining experience. From the get-go, here are a few tips to keep in mind to start the meal off on the right foot.
Ways to Make a Good Impression
Be mindful of your appearance: Always present yourself in a clean, tidy and professional manner. If you are a girl, make sure your hair is pulled back and your nails look healthy. Find a way to differentiate yourself from other servers by wearing a colorful headband or necklace. Researchers found waitresses increased their tips by 17 percent by wearing a flower in their hair.


Introduce yourself by name: This allows you to gain a personal relationship with your customers. In a related study, servers who introduced themselves by name received a 23% tip as opposed to a 15% tip for those who opted out of introducing themselves by name.
Create positive interactions: If the opportunity presents itself, engage in conversation with the table. Simply asking how their day is going will make customers feel like they are more than just a business deal. Crouch down to table level when taking orders. This way, you are not talking down to your table. Be friendly and personable in every interaction. If they are repeat customers, address them by name to make them feel special.
Take the time to gauge your audience: This time can be used as an opportunity to gauge the customers' preferences, attitude and personality that will guide you to match your behavior accordingly. For example, some customers prefer to be interactive with their server, while others are merely interested in placing their order. There is no exact winning formula, so it is important to tailor your behavior to each particular table.
Create a Positive Dining Experience
So you have solidified the initial interaction. Now how can you continue to thread the positive energy through the entire dining experience?
Ways to Create a Positive Dining Experience
Check your attitude at the door: Regardless of whether or not you are having a bad day, you are at work and it is imperative to exude an excited and eager persona. If you appear to be having a good time, your customers will follow suit.
Anticipate customer needs: If a customer ordered french fries, chicken fingers or a burger, it can be assumed they will need condiments. Place the staples, ketchup and mustard, on the table and if they order any additional condiments, bring it with their meal. This way, your customers will not have to ask twice or wait to begin consuming their meal.
Check the food as it leaves the kitchen: Although this can be a tedious task when your restaurant is busy, it will save you time in the long run and spare you a negative interaction with a displeased customer.
Be transparent: If something did go awry with their order, be courteous and let them know it might be a few additional minutes. By simply telling them you noticed something incorrect with their order, you show your customers you paid special attention when the order was placed and you care enough about their experience to fix it.
[fl_builder_insert_layout slug="whitepaper-signup-module-rewards-program"]
End on a Sweet Note 
All signs point in your favor and you have a strong hold on the table. How can you ensure the interaction ends on a high note?
Ways to End on a Sweet Note
Make sure final needs are met: Be attentive throughout the entire meal. Be sure to ask how everything tastes, if you can bring them anything else and refill beverages on an as needed basis.
Don't rush your customers: Do not be in a hurry to hand out to-go boxes or the check. Always suggest dessert and/or coffee. Customers should never feel rushed, even if you are looking for a quick turnover.
Write thank you on the bill: When it is appropriate, disperse the check. On the back of the receipt, write a small thank you note. This simple personalization can increase your tip by 2 percent.
Give mints or another type of treat: What better way to end the meal than with a sweet treat? Research shows how a small treat affects tips. According to a study conducted in New Jersey, the highest tips were received when one piece of chocolate was given to each diner and then a second piece was given sporadically. This gesture made customers feel like they were receiving special treatment and felt prompted to reciprocate.
It's not over until they're out the door: Some customers prefer to linger and enjoy a conversation with their party. Even if the final transaction has been completed, it is still important to offer refills on water or coffee, if complimentary. This may not change your tip fate in the current situation, but can encourage another visit to your restaurant. Any action you can take toward achieving loyal customers is one you should take.
You own your customers' dining experience. If they receive excellent service and enjoy their time and food at your establishment, your tip should be reflective of their experience.