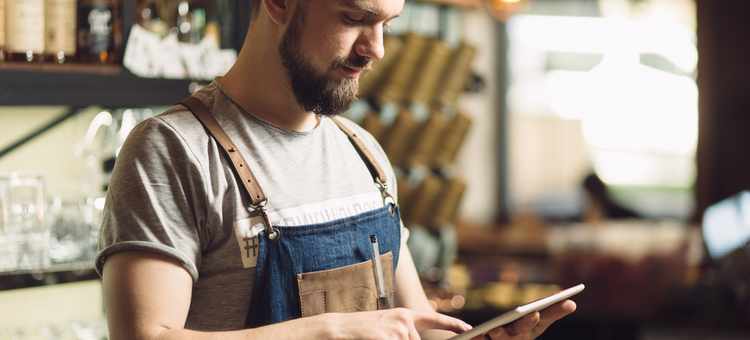 In the bar and restaurant biz, everyone is looking for a competitive advantage. Some in-the-know venues are getting "the edge" with bar tablets. Now, we're letting you in on their secret. If you want to raise the bar on profitability – and guest satisfaction – it's time to talk tablets.
Bar Tablets 101: Top 3 Features
Before we dive into the benefits of bar tablets, let's review features. A bar tablet is a mobile, handheld device – like an iPad – that can be customized to meet your business objectives. In fact, some bar tablets ARE iPads with software that turns them into handheld digital menus.
But that's just the beginning. The best bar tablet companies build out their own bar tablets. That way, they can manufacture them with essentials like credit card readers – and even gyroscopes for realistic gaming. Here are a few of the most in-demand bar tablet features:
Digital Menu
Bar tablets can bring your menu to life. Think vivid photos and alluring descriptions. Most tablets are touchscreen devices, so guests can click, tap, and explore your menu – just like they browse their own iPad or Android tablet.
Order and Pay
Software solutions are available that allow you to integrate your bar tablets with your POS system, so customers can order and pay right on the tablet. Their orders and payments are immediately registered with your system, so you can track real-time sales with just a few clicks.
Entertainment
Tablets can enhance the guest experience…through fun. Guests can use bar tablets to compete against others across the bar – or even across the country (if you're on the Buzztime network). Solo patrons can pull up a seat at the bar and tap into a digital arcade loaded with single-player games.
5 Benefits of Bar Tablets
Congrats, you've graduated from Bar Tablets 101. Now, discover if you could benefit from putting tablets in the hands of your guests.
1. Bar Tablets Give You the 'It' Factor
All About the Buzz Factor
Whether you're a sports bar or a neighborhood pub, it pays to be the "cool" place to hang out. To today's guests, having the latest tech is very cool indeed…and studies back it up. According to a National Restaurant Association study, 35% of guests will choose a restaurant or bar that offers the latest tech – over those that don't. Bar tablets can make your venue buzzworthy.
All About That Tech Life
Over 77% of Americans own a smartphone. That means most of your customers are walking around with mini-computers in their pockets. Mobile tech is part of their everyday life. Giving them bar tablets shows you're catering to their tech-enhanced lifestyle.
All About ME!
Bar tablets may be trendy, but they also provide a purpose. Customers want the ability to personalize their experience at your bar. Between games, menu options and ordering, customers can get what they want – when they want – with the help of bar tablets.
2. Automatic Upselling Machine
More Options for Customers
Unfortunately, your guests may not always be aware of their options if they aren't listed on a printed menu. But who has the space on their printed menu for every custom option? With bar tablets, guests can click on each menu item to see extras and add-ons.
Suggestive Selling
Well-designed menus are known as "silent sellers". However, printed menus offer limited space and can be costly to update. Plus, when the server isn't around…who will upsell?
Your bar tablets, that's who.
Tablets can act as your newest server by offering recommendations for your customers as they brows your menu. You can program your bar tablets to provide suggestions for:
Cocktail modifiers: You deserve the best: want to try the top-shelf gin for just $2 extra?
Upsell to food: Know what pairs well with that flatbread pizza? Our house merlot!
Upsell to alcohol: Wash down those buffalo wings with a locally brewed IPA?
Vivid Photos and Descriptions
Descriptive menu items and photos do more than make your menu fancy. A study by Cornell University showed that customers were 27% more likely to order menu items with a great description. Customers were willing to pay almost 10% more for items listed with descriptive details.
iRiS Software Systems reported improved sales for venues that offer guests bar tablets with a digital menu. According to their research, premium wine sales in locations with bar tablets increased by 15 to 20%. One location even claimed they hadn't served house wine in months. This location believed that by giving the "story" and juicy details of each wine, guests couldn't wait to sip on them.
3. Entertainment Options
Bar patrons aren't just looking for drinks. They want an experience. Bars and restaurants are using bar tablets to offer endless entertainment options for their guests.
Tap Into Play
Bar tablets put fun right at your customers' fingertips. Even if your bar service is down to a science, guests still have to wait at certain intervals – especially if they order food. Some bar tablets come equipped with digital arcade games and trivia. This turns wait time into play time, which means happier guests.
Host Live Events
Liven up your weeknights with live events that run on bar tablets – like a trivia night. But instead of pen and paper, players use their tablets to answer. The tablets can track their scores, so the host can focus on bonding with guests.
4. Payment Solutions
Close My Tab…ASAP
End their night on a high note. Let guests check out on THEIR time with by offering payment solutions directly on bar tablets. Even on a busy night, customers can close their tab – without waiting on the bartender.
The best bar tablets are equipped with EMV "chip" card readers – the most secure form of credit card payments. Some even include NFC (near field communication) mobile pay. This lets guests pay using their smartphone – with mobile apps like Samsung Pay and Apple Pay. Splitting the bill is also a breeze. Guests can view an itemized list of their bill and split the check however they want.
Free Up Servers and Bartenders
Servers and bartenders have plenty to take care of during a busy shift. Between running food, taking orders and checking on tables, they'll appreciate anything that can be taken off their plate.
Bar tablets that offer payment solutions free up their time when they're in the weeds. Instead of running checks, your team can focus on selling more food and drinks.
Increases Table Turn
The traditional payment process can take a while. Guests waits for the check. The server or bartender waits for their payment. The guest waits for them to run their card. You know this cycle all too well.
Bar tablets can cut that wait time by more than half. Once guests are ready to go, the entire payment process is completed with just a few clicks.
Within seconds, they can check out. That frees up your table or bar seats for the next round of guests. With higher table turn, you can fill more seats…faster. The math is simple: More customers equals more sales.
5. Bar Tablets as Marketing Tools
TV and Tablet Digital Signage
Have a special you're trying to promote? Want to attract more people to your trivia night? Bar tablet marketing can help.
Most bar tablets include templates that you can customize to build out your promotions. This tech even syncs up with your TVs, so you can enjoy the benefits of your own digital billboard.
You can even sell or trade digital ads on your TVs and bar tablets to local businesses for additional profit.
Encourage Registration for Loyalty or Email Programs
Loyalty programs are an effective way to make guests feel valued while boosting your bottom line. Forgo the traditional punch card, and integrate your loyalty program with your bar tablets.
Use customized messages on your TVs and bar tablets to encourage guests to "get social." Give them extra loyalty points for sharing pictures or checking in on Facebook.
You can also grow your email subscriber list by setting up messages that ask guests to sign up for your e-newsletter. Some payment solutions on bar tablets even request an email address to send a receipt. Then, guests can opt in to receive specials and updates directly to their inbox.
Bar tablets are changing the guest experience, and it's all for the better. If you've been trying to increase sales and delight guests, then grab onto tablets – and don't look back.
[fl_builder_insert_layout slug="whitepaper-signup-module-top-ten-pos"]