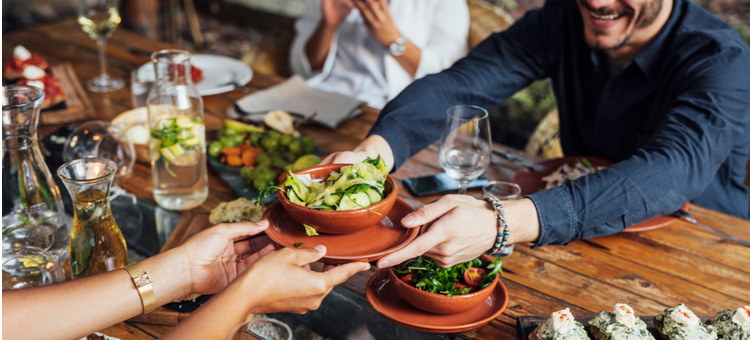 It's all about the green when it comes to October bar and restaurant news. First up, we cover an eco-friendly partnership between a San Francisco chef and the State of California that aims to fight climate change.
More green news is coming out of California, as the nation's first restaurant with an on-site cannabis lounge opens for business.
From there, the latest bar and restaurant news focuses on ways operators can see more green: from getting listed on the latest online ordering apps to offering delivery through your own restaurant's app. Ready? Let's dive into the headlines…
1. A Green Initiative in the Golden State
Anthony Myint, a San Francisco chef, is starting a new initiative to combat climate change with food. According to the latest bar and restaurant news, his initiative is called Restore California and, in partnership with the State of California, is estimated to launch in January. Restore California will focus on supporting farming practices that sequester carbon and promote healthy soil.
Farms and restaurants have a close relationship, as evidenced by how the farm-to-table movement that has dominated bar and restaurant news. Myint sees the industry connection as an opportunity for restaurants to make a positive impact on climate change by helping their partners fund more sustainable farming practices.
The initiative adds an optional 1% surcharge to customer bills in participating restaurants. Customers can opt to pay the surcharge, and all funds will go to Californian farmers who are using sustainable practices.
So far, 33 restaurants have joined the initiative. Myint's goal is to have at least 1% of all California restaurants on board with this sustainable bar and restaurant news.
2. High Hopes for a Greener Restaurant Industry
As cannabis legalization continues to spread, so do opportunities for edible consumption of cannabis. However, these opportunities are arising despite the fact that the U.S. Food and Drug Administration still does not allow food to be infused with cannabis or even THC-free CBD oil.
For example, Lowell Farms in West Hollywood, California made national bar and restaurant news for opening the first restaurant with a licensed, on-premises cannabis smoking lounge.
Essentially, this means guests can consume both food and "leafy greens" at the same venue.
It may sound like a win for the pro-marijuana crowd, but there are still restrictions. The restaurant cannot prepare and serve food or drinks featuring cannabis. They're only allowed to sell cannabis-containing edibles that were produced outside of the venue. And the restaurant cannot serve alcohol to its diners.
Lounges are still rare in the restaurant industry, but this new establishment could be a gateway to potential CBD and cannabis concepts as legalization becomes more normalized in bar and restaurant news.
3. "Alexa, Apply for a Job at McDonalds."
The bar and restaurant industry is facing a shortage of workers. So companies are doing what they can to attract potential employees. This means additional perks like expanded benefit packages, offering growth opportunities, and supporting further education. And, according to this bar and restaurant news, companies are also turning to technology for help wanted:
McDonald's has now enabled a voice-activated job application process through Amazon Echo Devices and Google Assistant. And according to this bar and restaurant news, the company says it's the world's first voice-activated application process.
Through voice-activation devices, prospects can get the application ball rolling by answering a few basic questions, then receiving a text with a link to continue their application. The simplified process gets prospects to apply at their nearest McDonalds with minimal effort. As convenience and user experience are priorities for Gen Z as they get into the job market, this promising bar and restaurant news suggests the industry isn't just keeping up – but setting new standards.
[fl_builder_insert_layout slug="whitepaper-signup-module-29-tactics-busiest-bars"]
4. Google Search Your Online Orders
Olo, a digital food ordering platform, announced in bar and restaurant news that users will soon be able to place food orders directly through Google, using Search, Maps, and Assistant. Meaning, customers ordering from participating Olo restaurants won't have to leave the search engine site at all while ordering their next meal.
No third-party platforms. No restaurant sites. No extra fees for the participating restaurants. It's a win-win in bar and restaurant news for consumers and restaurant owners, streamlining the mobile ordering process which is growing in popularity.
According to Noah Glass, Olo founder and CEO, "63% of transactions are now consumed outside of a restaurant's four walls. Those are convenience orders. That's how consumers are eating, so it's natural that these consumers would want the most convenient way of placing their order."
While Olo may not be the first digital ordering service to use the Google feature for placing orders within the framework, it is the largest. It will launch with roughly 70,000 restaurants. As another perk, restaurant owners get access to the consumer information for their online ordering. It's no wonder Olo is making waves in today's bar and restaurant news.
5. Are Restaurants Keeping Up with Off-Site Demand?
According to a new Technomic and National Restaurant Association report, off-premise demand is rapidly on the rise. This bar and restaurant news report analyzes the off-site consumption habits of customers and the technology used to meet that demand. It found that consumers are prioritizing convenience and opting for prepared meals outside of the restaurant.
This bar and restaurant news highlights a disconnect between what consumers want and what restaurants are offering. For example, the report states that "43% of delivery users place orders through restaurant apps, but just 18% of restaurant operators offer that option."
However, there seems to be a silver lining for operators in this bar and restaurant news. As new technology becomes available, restaurants can easily shift their current business models to be more delivery-focused.
6. Tips for Securing Customer Data
October is National Cybersecurity Awareness Month, which is the perfect reminder to review your restaurant's data security. Security breaches often pop up in bar and restaurant news and can spell disaster for a business's reputation.
Earlier this month, Modern Restaurant Management released a bar and restaurant news guide to help break down steps that restaurants can take to secure customer data. Some tips include staff education, regular tech security updates, and extending PCI-Compliance practices to mobile payments. Read the full article to protect your customer data this Cybersecurity Month.
7. The Lonely Politics of Bar and Restaurant News
In politically focused bar and restaurant news, restaurant owners and operators are facing isolation in the political arena at the worst possible time: when labor law changes and minimum wage hikes are set to take place. The political disconnect is making it difficult for restaurants to keep up with new policies, causing setbacks for the industry.
This past month, The Financial Leadership Exchange Panel met to discuss ways that restaurant employers could stay on top of labor-related bar and restaurant news, and address issues among their employees and policy makers. According to the panel, the best thing owners and operators can do is get involved.
For example, retailers are implementing employee-friendly practices like predictive scheduling and offering strong benefits packages. Yet, the restaurant industry is lagging behind, even as new scheduling apps like 7Shifts are making headlines in bar and and restaurant news. Panel experts noted that 65% of restaurant workers were leaving limited-service jobs within the first 3 months of employment due to being unsatisfied with scheduling.
Take the panel's advice and take action: ask your staff today how you could improve your scheduling process.