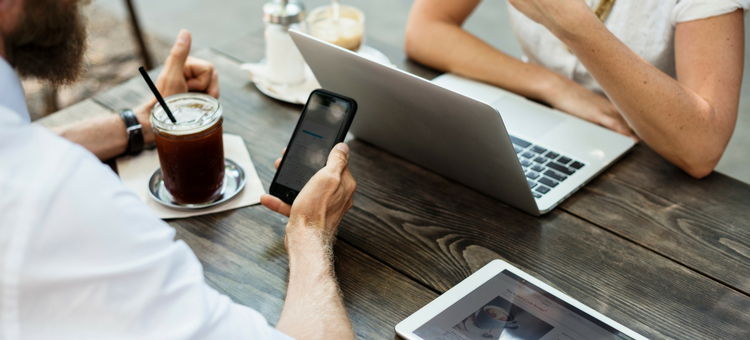 In 2012 alone, more than 770 million smartphones were shipped. That number is projected to increase by 30% in 2013. It seems as if almost everyone from your 10-year-old niece to your 70-year-old grandma knows the ins and outs of operating a smartphone. With that being said, one of the most enticing aspects of having a smart phone is the use of applications. As of October 2012, Android had more than 700,000 apps and as of Jan. 2013, Apple had 775,000. Keeping these astounding figures in mind, this infographic taps into the various apps that are applicable to the bar and restaurant industry.
The infographic below lists which restaurant apps were downloaded the most and more specifically, it highlights each app's rankings for Android and iOS. Your bar or restaurant should be included in all of these apps so as to not miss out on any potential revenue generating sales. Your customers are downloading these for a reason, don't miss out!

35 Top Restaurant Apps [Infographic] Compliments of QSRweb.com
If this infographic isn't a big enough eye opener for just how popular restaurant apps are, take a look at these favorable reasons your customers have download these apps.
Locate a restaurant
Nearly 94% of smartphone users have searched for local information while searching for a place to grab a bite to eat. You want your restaurant to be showcased in these basic searches.
These apps allow customers to instantly locate restaurants in their proximity. If possible, be sure your menu, location and hours of operation are clearly listed. The easier the process, the more likely the potential customers will enter into your establishment.
Check the reviews
Consumers love to know what to expect. If your reviews explicate you have an unfriendly staff and subpar food options, the likelihood of potential customers walking through your front doors is minimal.
Of course, you will run into dissatisfied customers from time to time who will inevitably leave a distasteful review on sites such as Yelp! Here is some advice for dealing with a bad review and turning it into repeat business.
Is it healthy for me?
The ever-popular health trend continues to take center stage for many Americans. Whether abiding by a strict gluten-free, organic diet or some other elimination diet, consumers are far more conscious of food choices than they were in the past.
You do not want to miss out on this expanding segment of the market, so it is crucial to include lighter menu options for those who have a stringent diet.
Find a great deal
Another popular trend is that of Groupon and LivingSocial. People like deals – or what they perceive as deals. Consumers will seek local deals to save up to as much as 40% off their meal.
If your establishment is not included on these particular apps or does not provide similar deals, be prepared to miss out on a key piece of your market.
Delivery
If your restaurant's operation supports a delivery system, a hot commodity for today's generation, consider joining each of the mentioned apps.
More and more consumers are hopping on the "order online train."  Furthermore, having the opportunity to have their order delivered will satisfy your customers' needs even more.
Pay the check
Many of the apps showcased on the infographic allow consumers to purchase items blocks away from a store and have it ready for you to pick up by the time you arrive. This saves time: the most precious thing to many consumers in today's market.
This fun and easy way to pre-purchase and share beer, cocktails, food and more with friends at bars and restaurants is a great opportunity to leverage.
Earn loyalty points
The number of smartphones purchased will continue to rise and incidentally, the number of apps will follow suit. Because this trend is projected to continue, it is important to tap into the mindset of your consumers and be sure all of your bases are covered.  It is essential to keep up with social media trends in order to remain competitive in this industry.
Will you be checking out any of the apps listed?