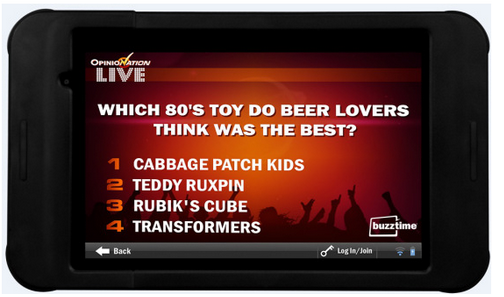 Forget the Facts – It's a Popularity Contest!
Buzztime is proud and excited to bring bars and restaurants a new way to drive traffic on slow nights through on-demand live events! OpinioNation LIVE is the newest gaming option available on Buzztime's tabletop tablets and Classic platforms. This unique, team-based game has the fun, social elements of trivia, but OpinioNation LIVE appeals to a broader audience because it doesn't require a deep knowledge base. If your patrons don't know the answer to a question like "What year was the first animal heart transplanted in to a human?", perhaps they'll prefer a game that asks them "What food do single women think is the worst to eat on a first date?"
Teams of players get their heads together to guess the most popular response to survey questions. Questions are all gathered and created by surveying people all over the country. The questions range from pop culture to lifestyle, but are always light-hearted and fun!
Each OpinioNation LIVE game consists of six, five-question rounds, with each round focusing on a different group of people surveyed. In a single game, patrons will be pondering the survey answers from groups as different as soccer moms, beer lovers, health nuts, tech geeks, single women and couch potatoes.
This game is available exclusively from Buzztime and allows bar and restaurant owners to make their location stand apart from the competition while drawing a younger, broader crowd to boost slow nights. OpinioNation LIVE appeals to families and millennials with fun and quirky questions. Like:
"When on the run from zombies, what celeb did video gamers say they'd want on their side?"
Vin Diesel
Channing Tatum
Andrew Lincoln
Liam Neeson
Answer: Liam Neeson.
OpinioNation LIVE joins the cast of Buzztime's on-demand LIVE games, which are the solution for bars and restaurants that want to improve patron experiences, attract new crowds, boost slow nights and bring back guests more frequently. The location is in control and can offer spontaneous events or tune in for a growing variety of scheduled events.
In addition to OpinioNation LIVE, our other fun and addicting games include:
Hold'em LIVE Turn your TVs into poker tables while players use the tablets to hold'em or fold'em
Trivia LIVE Teams compete in categories like pop culture and sports where the know-it-alls show it all
These games are easier to run and less expensive than traditional pen-and-paper LIVE events. Plus, locations with Buzztime offer entertainment that is in tune with the modern tech world. Not only can patrons play on the tabletop tablets, the games are available on Buzztime's mobile application for guests to play on their smartphones, while they follow along on your location's televisions.
Did you know?
5 million players are registered on the company's digital gaming platform
Buzztime has 30 years of experience in delivering in-venue entertainment
Average of 30+ players per game*
*Jan-May 2014 OpinioNation beta test results