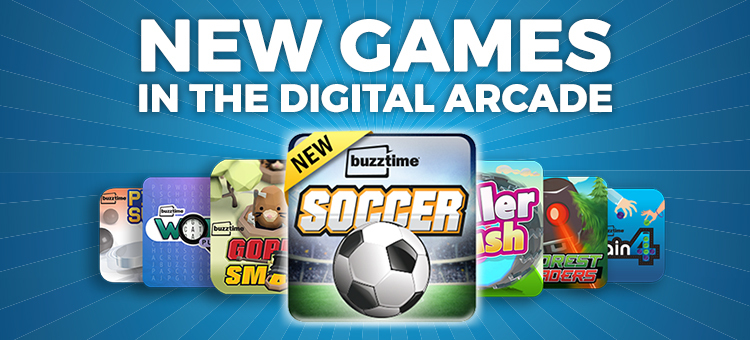 …The new games just keep coming in the Buzztime Digital Arcade! This summer, we kicked off Buzztime Soccer amidst the hype of the international soccer action. Then, Roller Rush came wheelin' in last month.
Be the first to sneak a peek at the new games coming to Buzztime over the next few months. When you've got some downtime, take one of these games for a spin. Fair warning: they're so much fun, it's hard to stop playing.
Recent Release! Buzztime Soccer
Will you take your team to victory? Pass, kick, and outsmart the competition to score points. Then, flex your defensive skills to protect your goal.
Recent Release! Roller Rush
Feel the rush of the open road! Go for a free wheelin' ride to collect coins and power boosts. Watch out for traps along the way, but don't slow your roll.
Coming Soon! Forest Invaders
Ruthless robots are invading the forest and only you can stop the attack. Launch fireballs to defend your trees, but beware…the robots keep coming faster and faster!
Coming Soon! Gopher Smash
They're after your garden again! Bop as many of those pesky gophers as you can. Aim carefully: you only have 5 misses before the gophers take over your turf.
Coming Soon! Fortress Flee
You ruled the castle until a giant boulder came loose. Now, you're on the run! Can you escape while avoiding quicksand, spikes, and lava? Don't forget to grab gold along the way… 
Coming Soon! Chain 4
Can you connect 4 discs of the same color? It's harder than it seems – and fun for all ages.