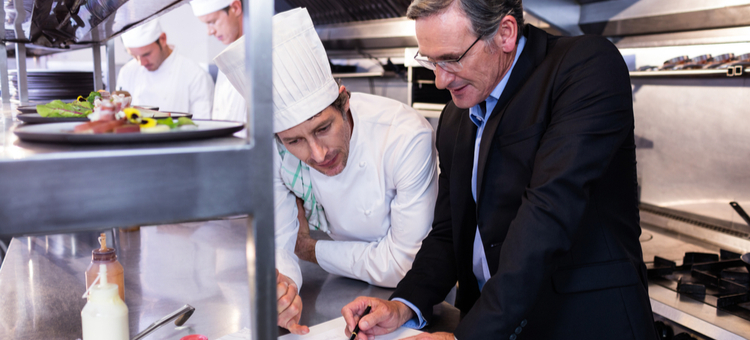 In July, temperatures were soaring across the nation and headlines were heating up with debates over minimum wage, marketing strategies…and yes, tofu vs. tempeh.
Of course, automation continued to dominate bar and restaurant news so talk turned to robots working alongside humans. Is this a good thing? Creepy? Somewhere in between? You decide.
Speaking of decisions, Andrew Zimmerman shares his "crowdsourcing" hack for helping out-of-towners decide where to dine. Learn how to use his insights to bring vacationers to your place. There's more to explore as we share the top 7 trending topics in bar and restaurant news…
Restaurant Owners vs. Consumers: Which Marketing Efforts Are Working?
In recent bar and restaurant news, Toast released a new report outlining how tech is impacting the industry in 2019. According to Search Engine Land, it looks like restaurant owners and customers aren't seeing eye-to-eye on how digital marketing is impacting business.
Basically, business owners are putting too much value on their digital efforts, which are coming up short with customers.
Social media was valued more by restaurateurs than customers when it came to making dining decisions. And online reviews were considered influential by nearly 50% of owners. Yet, only 35% of customers agreed.
However, this doesn't mean owners should forget about digital marketing altogether. It's just a sign that more local owners should reevaluate the most effective way to share their bar and restaurant news.
The one area where both owners and customers agreed? Word-of-mouth advertising is the #1 most effective marketing strategy in spreading the word about bar and restaurant news.
Tempeh vs. Tofu: The Meatless Showdown
Looking for a way to spice up your meatless menu options? Think about adding tempeh.
National Restaurant News named the soy-based product as their "Flavor of the Week" in recent bar and restaurant news, stating that menu mentions of tempeh increased 83% over the past four years.
According to NRN, "Tempeh is particularly versatile as the mild, nutty flavor complements a wide array of dishes, making it a popular option for meat-free offerings."
Will tofu continue to reign supreme in meatless dishes? Or is tempeh the new "it" vegetarian option? Keep watch on the latest bar and restaurant news to find out…
Minimum Wage Hike vs. Freeze: Assessing the Impact
The minimum wage has been a hot topic in bar and restaurant news for years. And according to a recent government study, restaurant owners who are hesitant about the impact of raising the minimum wage to $15 could be on to something.
The nonpartisan Congressional Budget Office (CBO) released a new study that showed a wage increase on that scale could do more harm than good for the workforce.
According to the study, the wage increase could eliminate about 1.3 jobs by 2025. This could possibly reduce total family income by as much as $9 billion annually, a number that is popping up in major bar and restaurant news publications.
However, the report suggests that an increase from the current $7.25 could also help lift 1.3 million families above the poverty line by 2025.
The study explored three options for raising the minimum range and found that a raise to $10 per hour would have the least detrimental effects. However, the $10 rate wouldn't have a significant impact on poverty levels, which would potentially remain constant.
The study provided different minimum wage scenarios that could help restaurant owners decide on the best plan of action for raising their minimum wage. And with the 2020 elections quickly approaching, we're sure to hear more about this highly debated campaign issue in bar and restaurant news.
Local Foodie Influencers vs. Traditional Marketing: How to Reach Travelers
Tourists and out-of-town restaurant guests now have a cool tip for finding the best restaurants in a new area. Celebrity chef Andrew Zimmerman shared his travel hack for finding great restaurants recently in bar and restaurant news.
The big secret is pretty simple: Rather than relying on rate or review sites, Zimmerman suggests that visitors follow local food industry influencers in the area on social media a few days before their trip.
During that time, they can take note of any restaurants, eateries, and diners from people who know their stuff (not tourists traps with 'meh' dishes). According to Zimmerman, "It's the easiest way to find great places and I have a nickname for it. I call it crowdsourcing expertise."
So how can you make this genius travel trick work for your business? Reach out to local food writers and editors, bar and restaurant news publications, and even bloggers in your area and invite them to come check out your restaurant. Give them the best service you can and continue building a relationship with them to get more features (and publicity) for your restaurant.
Robots vs. Humans: Can They Coexist?
We've covered what the future of the restaurant tech could possibly look like. But it seems that speculation has become reality, according to bar and restaurant news.
As the Washington Post reports, Delaware's Captain Crabs Cajun Seafood & Bar is already putting a small team of tiny robots to work. These bots take orders, cook food, and show guests to their tables.
Robots just keep popping up in bar and restaurant news, from bartending droids to barista bots. But the fleet of robots at Captain Crabs has some customers worried they will lose the human aspect of the restaurant experience. The owner, Guang Chen, assures everyone that the robots just work as a team alongside his human staff.
According to Chen, the robots are a real crowd-pleaser and help to generate bar and restaurant news about Captain Crabs on social media: "The kids love the robots and most customers are amused by them. They take selfies with it because it's a really different concept."
Sandwich Shops vs. Everybody
Are you a quick-service sandwich shop trying to compete with other restaurants for customers? This fancy Viant infographic has some practical strategies you can put into play now.
In the latest bar and restaurant news, the technology company released a new report that broke down different customer profiles for sandwich shops.
Some of the categories included Breakfast Buyers, Lunchtime, and Primetime Patrons. (We give them bonus points for the awesome alliteration.) There's a ton of great insight for each category of consumer, which restaurant owners can use to adapt their marketing strategies and promotions.
The biggest takeaway: Segmentation is key to making sure your message resonates with your target audience when it comes to sharing bar and restaurant news.
Dunkin' Donuts vs. Undocumented Workforce: Is It an Effective Strategy?
According to bar and restaurant news, Dunkin' Donuts is currently suing nine of its franchisees throughout the Northeast. Dunkin' claims that the store owners did not verify if their employees were authorized to work in the U.S. and therefore were operating in violation of the Dunkin' terms of agreement for franchises.
This isn't the first time the doughnut juggernaut has taken action against franchisees hiring undocumented workers — the first case reported in bar and restaurant news dates back to 2006.
But while Dunkin' is undoubtedly working in the best interest of its brand and business, the Pacific Standard points out undocumented workers are not uncommon in the restaurant industry.
In fact, they make up a pretty significant portion of the workforce — more than 10%, according to the Pew Research Center. And according to a 2017 National Restaurant Association analysis, "As the number of 16-to-24-year-olds in the labor force continues to decline, foreign-born employees will become increasingly important to the restaurant industry's ability to expand."
As the lawsuits unfold in bar and restaurant news, it will be interesting to see the outcome and what it could mean for the service industry workforce.