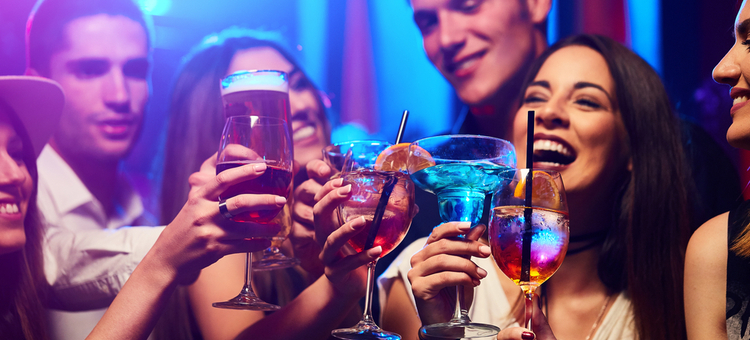 You already know that a traditional happy hour is a great way to increase sales and attract customers during an otherwise slow part of the day. But have you thought about offering drink discounts during other typically low-business times? Once the dinner crowd leaves, you may not get a ton of business on weeknights. But if you offer late night happy hour specials, you can boost business!
Why are late night promotions so important? For starters, they can help you bring in more young customers! According to Restaurant.org, over half of customers under 35 make late-night restaurant visits a few times a month. And what's more, a third of customers 18-35 said they would visit restaurants more often if they stayed open later. If your bar or restaurant is looking to attract more young customers, late night promotions could be the way to do it!
And don't forget about people who don't work a "traditional" schedule. Although regular happy hours cater towards people with typical 9 to 5 jobs, many people haven't even started their work days at 5. For people on the late shift or those who have atypical schedules (like nurses, retail workers, and restaurant employees), late night might be the only time they can take advantage of your specials. What's more, since few restaurants and bars offer deals at this time of night, you'll look very appealing to these customers.
[fl_builder_insert_layout slug="whitepaper-signup-module-66-promotions-to-drive-sales"]
Whether its young people, working people, or just customers who are leaving a concert, game, or movie, it's clear that late night promotions can lead to big business. So what can you do to get in on the action? You can always offer discounts that are the same as or similar to your regular happy hour prices. But you might want to try offering things that customers can't get otherwise. For example, you could offer a signature late-night drink or a menu item that customers can't get any other time of the day. This will make customers feel like they're getting something special by visiting your bar or restaurant late at night, and it will build buzz if customers tell their friends about your unique late night offerings.
Something to keep in mind is that customers' drink preferences tend to change once the sun goes down. According to Restaurant.org, the number of customers ordering spirits is 13% higher late at night than it is during happy hour. Wine sales, meanwhile, go down. Beer is the one drink that's a safe bet no matter what time of day it is.
It's also important not just to focus on drinks. Of course customers always love a great deal on booze, but half-price appetizers can bring in just as much money—without anyone risking a hangover the next day.
Whatever you decide to offer, it's clear that late night promotions can be a valuable tactic for your bar or restaurant. You can increase sales, boost business, and attract new customers!